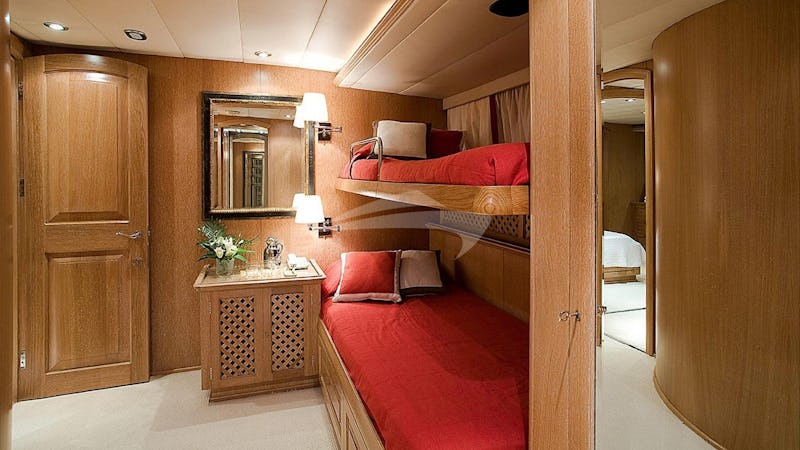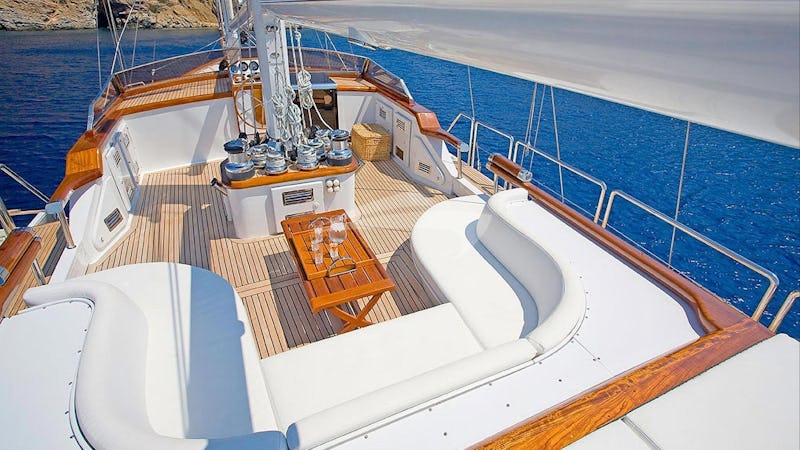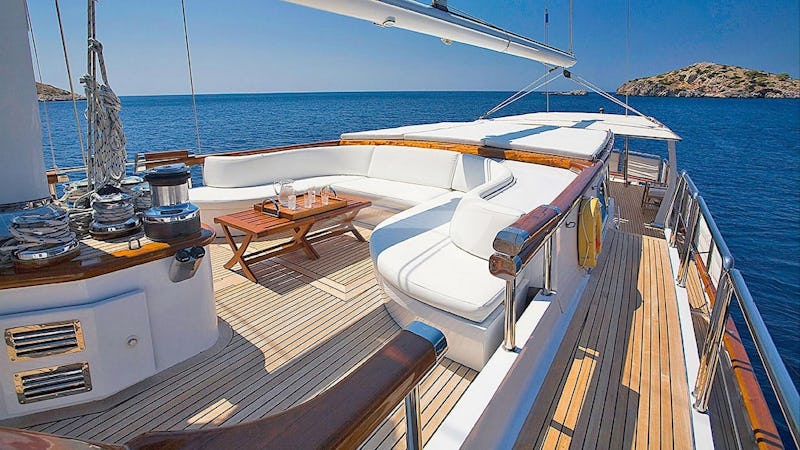 Charter This Yacht
123 ft / 37.5 m
│
6 CREW
│
FROM $47,951
│
10 GUESTS
123ft (37.5m)

24ft 11in (7.6m)

10ft 10in (3.3m)

1993

Kaneslos

Andrew Winch

10

Captain George Tsagarakos

Not known

9.7kts (18kph)

None

Greece

1x MAN D2866 LE 355hp

Yes

No
CAPTAIN: George Tsagarakos (52)
52 years old Captain George is a graduate of the Merchant Marine Academy and holds a Captain Class B' Diploma. He began his career on board commercial vessels traveling around
the world and for the past 20 years he has served on board professional and private
yachts. He has all the necessary updated qualifications & certificates in Fire Fighting
and First Aid, GMDSS, Personal Safety and Ship Security. He is gentle, kind and eager to
please his guests, always ensuring their safety and comfort. He has long experience on
Motor Sailers and has been onboard M/S ALTHEA as Captain from the beginning of
2016. Captain George is married with one child. In his spare time he enjoys studying history
and jogging.
CHEF: Lezos Nikolas (31)
Lezos is 31 years old and holds a degree from the Organization of Tourism Education and Training (OTEK), in Corfu Greece. He is specialized in Greek and International cuisine. He has a long experience in operating various food units and his strong work ethics makes him extremely responsible on safety and hygiene therefore he is the ideal Chef on board Althea. Lezos is an outstanding Chef while has gained Gold Award in the 7th Pan-Hellenic Cooking Competition with the participation of the Balkan countries. Chef Lezos also proudly achieved the position as the 3rd greatest Chef at the 7th International Gastronomy Forum. Lezos has also been elected as a handpicked member of the Hellenic Chef's Association.
CHIEF STEWARDESS: Garyfallia Papakitsou (46)
Garyfallia is 46 years old and has over 18 years' experience on charter yachts. She has been working on board Althea since 2002, which makes her an ideal stewardess. From 2004 to 2008 she was handling the food & drinks safety at the ministry of development. Garyfallia is also trained and educated in regards to the Seaman's book.
2ND STEWARDESS: David Melani (23)
David is 23 years old and has over 3 years' experience onboard Charter Yachts, and has
been on board M/S Althea for last 3 years. He holds Certificates in Life Saving, Fire
Fighting and First Aid. His top priority is to support his team and provide top notch
service for his guests on board. He is extremely organized and his attention to details
makes him a top rate expert in his field.
In his spare time he enjoys water sports, swimming, and cinema.
ENGINEER: Semir (55)
Samir is 55 years old and he is the man who keeps Althea going for the last 20 years.
After studying Engineering in Russia he worked on Greek ocean going vessels and in
different companies in Canada until 2000. Since then he has been caring for Althea as
an engineer and assistant to the Captain. Samir's calm personality often hides a delicate
sense of humour which delights all those who discover him.
He is married with 2 children and has many interests: fishing, travelling, reading,
design, tennis and chess.
DECKHAND: Fred (49)
Fred is 49 years old and it is thanks to the year round efforts of Fred that Althea's deck
is always in pristine condition. Fred who is sportsman and a sailor does a lot more than
maintenance. He takes care of water sports and his welcoming personality puts his
guests at ease and helps them enjoy all the sport activities of their cruise. Fred who has
always worked on sailboats has been with Althea for the last 12 years.
He is married with 2 children and loves water sports and running.
We have identified 3 similar yachts. Would you like to inquire on them as well?
Available in 2 areas
Guests 8
82ft 0in / 25m
From $42,488
Available in 2 areas
Guests 9
74ft 2in / 22.6m
From $47,344
Available in 1 area
Guests 10
127ft 11in / 39m
From $42,488