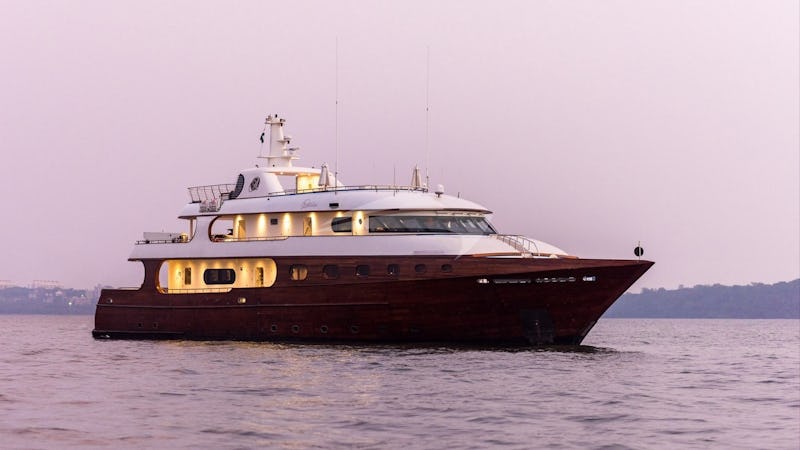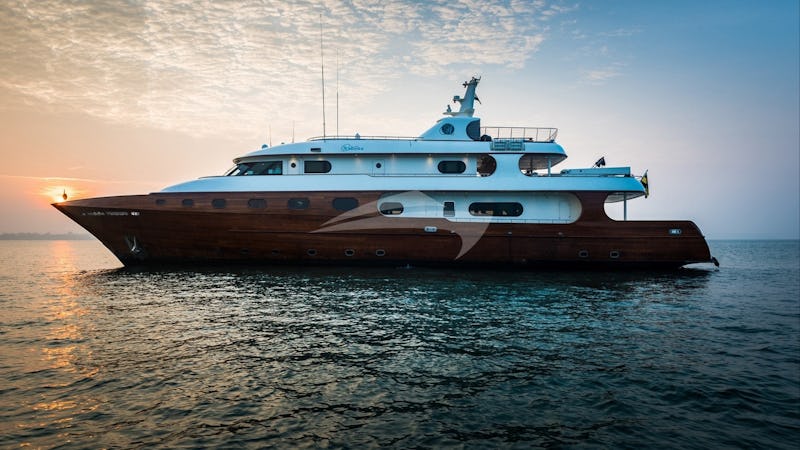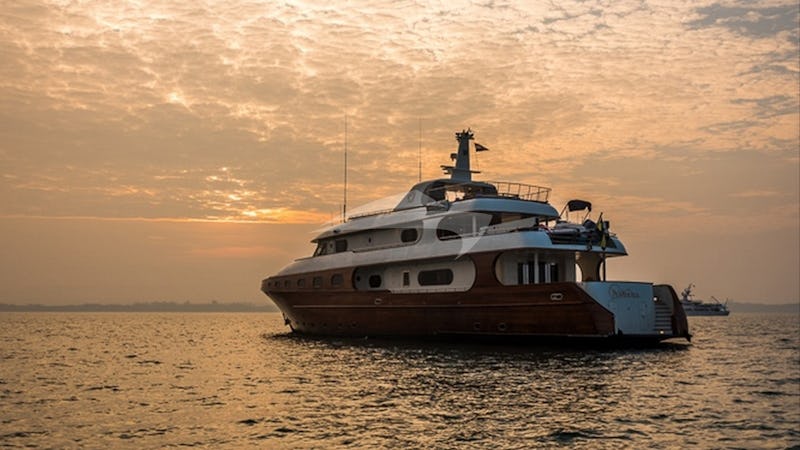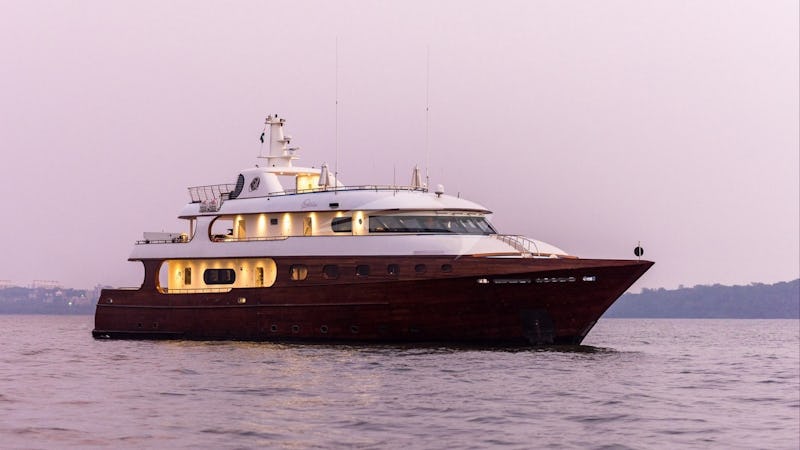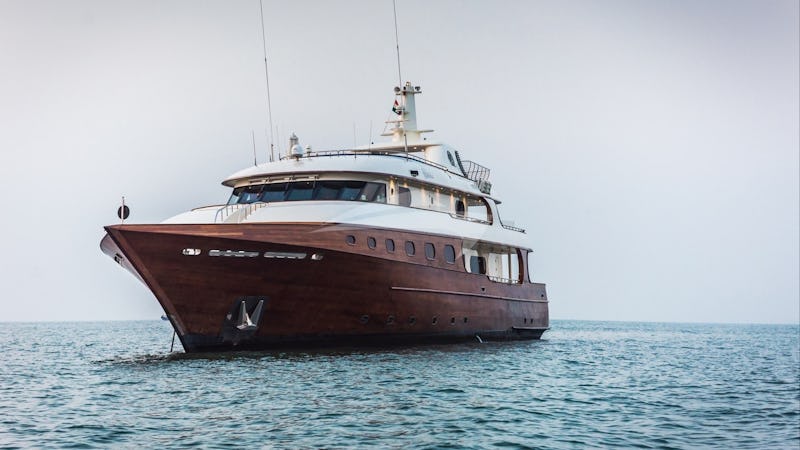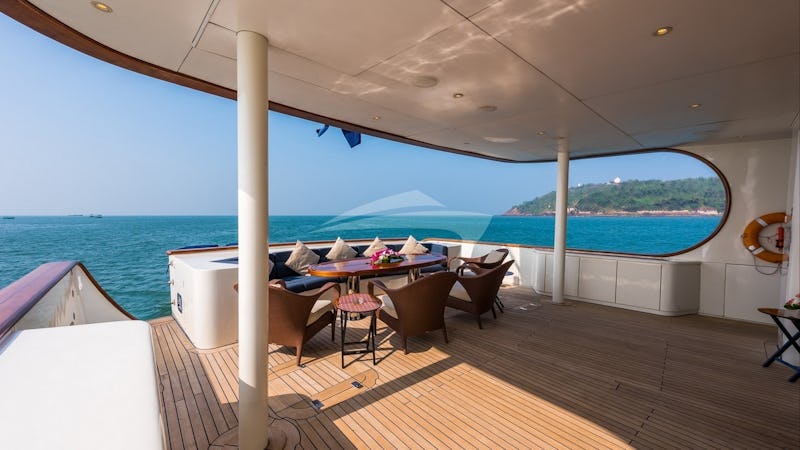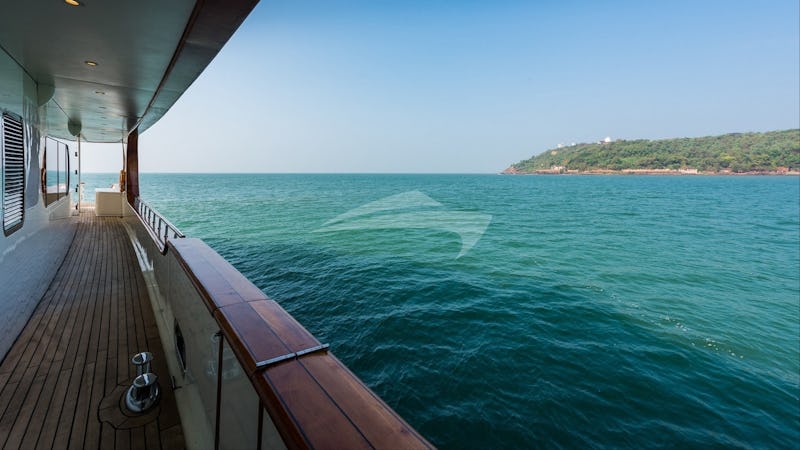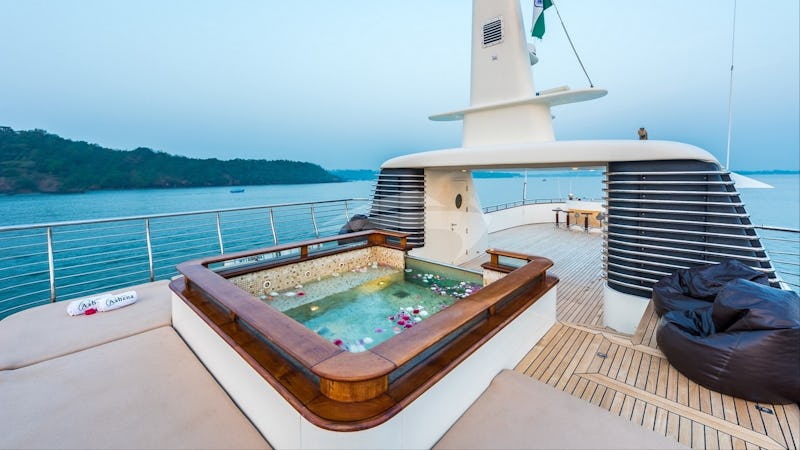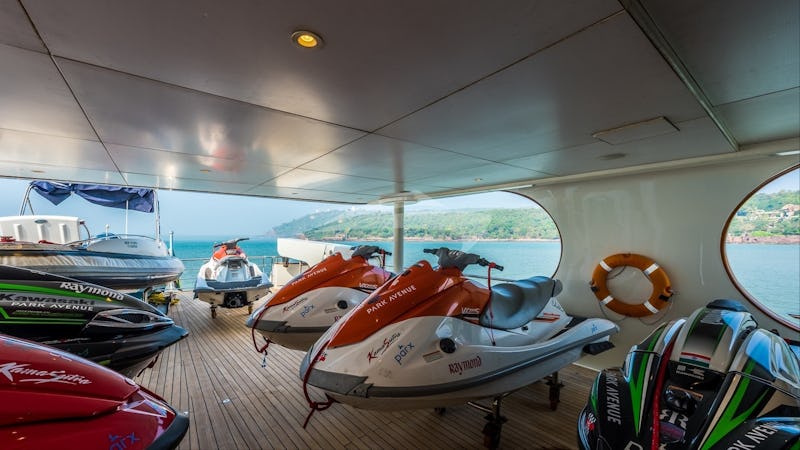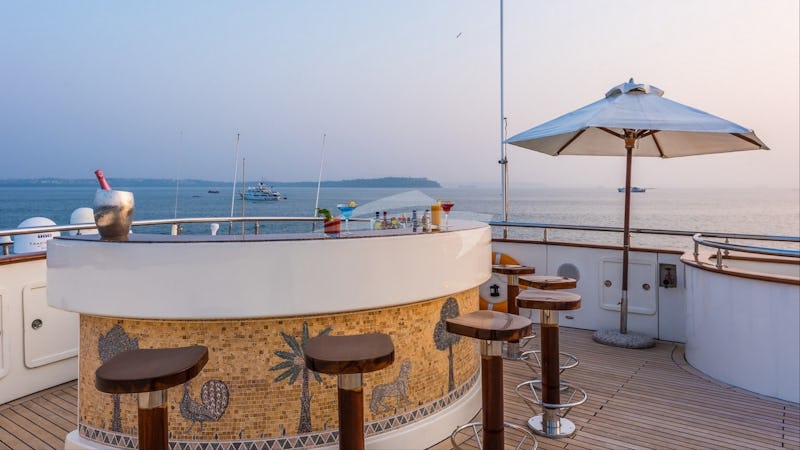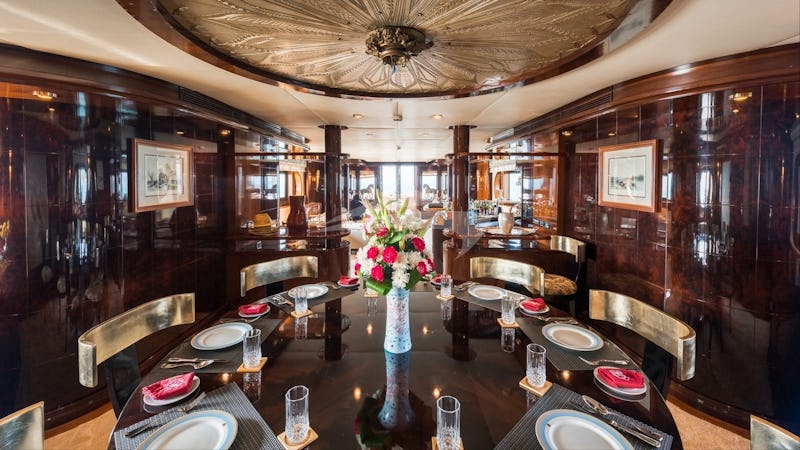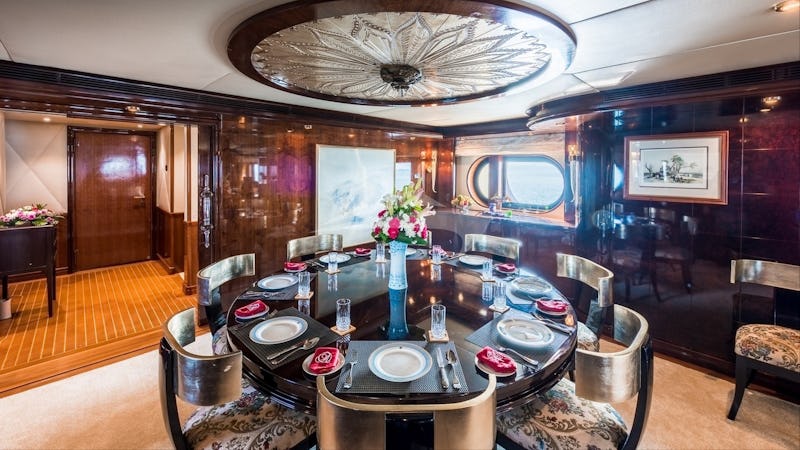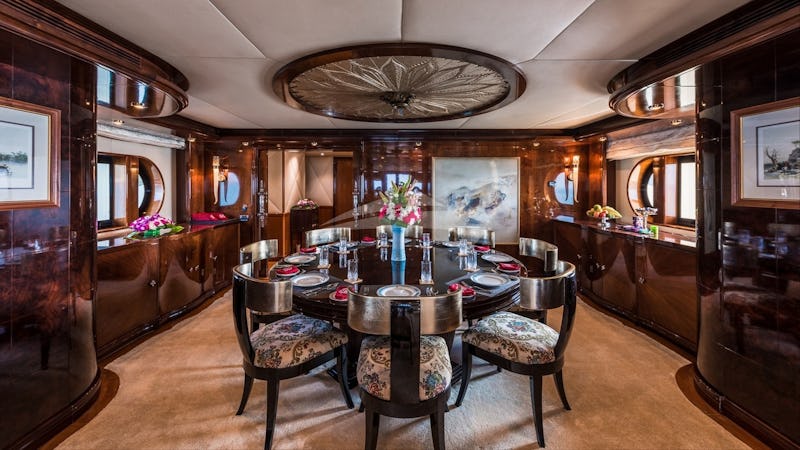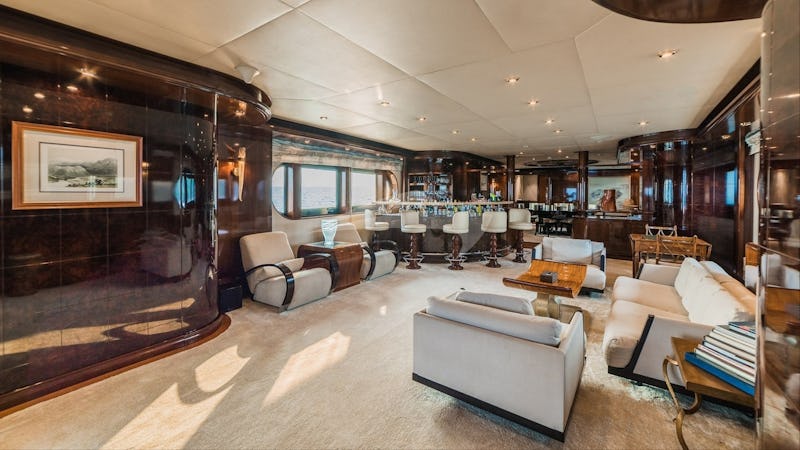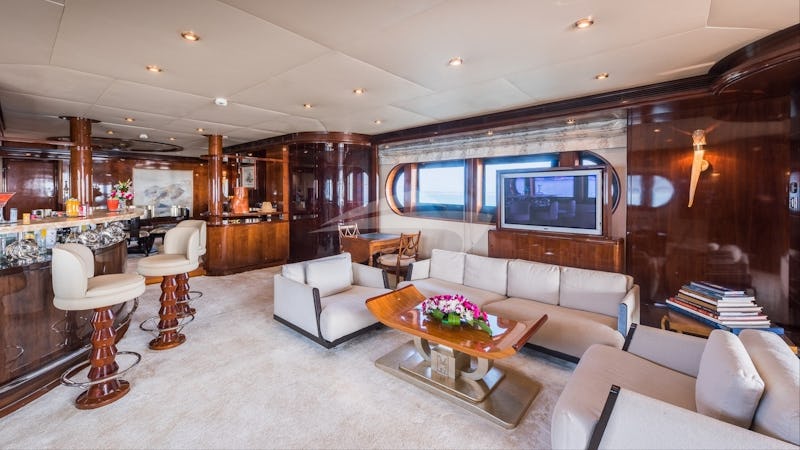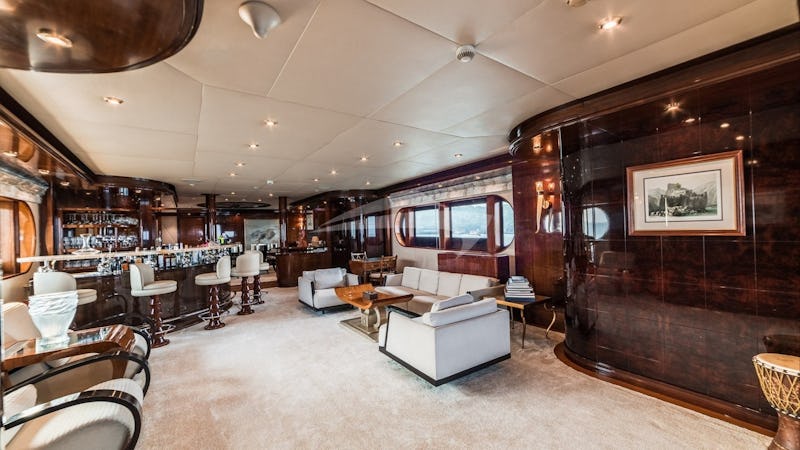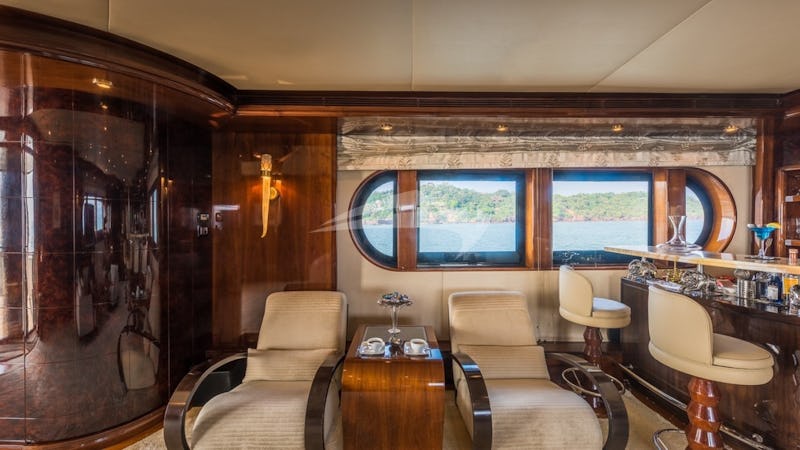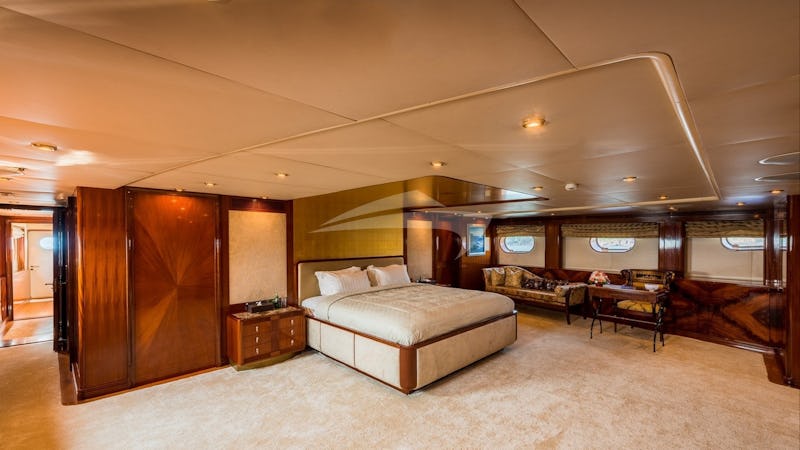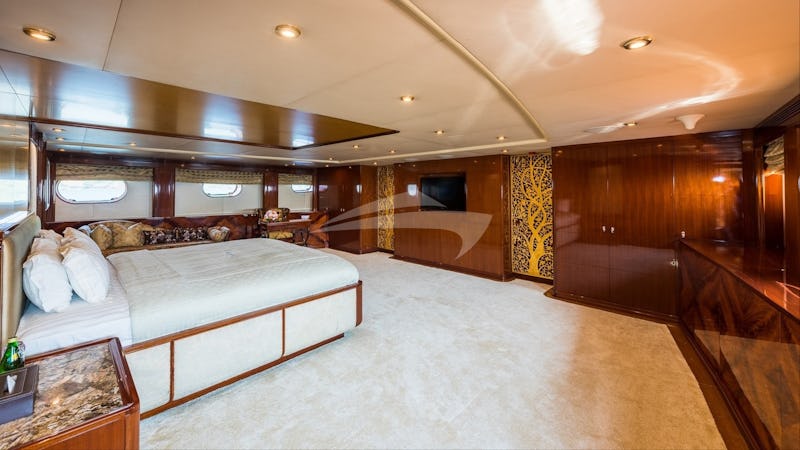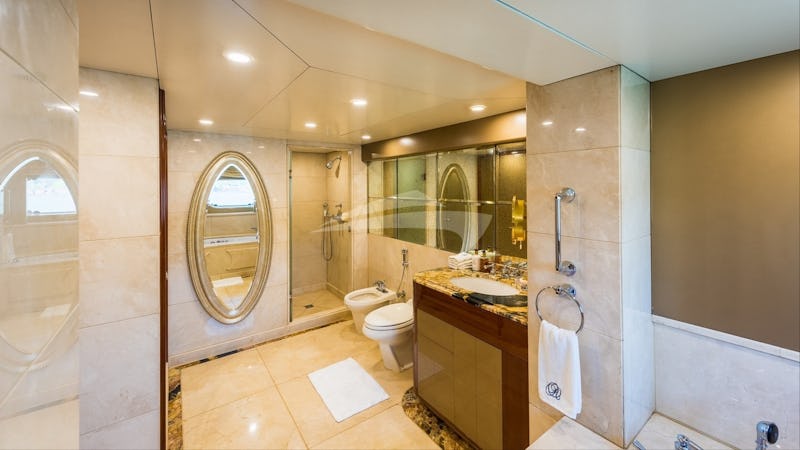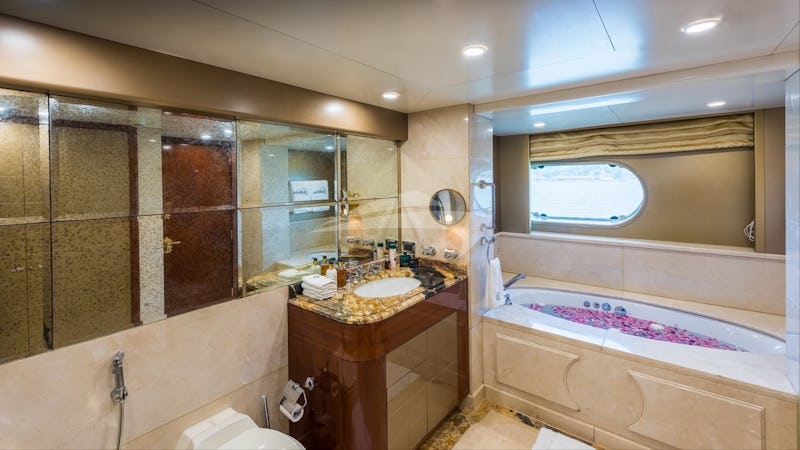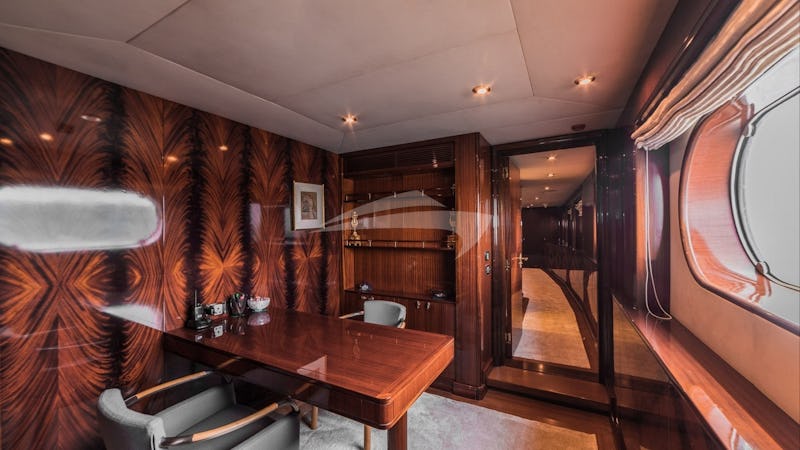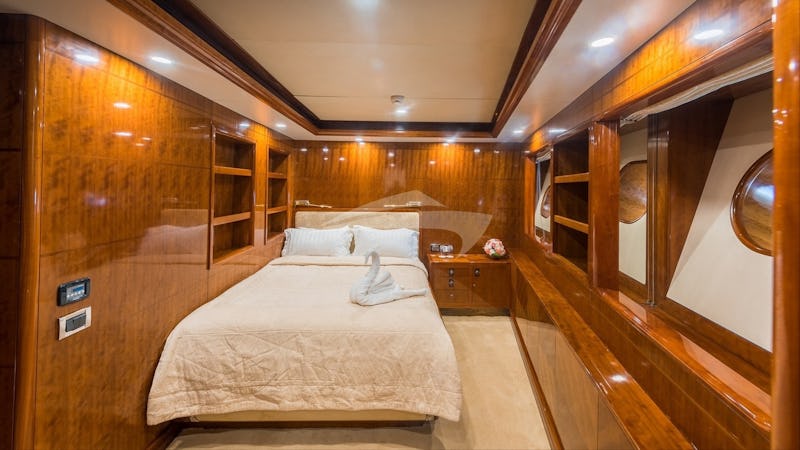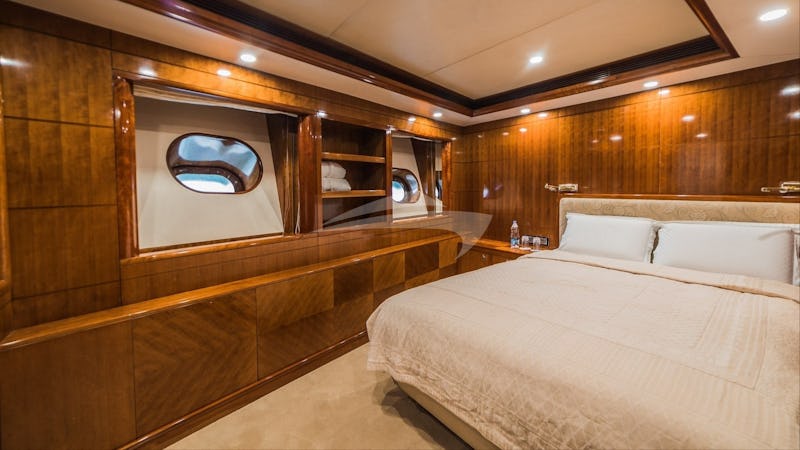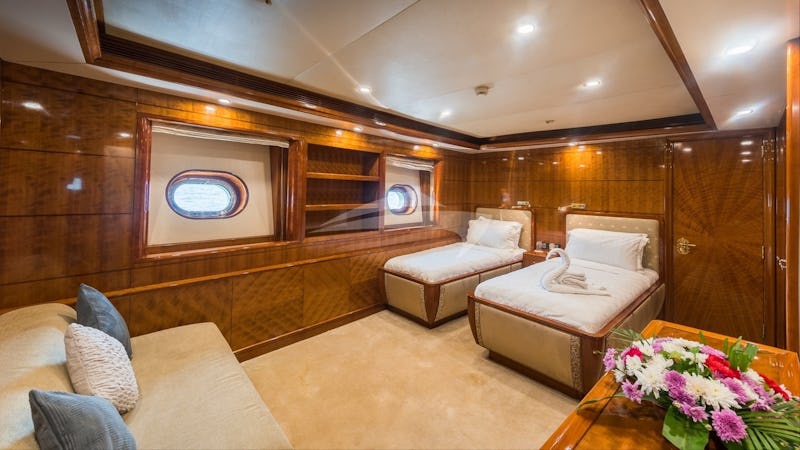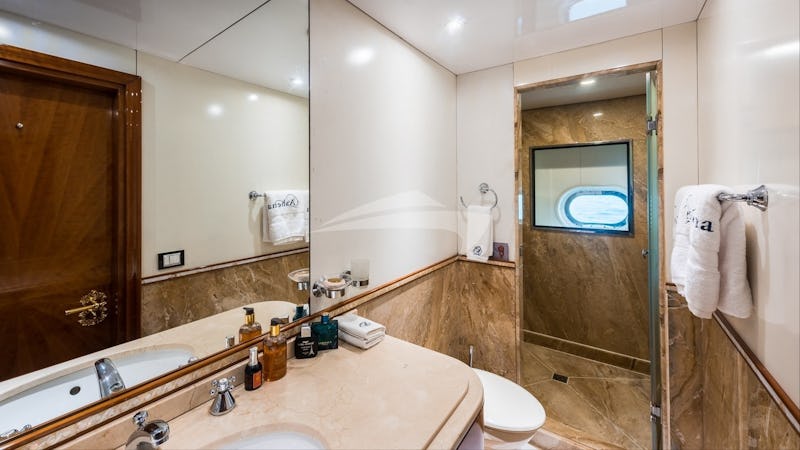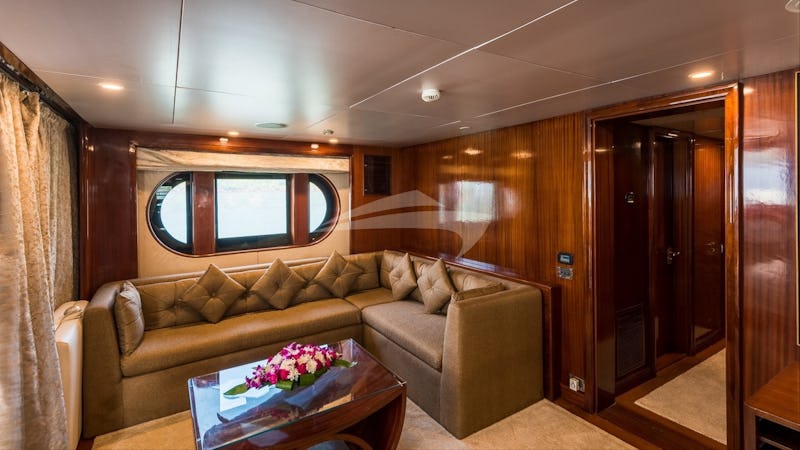 Charter This Yacht
149 ft / 45.5 m
│
13 CREW
│
FROM $94,000
│
16 GUESTS
149ft (45.5m)

30ft 6in (9.3m)

14ft 9in (4.5m)

2006

Custom

Custom

16

Captain Mahesh Ramchandran

2021

9kts (17kph)

None

Gabon

Volvo

No

No
Captain: Mahesh Ramchandran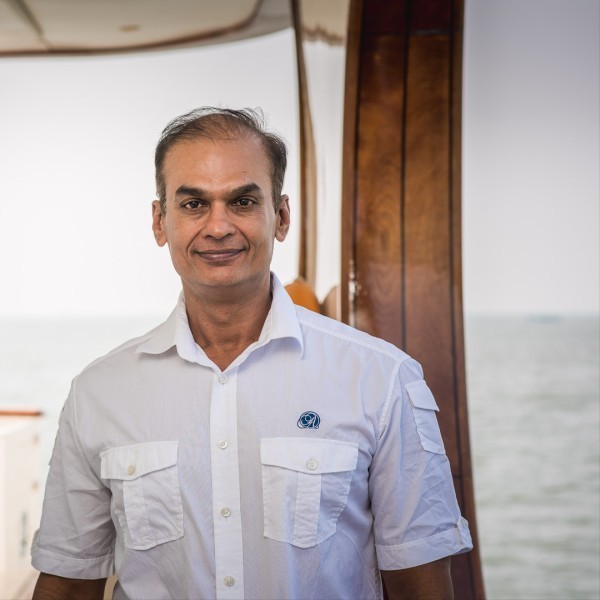 Exemplary Naval Officer, with over two decades of a proven track record of providing outstanding leadership within various divisions of the Indian Navy. Mahesh transited from being a pilot (Naval Aviator) to professionally competing in Olympic classes of sailboats for which he has won many National and International awards. He is amongst India's most experienced and successful Yachtsmen. Over the years he has honed his ability to set combined goals, build and motivate highly successful teams, and plan and execute strategy by following a disciplined and analytical approach. Instrumental in conceptualising, set up after building from scratch, and Heading/Managing the largest Waterman ship Training Centre in India at the Indian Naval Academy. As the Captain of Ashena since 2013, he is a balanced blend of fun and professionalism and extremely welcoming, friendly and sporty in his outlook to life.
Chief Officer: Mohsin Mahadkar
Mohsin who belongs to coastal Maharashtra in the west coast of India has spent his most of time associated with the water. He has sailed from a very young age and has immense experience in seagoing vessels working as part of engineering/electrical and deck teams. He is a certified Padi Open Water Diver and an avid watersports enthusiast and instructor (Jet ski, Water ski, Surf board, Jet- pack and Snorkelling). He has been on Ashena in various capacities since 2006. Feel free to ask him any questions or share your own experiences as he is easy-going and friendly and would love to make your stay on board the experience of a lifetime.
Second Officer / Bosun: Prafulla Gaikawad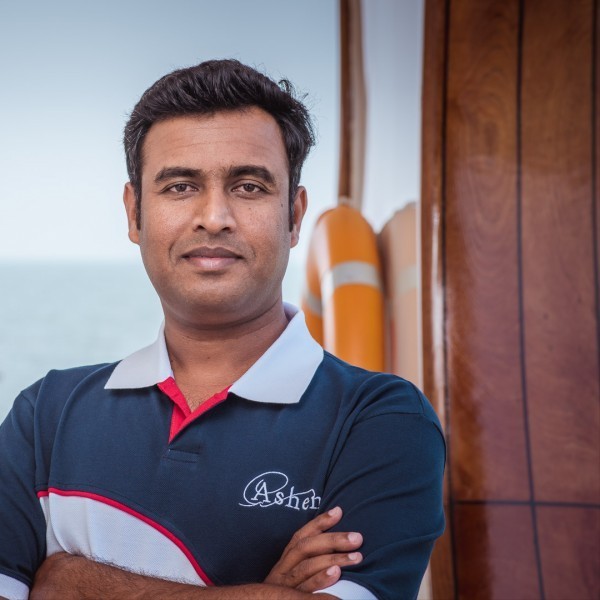 Prafulla is an extremely motivated hard worker who knows the ins and outs of the yacht through his immense work experience on board. He is a certified Padi Open Water Diver. He has strong communication and social skills, is very proactive by nature and has a great passion for yachting and love for the ocean. He is very easy going and can deal with situations at hand while working long hours as well as being extremely friendly and approachable. Prafulla has been on ASHENA since 2008.
Chief Engineer: Shahjahan Mahadkar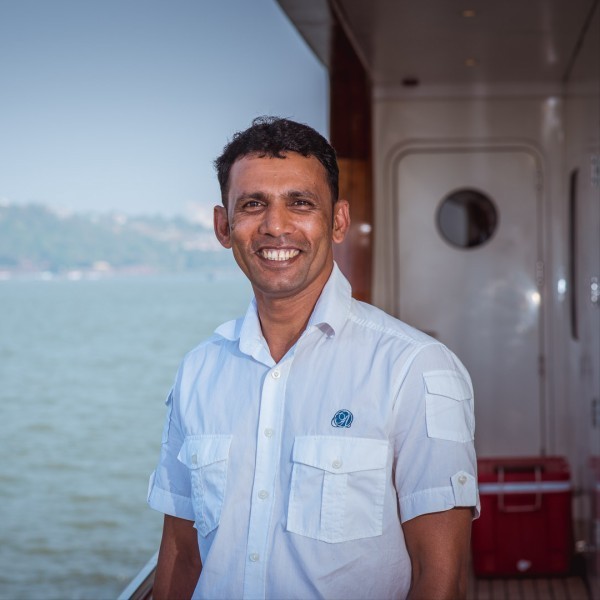 Shahajhan like his brother who is the present Chief Officer comes from a lineage with extremely close ties to the sea. From a young age he has worked at engine rooms of many 'Men of War' and superyachts around the world before settling down on Ashena where he has been since the build and commissioning in 2006. He is in addition an avid water sports enthusiast and instructor.
Second engineer: Mansoor Mahadkar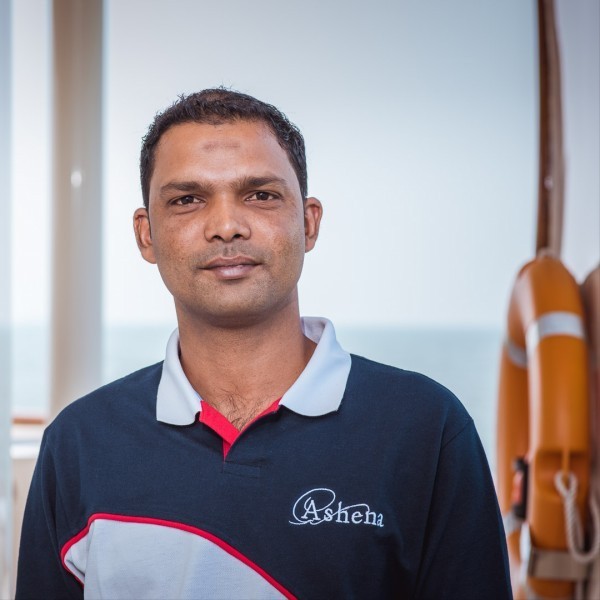 Working in partnership with the Chief Engineer Mansoor is a cheerful and capable engineer with huge experience. He has been on board Ashena since 2013. He gained valuable engineering & electrical experience on a range of vessels. Looks after all electrical systems including internet, TV, music systems, WiFi, iPhone connections as well as automation systems for engines, generators, & safety systems on board.
Chef: Manish Jha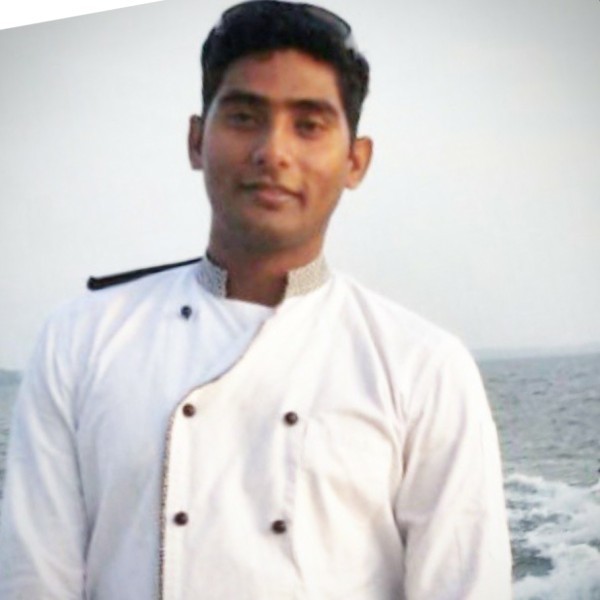 Manish has been cooking since he was 18 years old and has natural passion and flair for it. His career started in Mumbai, India gracing the kitchens of many Hotels and restaurants of repute. He has been classically trained in Indian, Italian and continental cuisines and over the years has also perfected Pan Asian menus and added them to his wide repertoire. His travel bug prompted him to seize the opportunity of working on a private yacht. Manish's genuine joy at dishing out food that teases the taste buds and is appreciated is his signature. Manish joined ASHENA in 2012.
Sous-chef / crew chef: Tapas Mitra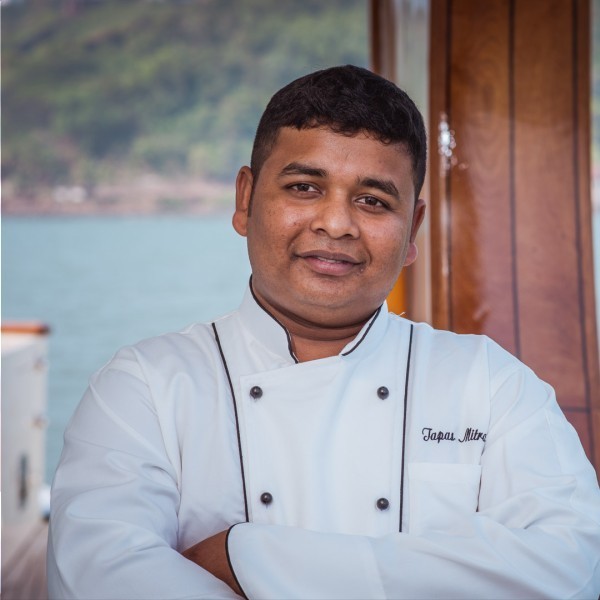 Tapas Mitra has been cooking since he was 18 years old and has natural passion and flair for it. He has previously worked in high end hotels in Pune, Bangalore and Delhi. He was classically trained in Indian and Chinese cooking. He particularly enjoys seeing culinary differences and incorporating them into new dishes. He is now an understudy to Chef Manish on board and learning fine dining various other cousins from him. He has been working on board Ashena since 2014.
Chief Stewardess: Neikhrelienuo Tsurho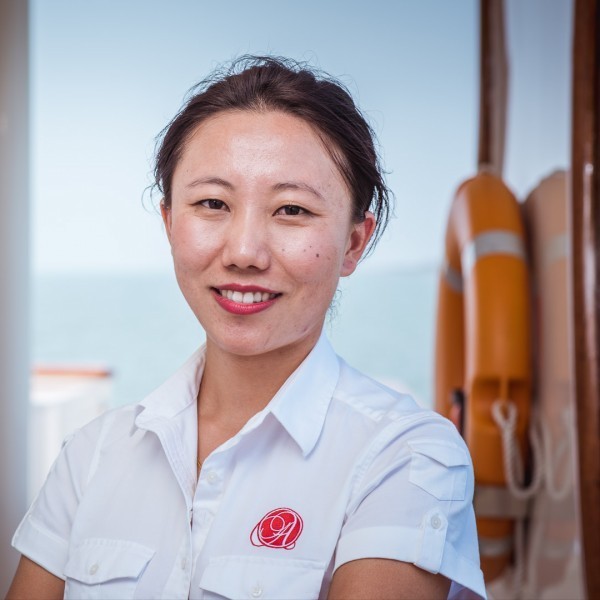 Neikhrielienuo started her career 7 years ago when she began working as a Stewardess on board a mega Yacht. She is passionate about travelling, seeing the world and meeting people from different backgrounds. She loves hosting and entertaining and with her organisational skills and work ethic is a perfect fit for Ashena as the Chief Stewardess. Neikhrielienuo joined ASHENA in 2016. Neikhrielooks forward to meeting you, making you extremely comfortable on board and providing a fun filled, memorable and relaxing vacation that you won't forget.
Stewardess: Avino Zhimo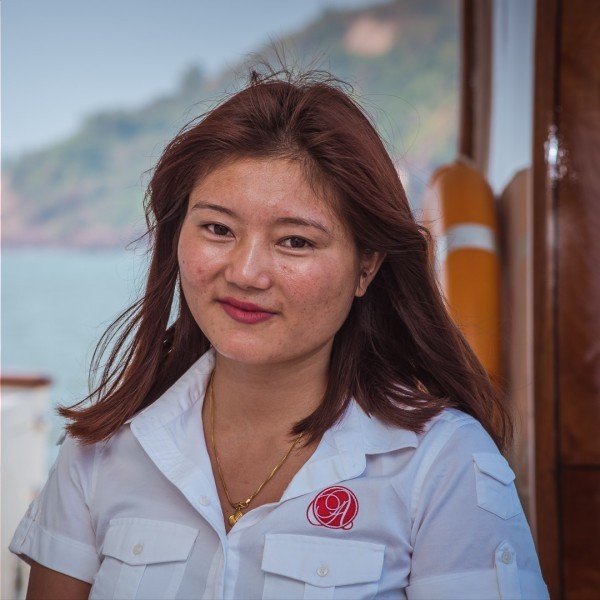 Avino has been working on Ashena for 7 years now. She is hard working and enthusiastic in whatever she does. Her warm and friendly nature will help ensure your stay on board Ashena is comfortable and enjoyable.
Stewardess: Ritshou Kupa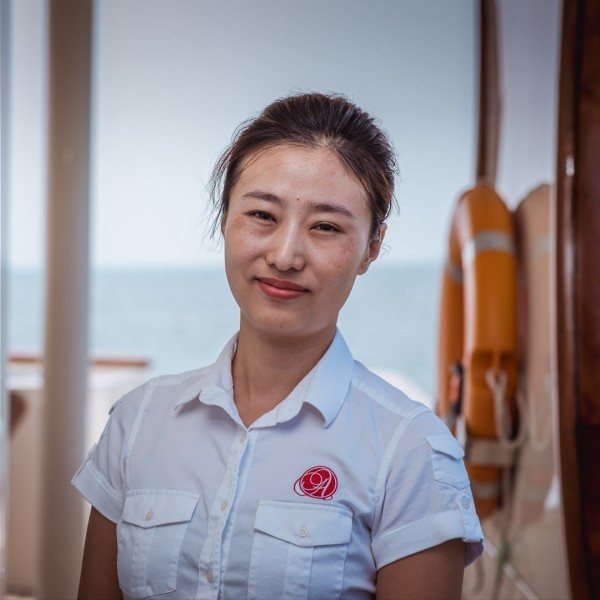 Ritshou has worked for many years in the hospitality industry and is attentive to guests at all times. Her friendly demeanour and attention to detail makes her great at her job. This is her second season on ASHENA.
Stewardess: Shilula Sangtam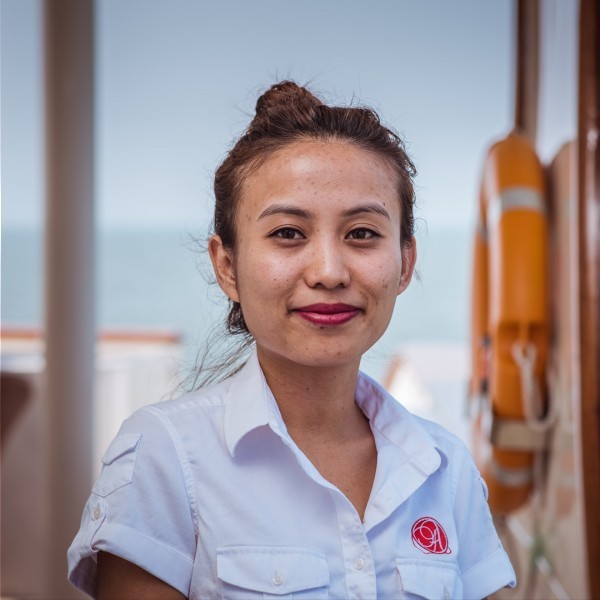 Shilula has been worked many years in the hospitality industry and attentive to guest all times. Her friendly nature and attention to detail makes her better at her job. She enjoys music and dancing and is our in-house DJ. She has been on board Ashena for the past 6 months.
Deckhand: Muzmil Mirkar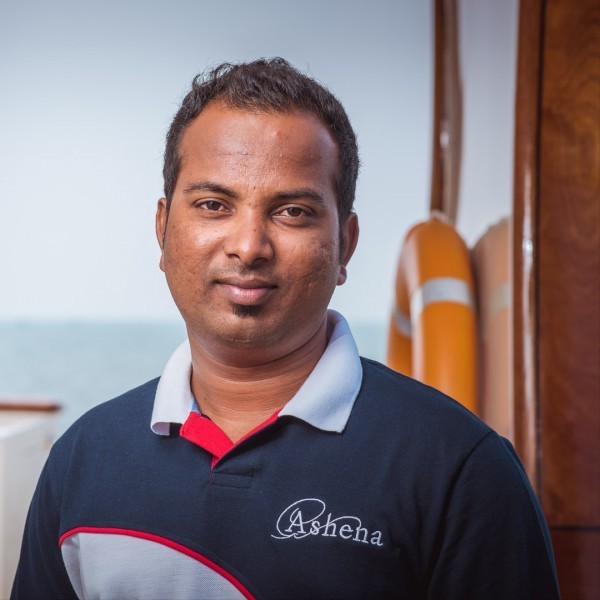 An experienced Deckhand, having worked on a number of yachts of up to 30 metres, Muzmil works closely with the other members of the Ashena crew in preparing the Yacht to look & perform at its best at all times. He also takes an active role in launching & retrieving tenders, jet skis. A qualified sailing person Muzmil helping others & that skill is much appreciated by our guests who find him to be a very amiable, easy going & attentive member of the Ashena crew. He is a trained operator on Jet skis, Jet packs and Fly boards. His favourite hobby is fishing. He has been working on board Ashena since 2011.
Deckhand: Manoj Sawant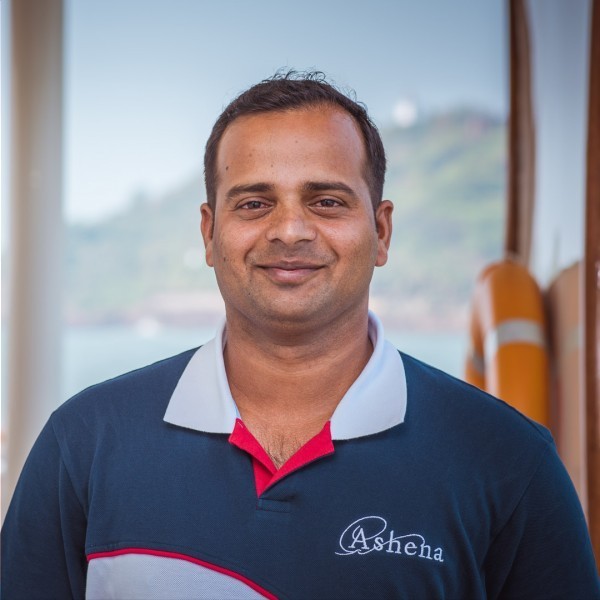 Manoj has enjoyed a close affinity with the sea from an early age. He is an energetic, fun member of the team and always has everyone around him smiling. Manoj works closely with the other members of the Ashena crew in preparing the Yacht to look & perform at its best at all times. He also takes an active role in launching & retrieving tenders, jet skis and all deck operations. He has been working on board Ashena since 2011.
Indoor audio system, iPod dock, Outdoor audio system, Satellite TV, TV saloon, Wi-Fi, 22ft/6.7m RIB 250hp, 20ft/6.1m Runabout 60hp, Assorted water toys, Beach games, Board games, Floating mats, Jet board, Jet pack, Jet skis multiple, Tube - towable, Wakeboard, Water skis - adult, Water skis - child, Wave runners multiple, BBQ, Deck shower, Exercise equipment, Light fishing gear, Gym, Ice maker, Jacuzzi in master cabin, Jacuzzi on deck, Kosher, Special diets, Sun cushions, Sun loungers, Swim platform, Water maker
Not Insured, Seabobs multiple, Snorkelling gear, Underwater scooter multiple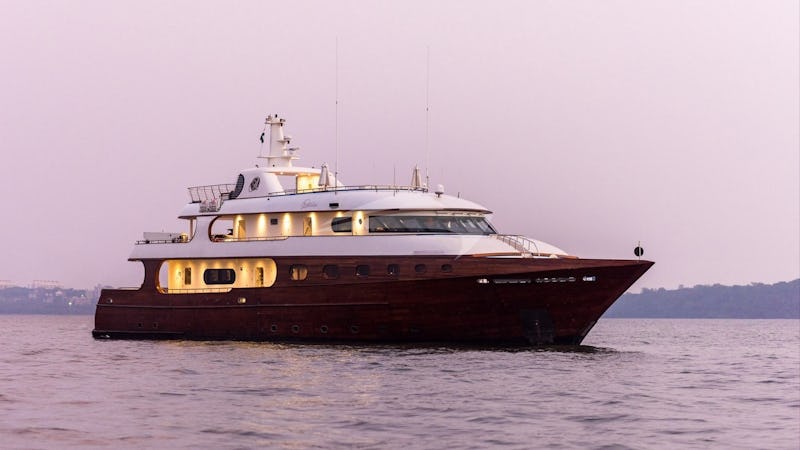 We have identified 3 similar yachts. Would you like to inquire on them as well?
Available in 2 areas
Guests 10
149ft 11in / 45.7m
From $124,999
Available in 1 area
Guests 6
54ft 2in / 16.5m
From $14,000
Available in 1 area
Guests 6
70ft 10in / 21.6m
From $7,700