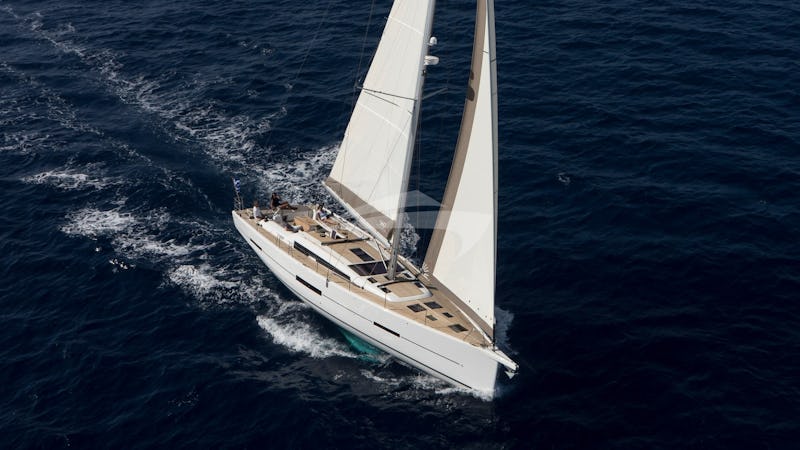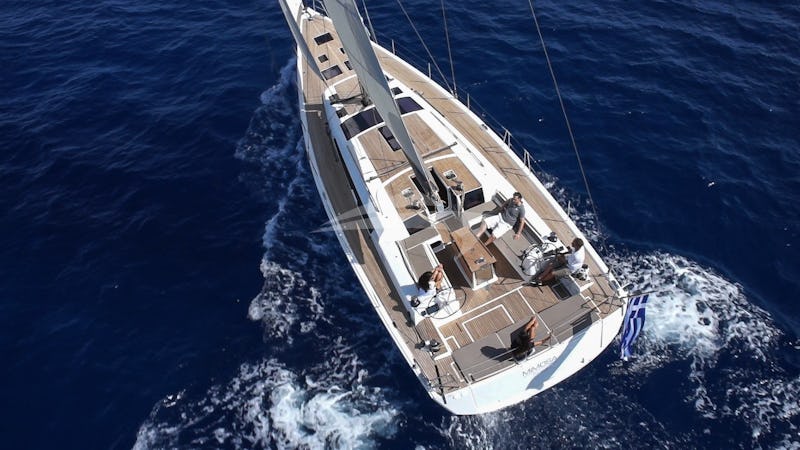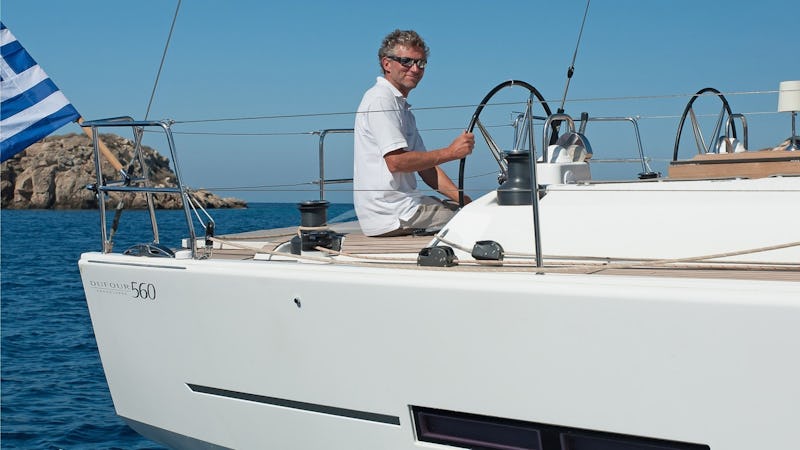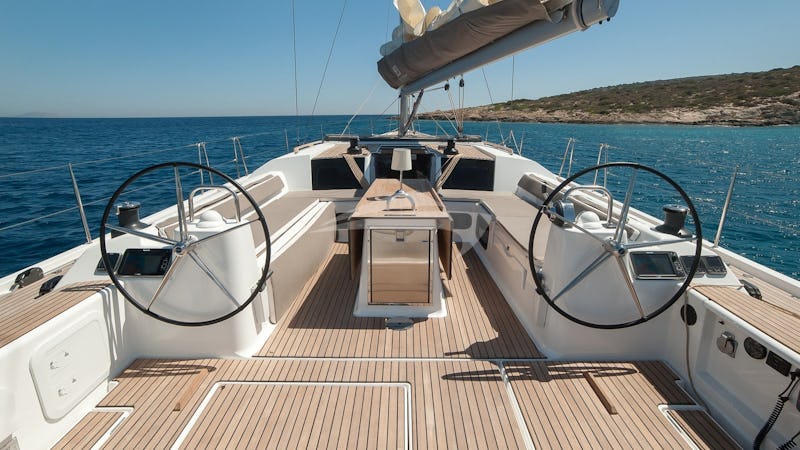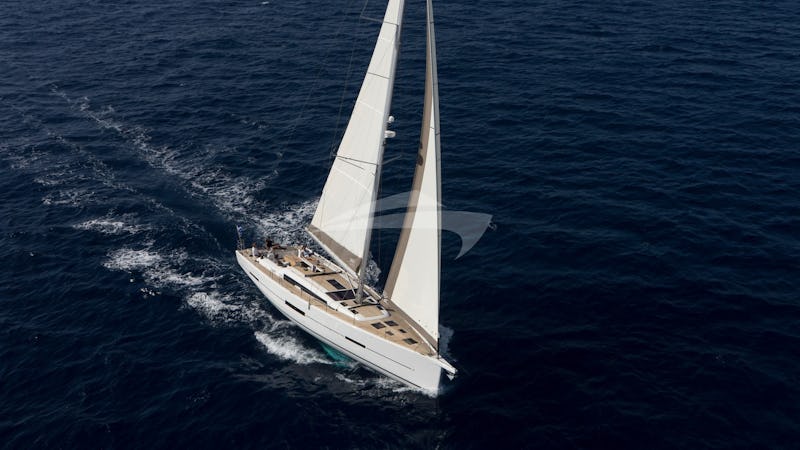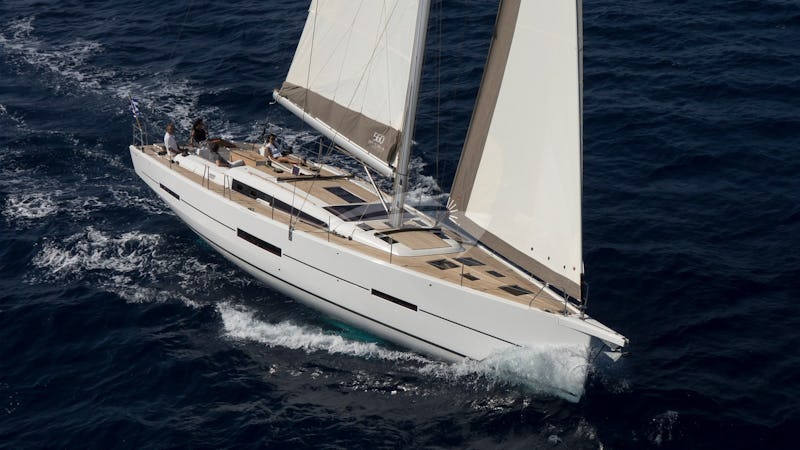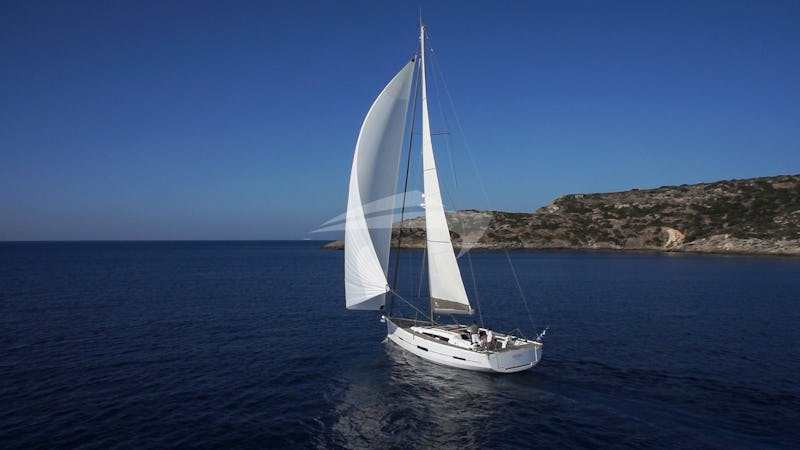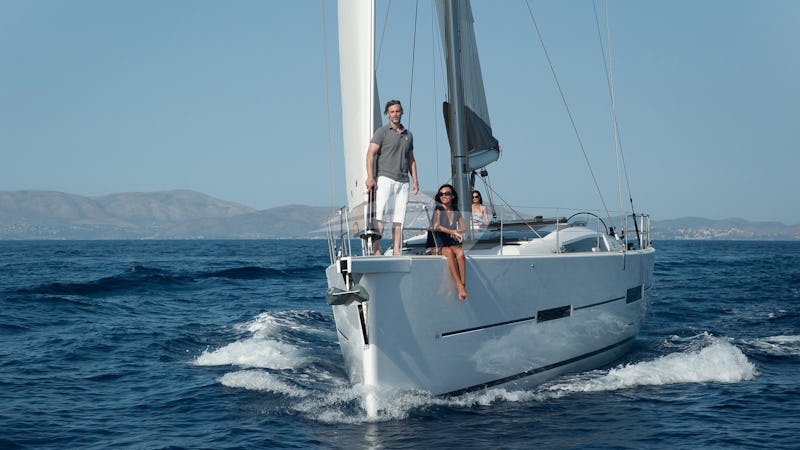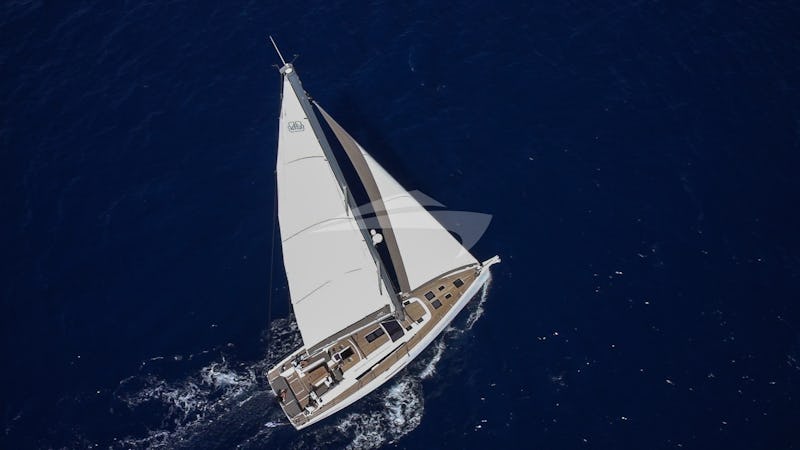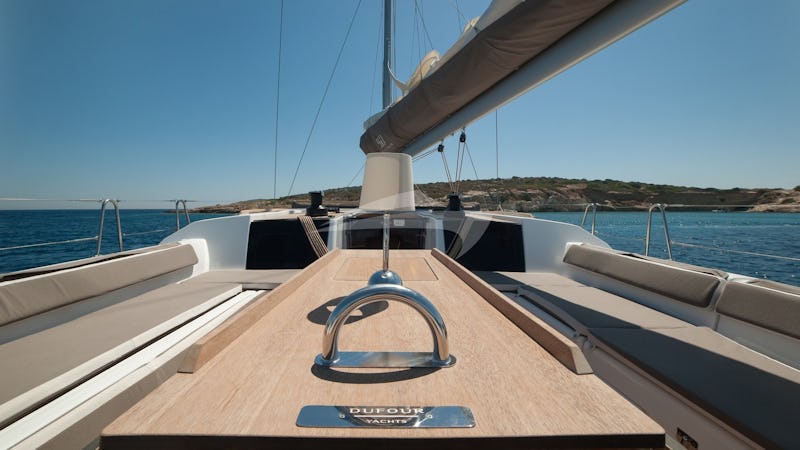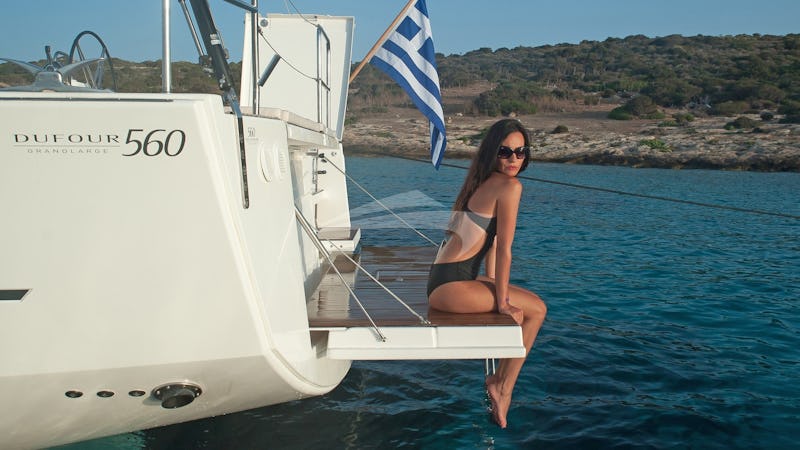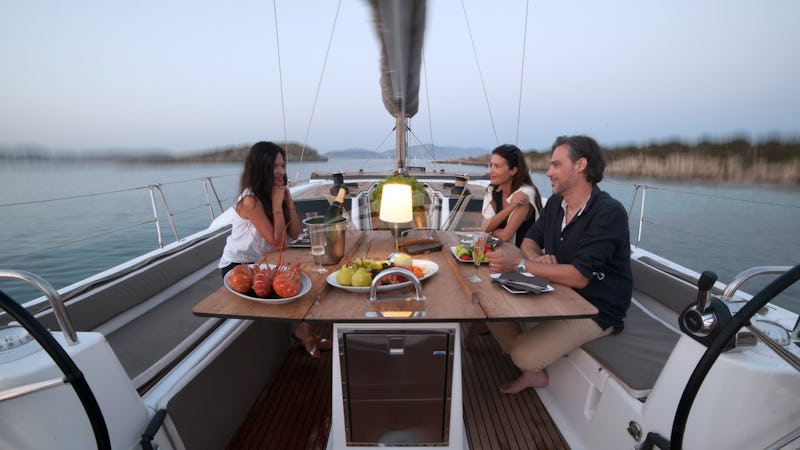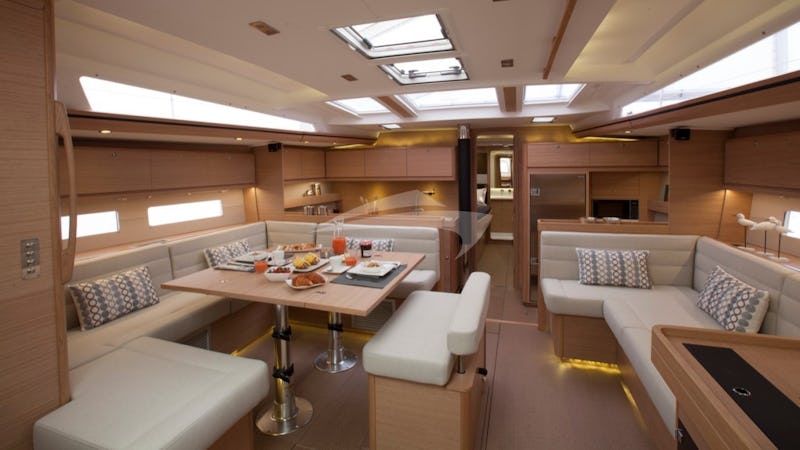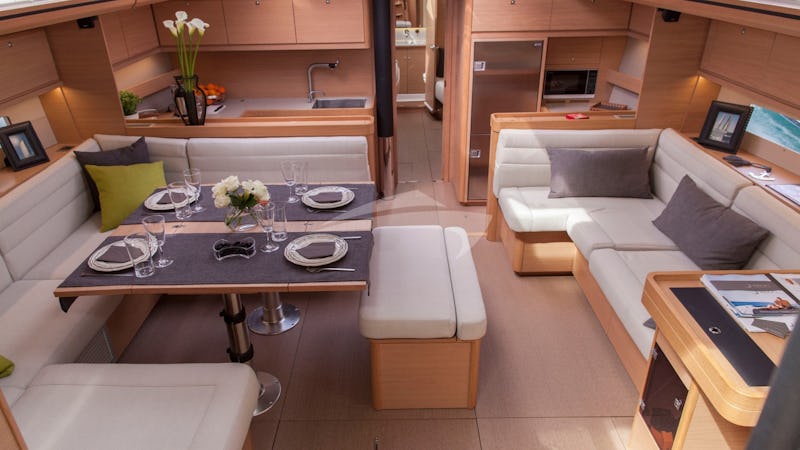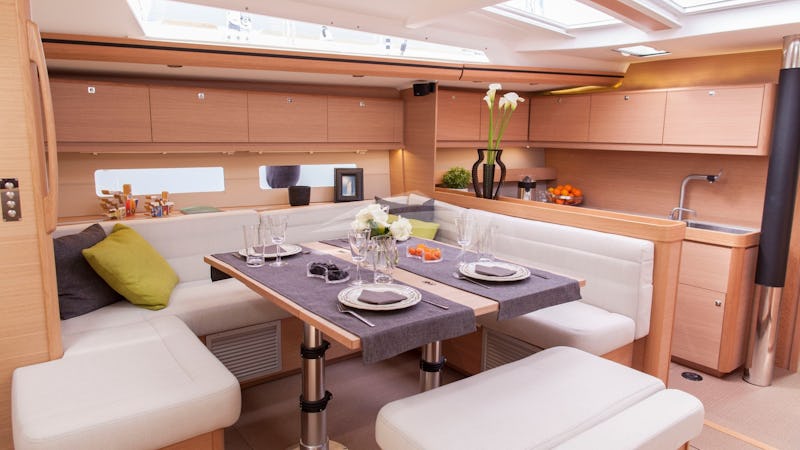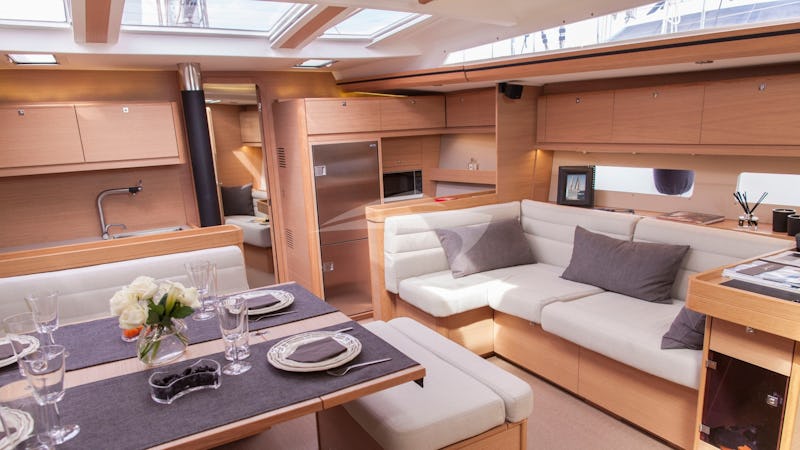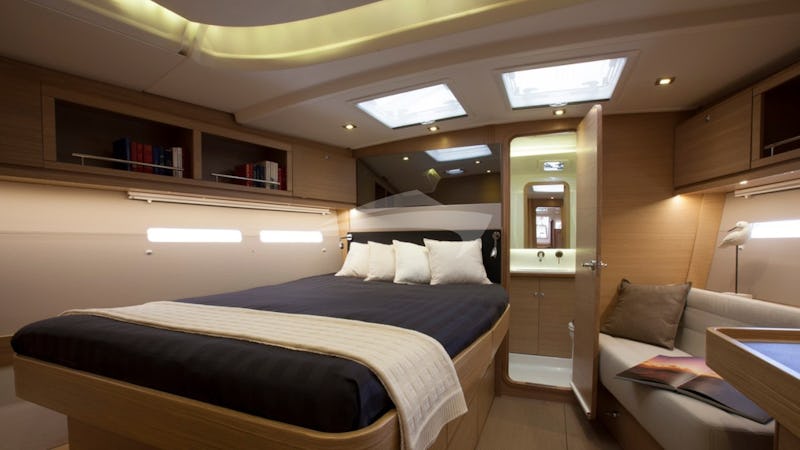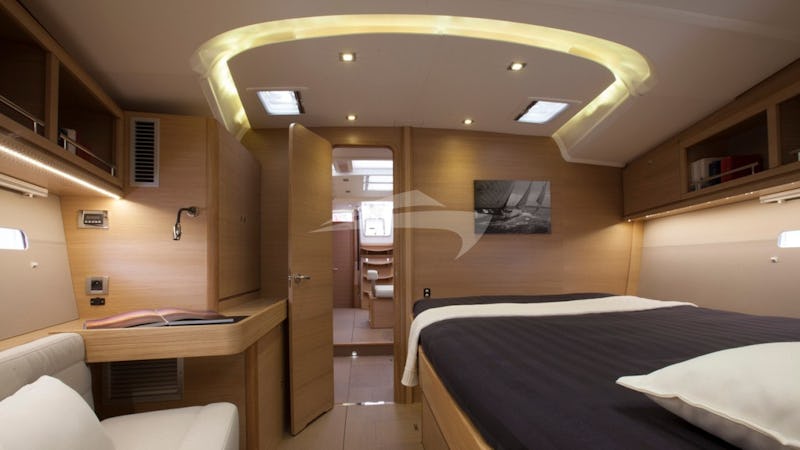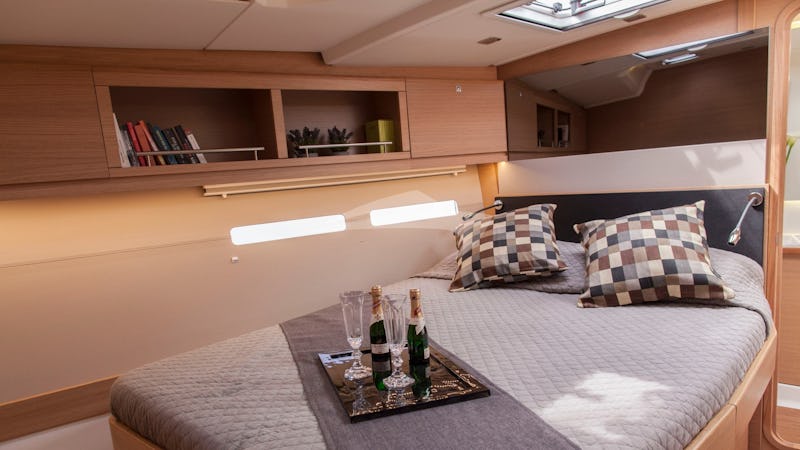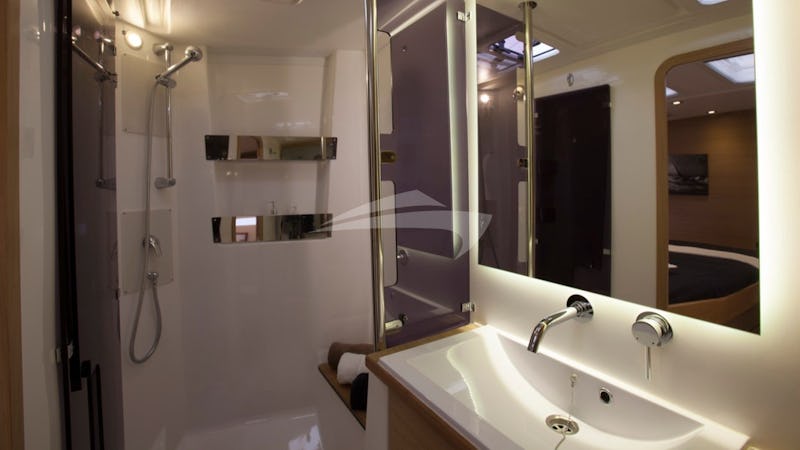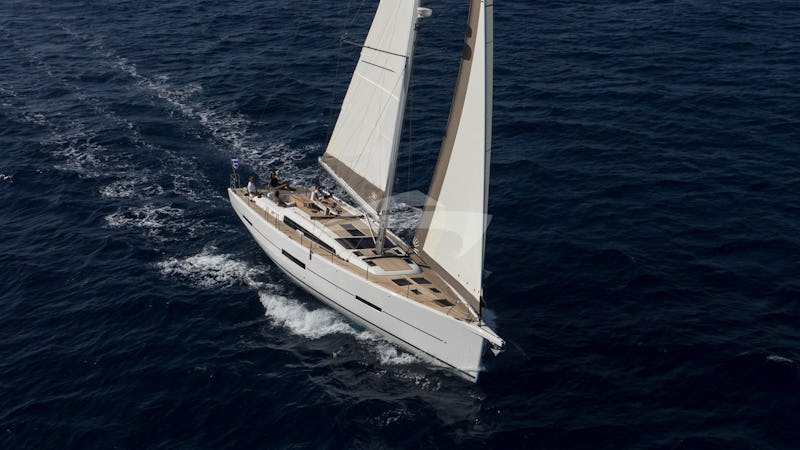 Charter This Yacht
56 ft / 17.1 m
│
1 CREW
│
FROM $7,852
│
6 GUESTS
56ft (17.1m)

16ft 5in (5m)

8ft 2in (2.5m)

2014

Dufour Yachts

Not known

6

Captain Giannis Giannopoulos

Not known

8kts (15kph)

None

Greece

Yanmar 110hp

Yes

No
Captain: Giannis Giannopoulos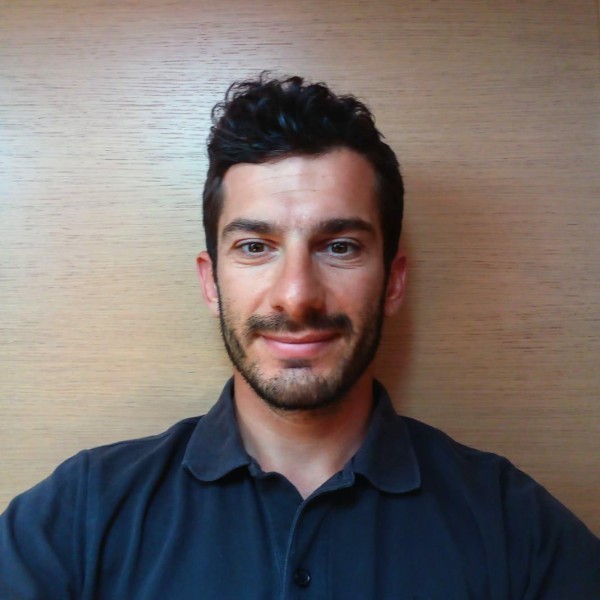 Giannis holds an Offshore Sailing License from Yacht club of Greece and he is also
certified sailing instructor by Greek Sailing Federation. Giannis also studied Accounting and Finance at the Athens University of Economics and Business and has being managing and after sales servicing for premium yacht brands.
He speaks fluent English, Greek and basic Italian.
From an early age Giannis was a national sailing champion and later European champion
in dinghy sailing classes.
He started sailing at the age of 9 and won his first national title only one year later. From
there on Giannis was part of the national team and participated in World and European
championships.
His racing experience grown even more later, sailing on Farr40, GP42 and other fast 40's
with some of the best teams of his country.
As an adult, Gianni early on worked as a captain in sailing transfers and trips both in Greek
and international waters with attention always to the safety of his crew and boat.
Giannis' local knowledge of the numerous islands and bays, his sailing coaching expertise
with both kids and adults and his calmness complement his sailing experience.
In his free time, he enjoys windsurfing, running and dancing tango
Guest Comments 2016
05-12/05/2016
Where could be possible begin-how could be possible explain how much we love DRUNKEN SAILOR, Tassos, Lou, and the Greek islands? We are on honeymoon and we could never have asked for a better start to our marriage! Mimosas on DRUNKEN SAILOR every day forever! Perfect breeze, beautiful sunshine and weather, delicious food, plenty of booze, code zero flying, dolphins, goats,snorkeling, cave exploring and of course mountain biking! We can't wait to continue our cycling the Cyclades adventures with DRUNKEN SAILOR in the future! Best boat, best Captain, best chef/hostess you could ever ask for!
We love you guys and we hope & pray we 'll be back!
27/06-06/07/2016
What a magical holiday we have had. All thanks to Tassos and Lou. We have been spoiled with Tassos finding us the most beautiful mooting spots in secluded gulfs and you keeping us fed with delicious food and drink!
Dear Tassos and Lou thank you so much for the wonderful experience. I'm so going to miss sailing, late night diners, and cheesy 80's music with you and all my awesome! Memories will never be forgotten.
Thank you so much for this amazing time!
Thank you so much this has been amazing trip lots of love from William!
Thank you, thank you!!! It has been so relaxing, breathtaking, super fun and just glorious!!! Thank you Tassos for all the beautiful bays and Lou for the most delicious food! You make a great team. We hope to see you both next year!
With love!
 20/08-03/09/2016
To Our Beloved DRUNKEN SAILOR Friends! Once again you out did yourselves.  2 great weeks on an amazing vessel. With Captain Tassos and Lou looking after us and making us feel like kings.  An amazing attentiveness to ensure that things are not just simple…but absolutely perfect!  Always a best moment coming to the end of our journey, but at the same time much to look forward to for next year! Once again thanks for a truly spectacular charter! Our hearts are grateful for this wonderful vacation! With all our kindest regards and friendship!
Les Suisses!
 September 2015
Let's start with a big thank you to both Tassos and Gregoria. We safely sailed to the different islands in this beautiful boat. The Dodecanese was shown to us in a great way. If we ever go chartering again we know who to call! –Karin, Paul, Luc, Lilian and Mathieu 
PS. Next time we will bring our TRX and inflatable dolphin 


 August - September 2015
1 September 2015 / 36°57'434 N 25°04'067E / Somewhere known as Anti Paros 

The ingredients for an absolutely perfect charter…

-1 x Dufour 56 in impeccable condition 
-1 x Captain Tassos with all his skillful seamanship and attention to detail combined with a unique mix of Greek charm and good old English humour
-1 x Cook/Hostess Gregoria who continuously kept our stomachs exceptionally happy combined with gracious Mediterranean hospitality and a warm and inviting character that makes both the taste buds and heart melt 

Pour all together & mix well = 10 days of bliss on the Saronic Gulf and Aegean Islands.
Tassos and Gregoria… you guys rock! A charter vacation to remember, cherish and to look forward next year… all our appreciation for being great Crew, for being so committed to our continued well-being and for allowing us to discover the joys and wonders of a lovely part of Greece. Definitely to be continued. With our highest esteem, friendship and gratitude… 

Gregory & Carine, Geneva Switzerland


 July 2015
This has been an amazing week of sailing that we will never forget! Thank you so much Tassos and Alexandra for showing us such a great time here in the Greek islands! For us this has been an excellent vacation filled with great food and a lovely time on DRUNKEN SAILOR. We have gotten to see some beautiful places and experienced Greece in the best way possible! Hope to be back soon! All the best, Sindre, Anne, Martine, Magnus, Alexander


 July 2015
We will never forget this 2 awesome weeks on DRUNKEN SAILOR. We had a very good time Tassos and Alexia made us feel like home and our 2 boys. We were sailing between small islands and finding sweet towns and ports. Food was very tasty! Thank you, Kat, Marius, Frank & Alex


 June 2015
First time sailing and have felt in love immediately. Wonderful islands, Tassos always found the right spot in little beaches. Both Tassos and Gregoria made us feel like home. Amazing people to spend our holidays. Tassos always on the move and funny and Greogoria put some pounds on us with her great cooking. What else is there to ask! Blessed to have spend this wonderful week in great places, with family and our friends Tassos & Gregoria. 

Thank you! 
Caila, Francesca and Nancho 
Guatemala / June 2015


 June 2015
It took less than minutes for DRUNKEN SAILOR to feel like home and only seconds for Tassos (one man one crew) to feel like family. We covered a lot of ground in just 48 hours on the boat but no amount of boating can ever be enough. We have to come back soon to explore more and to bring others. 
Tassos, thanks for such an amazing time. Your hospitality and expertise are both beyond measure. 
All the best and safe sailing, 
Chris, Adrian and Zanna


 May 2015
The DRUNKEN SAILOR and its crew have made our honeymoon a trip we will never forget! From sailing between small islands to finding the most amazingly beautiful corners to stay for the night, and fine diving morning, noon, and night. Tasos and crew have made a prefect cruise. Our own private 5 Star hotel on the water. 
We can't wait to come back. 

We had such an amazing time on our trip, thank you so much for all of your hard work putting it together. The hotels were all wonderful. However, the highlight of the trip was really the boat. The DRUNKEN SAILOR, its captain, and Alex our concierge/chef were all perfection. I think I speak for both myself and Michael when I say that it was an incredible experience.

Thank you! 
Watt family
Indoor audio system, Local TV, Wi-Fi, 11ft/3.6m RIB 15hp, Board games, Kayak, Paddleboard, Swimming noodles, Coffee machine, Light fishing gear, Swim platform, Water maker
Not Insured, Snorkelling gear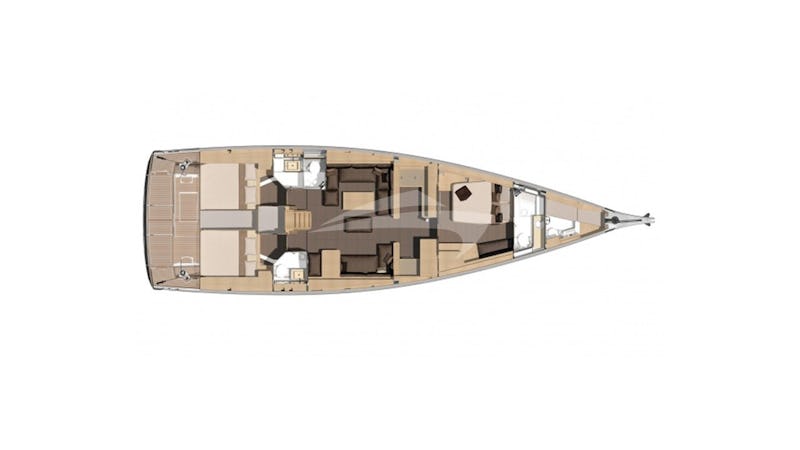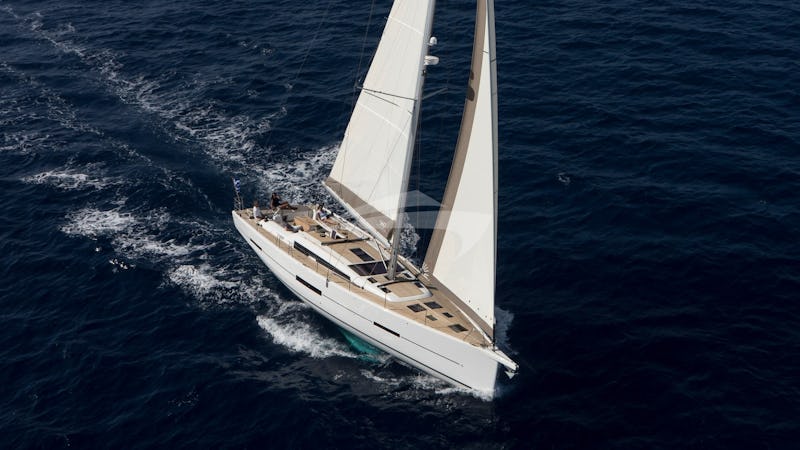 We have identified 3 similar yachts. Would you like to inquire on them as well?
Available in 1 area
Guests 8
59ft 1in / 18m
From $7,385
Available in 1 area
Guests 10
48ft 3in / 14.7m
From $6,281
Available in 1 area
Guests 8
45ft 7in / 13.9m
From $9,375