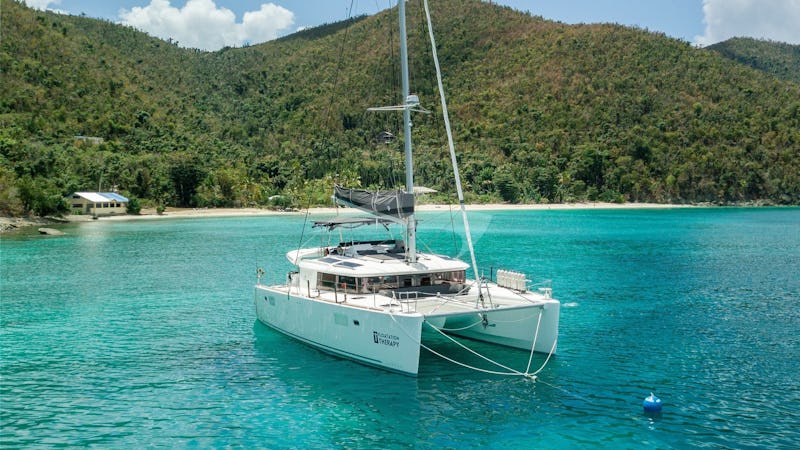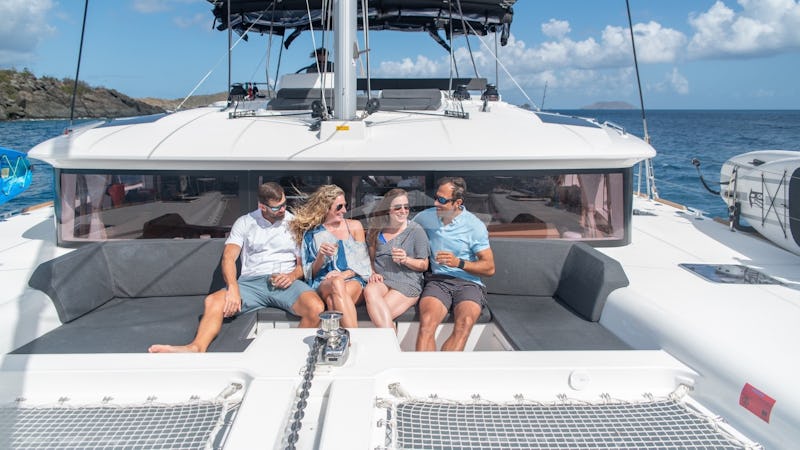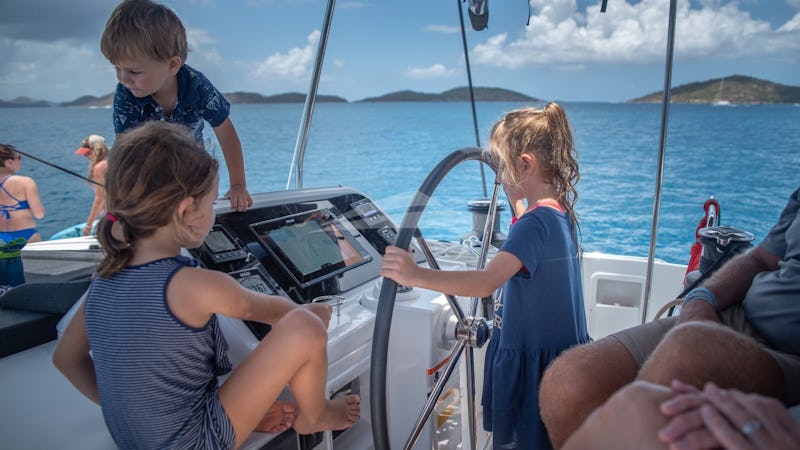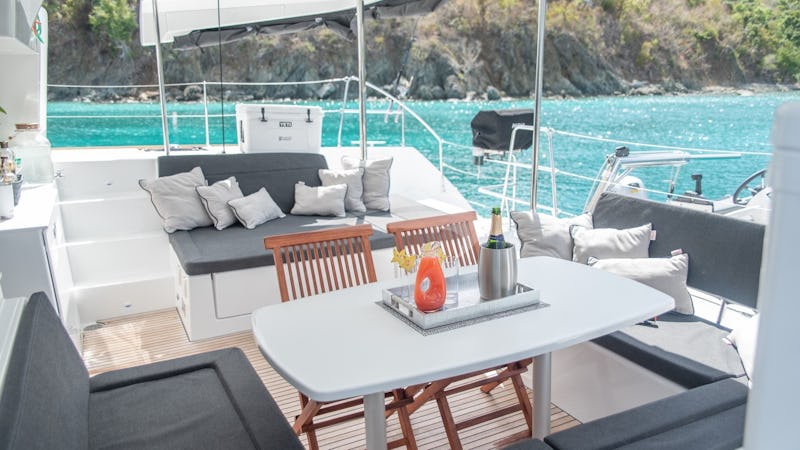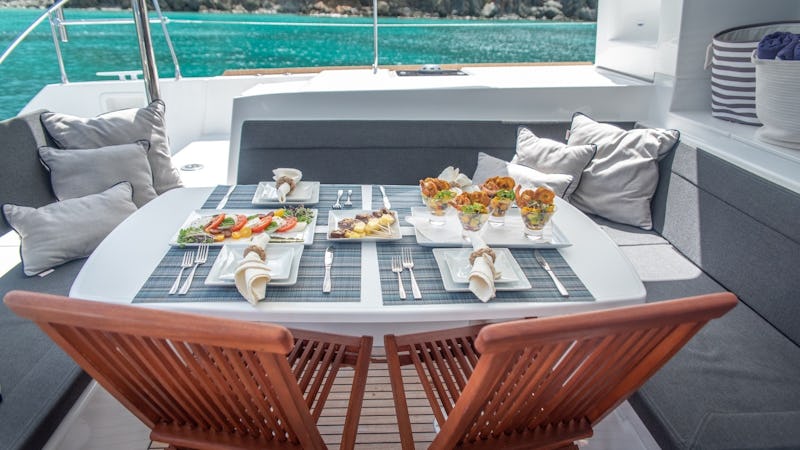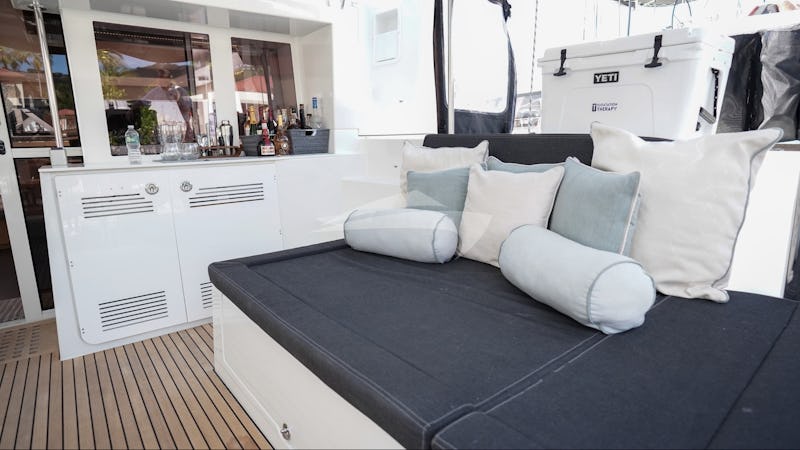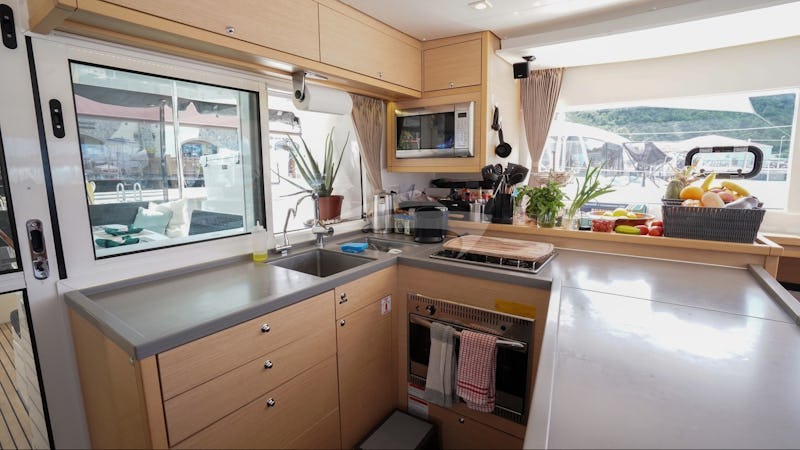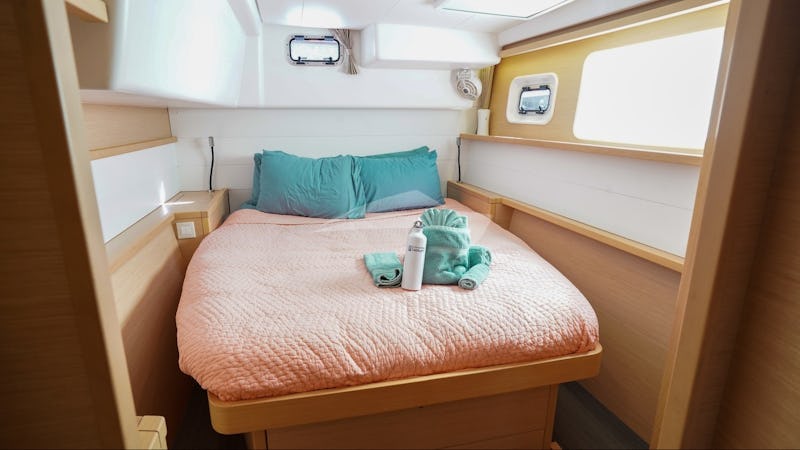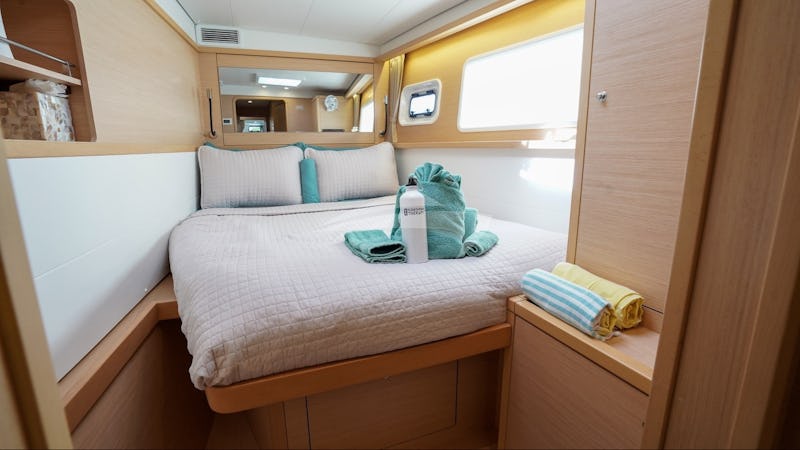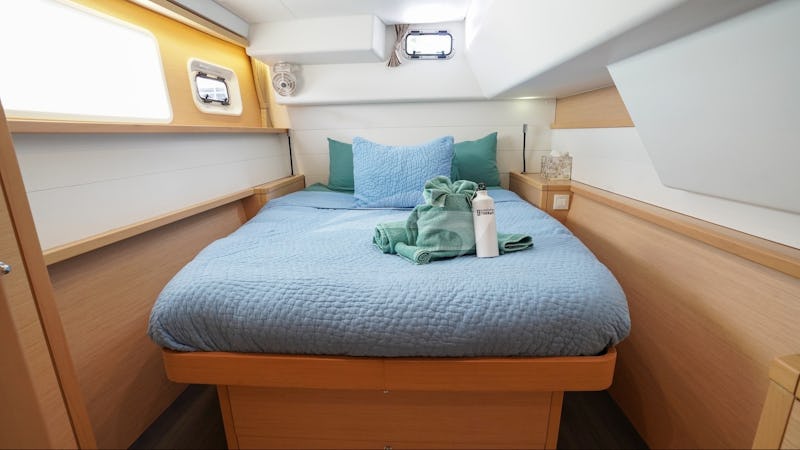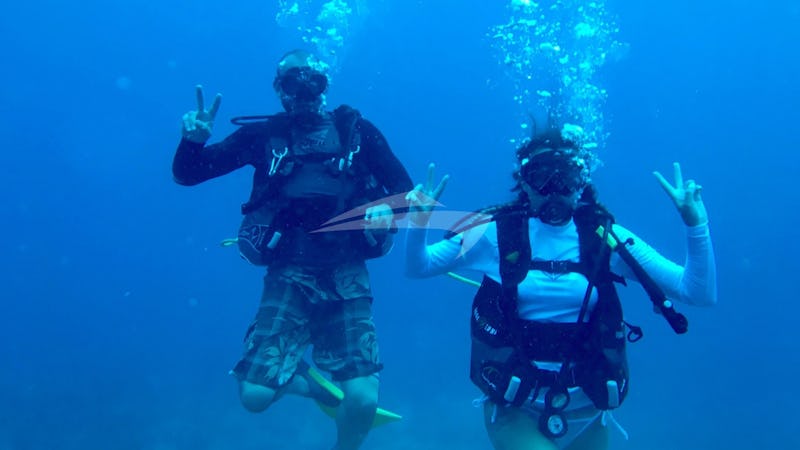 Charter This Yacht
44 ft / 13.7 m
│
2 CREW
│
FROM $27,000
│
6 GUESTS
44ft (13.7m)

26ft 11in (8.2m)

4ft 11in (1.5m)

2019

Lagoon

Not known

6

Captain Michael Plotner

Not known

10kts (18kph)

None

Not known

2x Yanmar 54hp

No

No
Captain: Michael Plotner
Qualifications
-USCG 100ton Masters
-AEC1
-AEC2
-Powerboat Level II
-PADI Dive Master
-STCW 95
-ENG1
Michael was born in Northwestern Pennsylvania by Lake Erie. Being around lakes and fresh water rivers fishing and boating was a big part of growing up. After attending university at Edinboro PA and getting an accounting degree his career plans took a turn when he took an interest in Maritime in San Francisco in 2015. The rest is history and his love of the ocean, care and safety of vessels, and providing the best experience to guests and friends around him to the top standards has become his main goal. Working as chief engineer on a 160' schooner his management and engineering skills have developed to a high standard for preventative maintenance and top care of a vessels mechanical, electrical, and AV related systems. His competence on a vessel and sense of adventure will ensure you have a great experience when embarking on a new adventure.
Chef: Sara Hogan
Qualifications
-USCG 100ton Masters
-RYA Day Skipper License
-RYA Power Boat Level II
-PADI Dive Master
-STCW 95
-ENG1
Sara was born in Texas and lived her younger years in San Antonio. At 13 years old her parents decided to move onto their 41'morgan out island sailboat. She lived onboard invincible until she was 18. During those 5 years onboard, she traveled through the eastern and western Caribbean learning Spanish, surfing, sailing, and living a life on the ocean. Growing up on the ocean inspired her to pursue a career in maritime. She loves entertaining and sharing her knowledge of the water to ensure the most spectacular time for her guests and friends alike. Being the chef onboard it will be her pleasure for her to provide you the absolute best entrees and hors d'oeuvres. Sara with her sense of adventure, love for the water, and culinary skills she will ensure you to have the best experience on any vessel.
Michael and Sara first met on a 160' sailing yacht in New York City working as crew. Michael was the engineer and Sara was hired on as a deckhand. They hit it off instantly developing a relationship both professionally and romantically. The couple worked for 2 years together sailing and exploring New York and Newport in the summer, the Caribbean, and Bermuda in the winter. After being together for 3 years now they want to share their passion for the ocean and working on sailboats to provide guests with the best experience.
March 2022 USVI Charter
We recently chartered Floatation Therapy (a 45' Catamaran) for six nights in the US Virgin Islands and we could not have been happier on our charter.  Captain Mike and Chef Sara were absolutely exceptional and we loved our time with them.   From the very beginning, it was clear that they wanted to make sure that our trip met the desires of the whole group.  On our pre-call, they asked great questions, were professional and had great communication and were incredibly responsive.  Throughout the entire experience, they both were friendly, professional, kind, calm and just really, really good people.  They listened to us and created an itinerary that was exactly what we were looking for and made sure that every experience was a positive one – from reserving moorings, reservations, finding great snorkel and dive spots, recommending great restaurants, connecting us with taxi drivers, etc.  They absolutely went above and beyond in every situation.  Chef Sara's food is incredible and she made some of the best food we've eaten.  She baked bread (sandwich bread AND the most amazing banana bread we've ever tasted), made homemade pizza crust, created a wonderful blueberry compote from scratch, pickled her own jalapenos and just made everything wonderful without cutting any corners.  Her salmon dish and curry pork dish were two of our favorites and we seriously commented after every meal how delicious the food tasted.  I also commented that the meal table always got very quiet once the food was served because we were all loving it so much.  Most importantly, Mike and Sara are just good people.  We loved being around them and enjoyed having them a part of our vacation.  We will absolutely be rebooking with the two of them in the future!
The Cornell Family 
February 2022 USVI Charter

Mike and Sara were stellar. They anticipated our every need, and responded to every request…immediately. Mike was an amazing bartender and skilled sailor and diver and Sara a very accomplished chef and all around fun interesting travel mate. They were relaxed and welcoming and made us instantly comfortable on board They went above and beyond to make this adventure everything we had hoped.
I'd have to say it was a 10 (out of 5 stars) for us all. I wouldn't change one aspect of our time on board!
We hope to book w Mike and Sara next February but have to get the rest of our party on board first. I will be reaching out for sure. Cannot wait!
-The Griffiths

December 2021 USVI Charter
For Mike and Sara - our amazing crew who saw to our every need, from drinks to food!! Sara's gourmet cuisine (5 star chef) to Mike's maritime experience with navigation anchorages and life on board in general.  Mike and Sara's incredible knowledge of sea life and boating from years of experience is difficult to match.  We could not have asked for a better crew on such a well appointed and awesome boat!  It was a perfect vacation.  Hope to see you again for a repeat experience!
- Tricia
We know it would be a fabulous trip, but the experience surpassed our already high expectations!  Sara and Mike - you are an incredible team that created and environment so calm, so perfect, so peaceful, and so satisfying!  The food was divine!  Snorkeling was spectacular…and the sailing was ideal… full of big winds blowing just the right way!  We appreciate how you anticipated every need and offered lots of options to ensure each of us had a spectacular vacation!  Thank you so much Cynthia for sharing your beautiful boat and crew!  Looking forward to our next adventure together!! 
- Heather and Phil 
February 2021 USVI Charter
"The week went so fast, thanks to Sara and Mike's planning and hospitality. We felt very safe in Captain Mike's sailing hands and very satisfied thanks to Sara's amazing cooking. They knew all the best coves for sun and fun at the beach. They picked great dive spots and even found a lobster on our last day to serve up for a delicious lunch. We enjoyed Mexican Dominos and shots of fireball. It was an extraordinary adventure!!" -Kelly and Rob

"What an awesome week, we had such a wonderful time on Floatation Therapy. Sara and Mike were amazing - all planning and anticipating our needs before we did. They really went beyond we couldn't of asked for anything more. We loved the diving especially Tektite and catching a lobster on the last day. We are ready to come back next year and do it all over again!! You also made us forget about covid and all the problems of the world. Couldn't ask for more! Sara's meals were delicious and plated beautifully! Thanks for everything!" -Clair and Mark 
February 2021 USVI Charter
"Mike,
You did a great job captaining the Floatation Therapy Yacht! Thank you for keeping us face. It was fun to have the wind behind us and raise the jib. We appreciate that you had some ideas of where to go and what to do in the USVI. Thank you for hiking with us and snorkeling with us. Thanks for the many rides on the tender boat to the beaches, snorkel spots, and to dinner, You also listened to our wants and ideas."

"Sara,
You served us so well! You were a rock star in the galley with creative menus of healthy and delicious meals. I will never forget the stuffed bell pepper lunch the first day, the lemon garlic shrimp & zucchini noodles, crab cakes on Salemon Beach and steak and scallops over cauliflower rice! You work long hours with a sweet spirit to meet our needs and our wants. Thanks, too, for assisting Mike on the vessel and tender boat."

-Sincerely,
Randy and Nancy 
"Mike & Sara,
Thank you for a relaxing and adventurous vacation. The itinerary was an awesome way for us to experience the wonders of the U.S. Virgin Islands. The menu and presentation of delicious and healthy meals was unforgettable. Thank you for your sweet spirit and caring hearts. You served us well and we are forever grateful.

- Randy & Nancy

"Dear Mike and Sara,
This trip was something we dreamed of doing, but you exceeded our expectations. The meals and drinks were plentiful and delicious. We loved being on the water, exploring all the different islands, taking in the sights, sounds, tastes, and smells of this beautiful part of the world. Thanks for creating an adventure we'll never forget!"

-Loraine and Alf 
January 2021 USVI Charters
#FLOATATIONTHERAPY The name says it all. If you are looking for a charter that creates a place of peace whether exhilarating adventures w hikes, dives/snorkeling, or serene bays and beaches basking in the sun Floatation Therapy along with its great crew is the place to be.  
They had fresh unique dishes and some fabulous favorites. Cappacinios with breakfast, simple snacks after snorkeling, appetizing lunches, more snacks if you like, and of course, opulent dinner followed by decadent desserts. And always on hand a cocktail or two or three! 
The crew, Mike and Sarah, helped us plan and create the experience we wanted. A getaway with no shopping, no work, low carb menu, and no stress. Beginning in Caneel Bay, snorkeling at Henley Bay (awesome), Trunk Bay - beautiful beach to bask in the sun (underwater snorkel trail interesting), Cruz Bay - off to our one dine out, Leinster Bay - hike up to Annaberg Sugar Mill (light hike, history, and butterflies among the Nokia trees), another beautiful restful visit to Caneel Bay among the sea turtles, then off to Salt Pond Bay - light hike through Salt Pond (a lesson in salt and ecology in itself) to Drunk Bay (a transition from simple beauty to splendid rock/ reef/fossil exploration) - with luscious mangroves, rolling green hills - a dramatic sea crashing among the rocks. On my next trip, I plan to hike Ram Heads Trail, which I hear is spectacular. 
Thank you, Mike and Sarah, for an awesome adventure and all the therapy I could ask for. You'll see me again!!

Delynn 
December 2020 USVI Charter
"Thank you so much Mike and Sara! We all had such a wonderful and relaxing time. Sara - the food was amazing, we can't stop talking about the chocolate lava cake. Everything was delicious. Mike- thank you for taking us diving, getting safely from spot to spot and getting water activities set up for us each day. This was a trip we'll never forget. Thanks so much!"
-Kristen, Jacob, Ryan, Maggie, and John, from Denver CO
December 2020 USVI Charter
"Thank you Mike and Sara!! We had an amazing 10 days. Everything was wonderful - the weather, the boat, you all…. Food was incredible - Thank you Sara!! This boat is fantastic - so comfortable, clean, so many great spots to sit, sun, take in the sites. This was an upgrade from previous charters and so worth it. Can't think of a single thing I'd change. Dives and snorkels were amazing as well. We truly appreciate your attentive care of us this week!! Five star accommodations - Thank you so very much!! We hate to leave and hope to be back."
-Ann Marie, Savannah, and Lily Kemper and Mary Ann Burgesan

"Thank you so much for a fabulous trip. You guys were the BEST EVER!! You took such good care of us. The boat is super comfortable but you two made the trip so very pleasant. You are the best at your jobs I have ever encountered and I have chartered many charter crews!!! ❤️"
-Mary Ann

"I can't thank you guys enough for making this trip so spectacular and relaxing. The food was all delicious, absolutely no complaints! Thank you so much for making my birthday so special ❤️ it was amazing!
-Lily Kemper

"Thank you so much for some of the most memorable and amazing dives I've ever been on!! I will always remember how comfortable, fun, and incredible this trip was. Thank you so much!!
-Savannah Kemper

They also sent us emails wishing merry Christmas and pictures of Savannah's napkin folds she did for Christmas after she was "inspired" by the ones on the boat.
November 2020 USVI Charter
Thanksgiving 2020
"What a special year! Mike and Sara were fabulous and could not have asked for a better experience. There were so amazing and there for everything. It was an unbelievable experience. We will be back! Loved every minute."
Whit "Love"
Porter "Thanks it was awesome"
Jack "The Boat was awesome"
Morgan, Alan, Porter (13), Jack (11), Cole (9), Whit (6)
Indoor audio system, iPod dock, TV saloon, Wi-Fi, 12ft/3.7m RIB 20hp, Beach games, Floating mats, Kayaks multiple, Paddleboards multiple, Tube - towable, Water skis - child, BBQ, Deck shower, Light fishing gear, Hammocks, Special diets
Not Insured, Snorkelling gear, Underwater still camera, 8 Tanks, 6 BCs, 6 Regulators, Dive Master,

Michaela is a Divemaster.

3 dives per week included for Certified Divers.

Extra Dives are $50 per person/per dive.

$150 for Resort Course and would need an instructor on board.

$300 for Full Course and would need an instructor on board.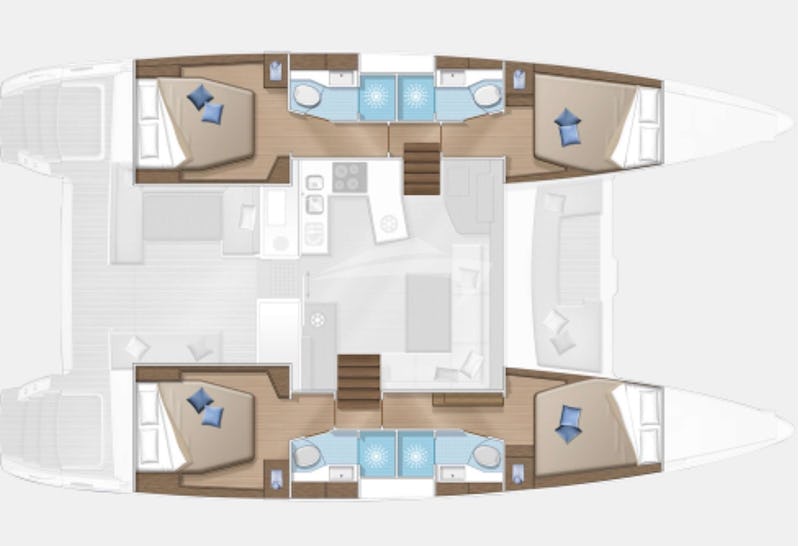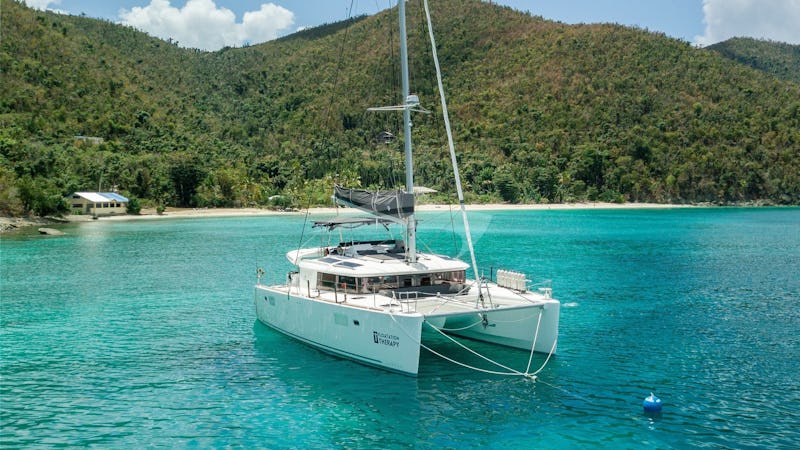 We have identified 3 similar yachts. Would you like to inquire on them as well?
Available in 1 area
Guests 10
65ft 0in / 19.8m
From $27,000
Available in 2 areas
Guests 6
71ft 10in / 21.9m
From $27,500
Available in 2 areas
Guests 8
77ft 5in / 23.6m
From $26,041