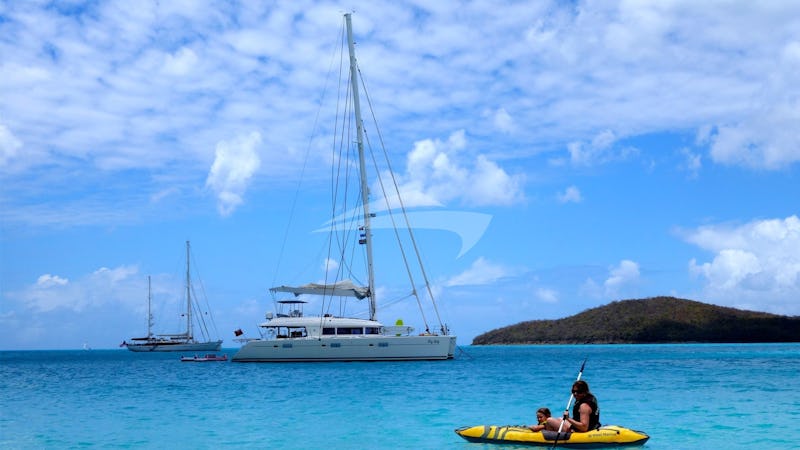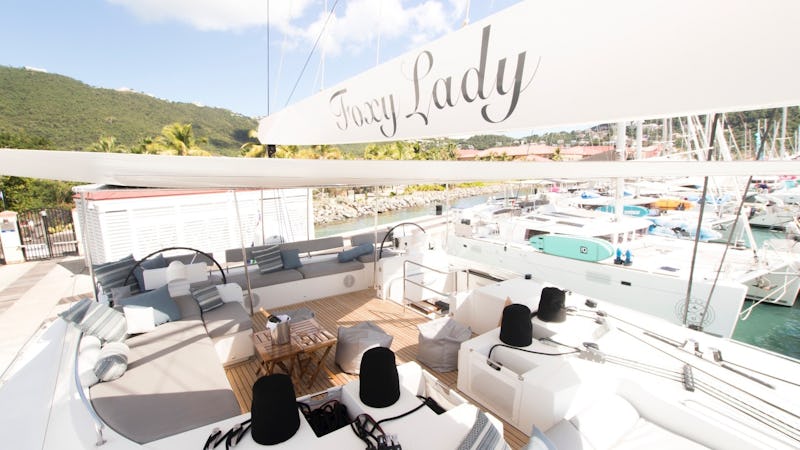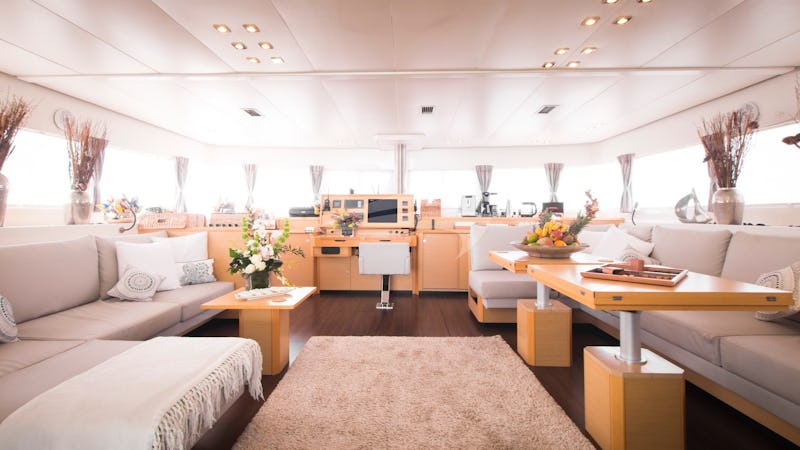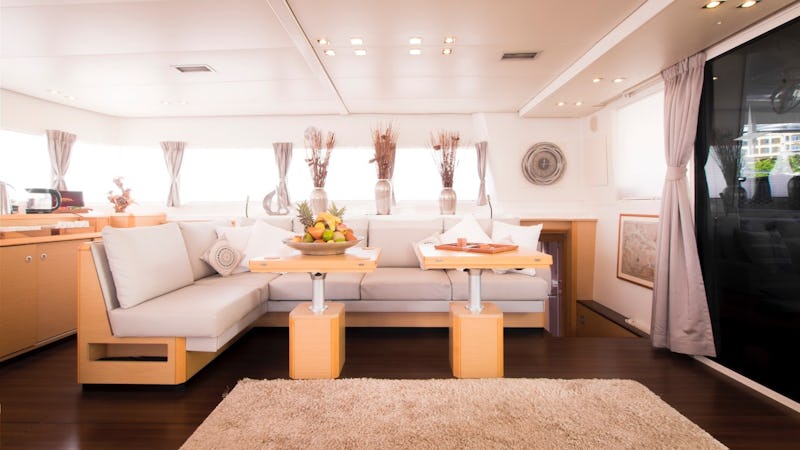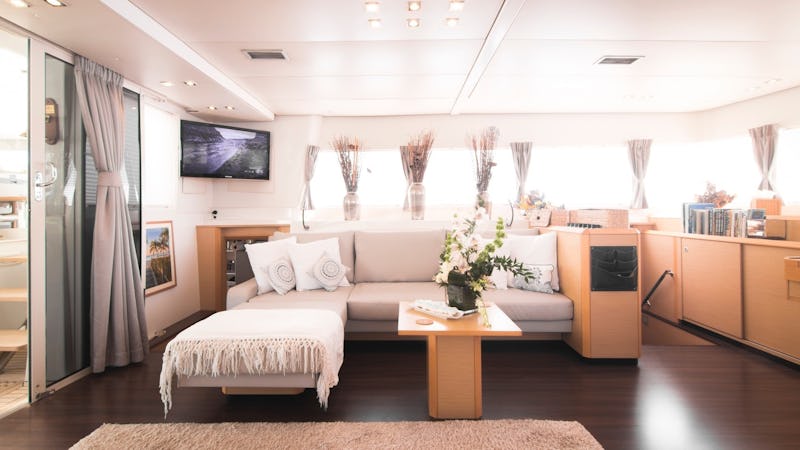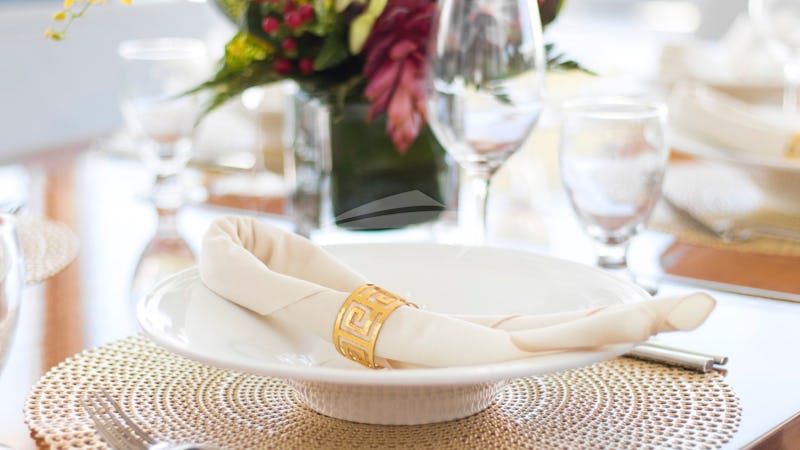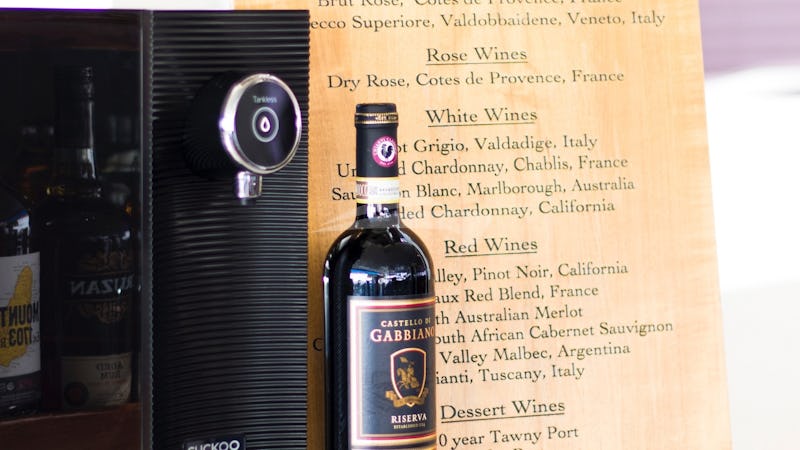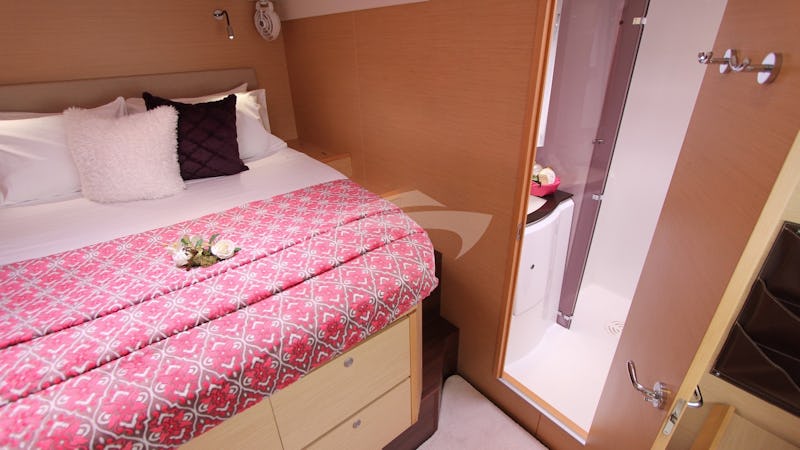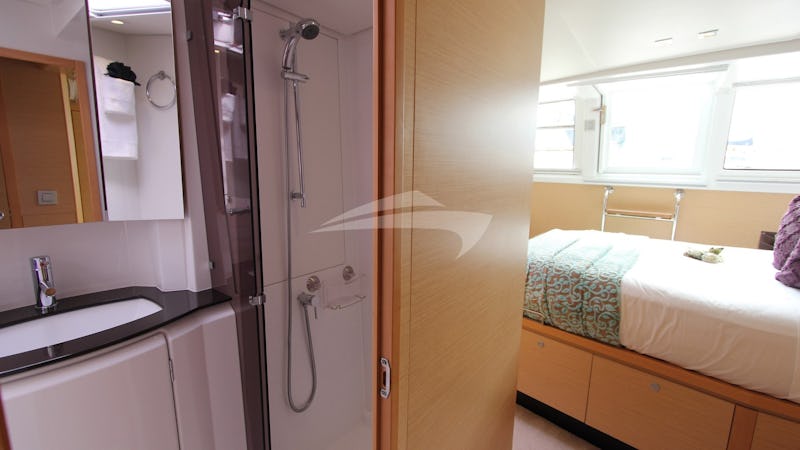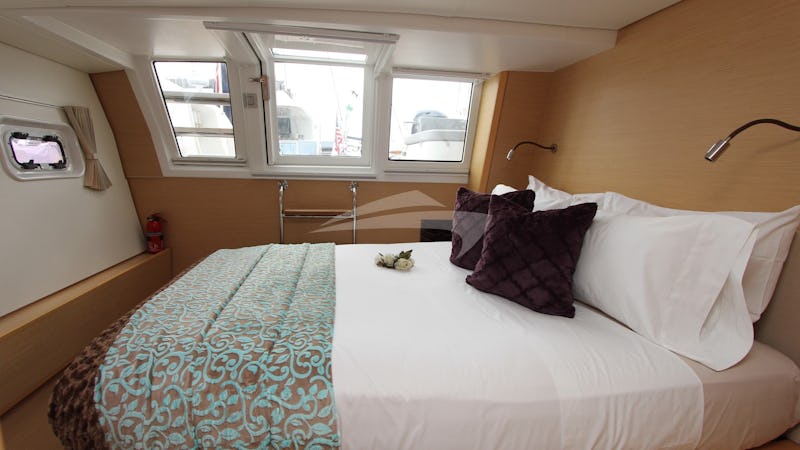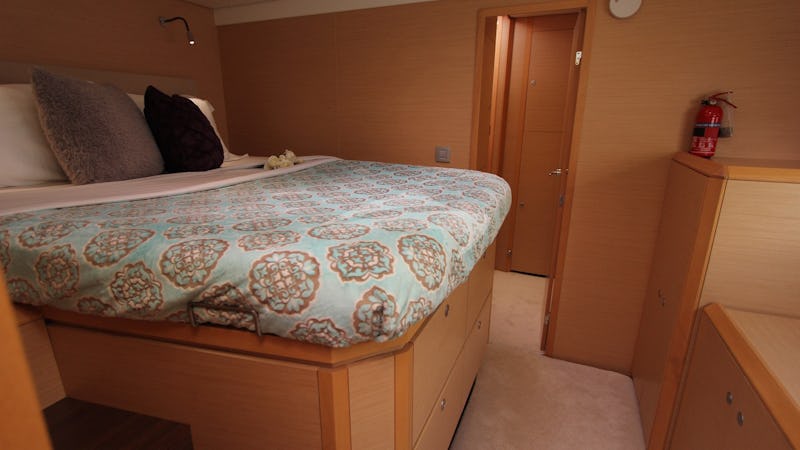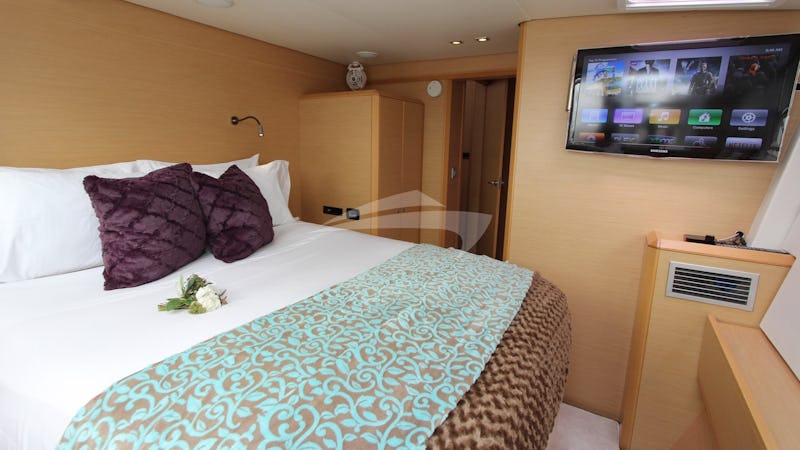 Charter This Yacht
62 ft / 18.9 m
│
3 CREW
│
FROM $30,000
│
8 GUESTS
62ft (18.9m)

33ft 2in (10.1m)

5ft 7in (1.7m)

2011

Lagoon

Not known

8

Captain Jos Smart

Not known

7kts (13kph)

None

British Virgin Islands

2 X Volvo Penta D3-150

Yes

No
Captain: Jos Smart (28)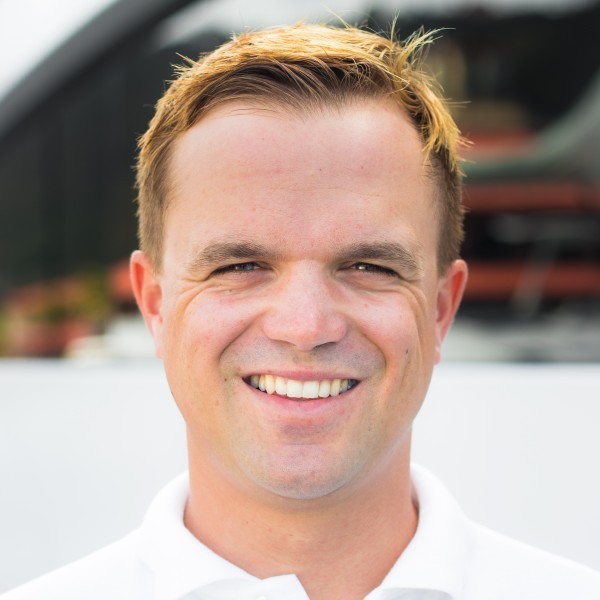 Jos is a Yachtmaster certified by the Royal Yachting Association with all the necessary credentials to safely captain Foxy Lady throughout your voyage. Jos' competency at the helm is equally balanced by a passion for adventure. He spent his younger years on the water, diving, windsurfing, sailing dinghies, and he loves to fish as well! Jos will be your Divemaster onboard and will show you the magic of the underwater world in the Caribbean.
Chef: Julia Taylor (32)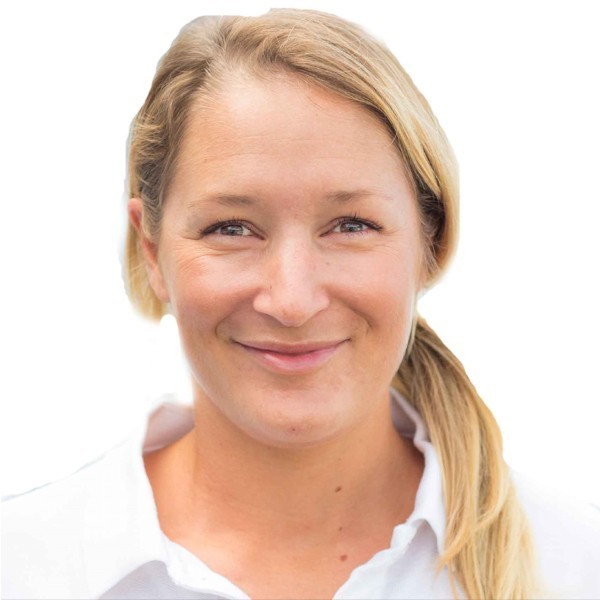 Julia has over 10 years of experience in the hospitality industry within hotels, ski chalets, and sailing yachts. Her culinary skills were honed at the acclaimed Ashburton Cookery School in Devon, England. Julia has a tender heart and gentle nature having worked as a school teacher earlier in her career. She is ready to use her hospitality and culinary skills to create the perfect menu for you.
Stewardess: Rosie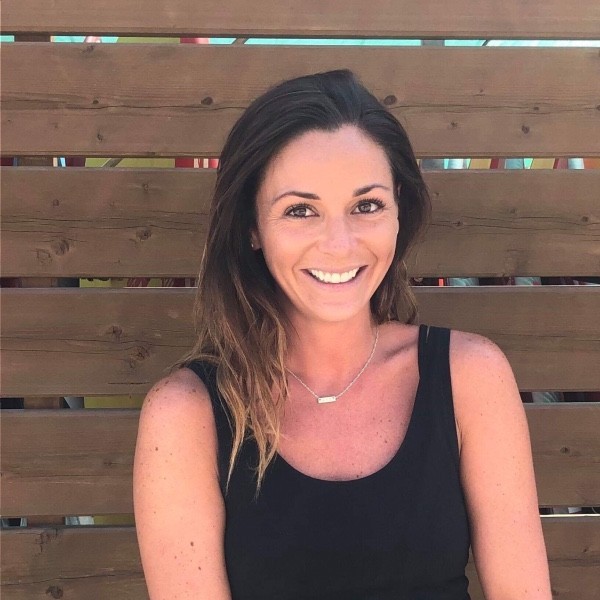 Rosie joins Foxy Lady for 2019-20! Having worked with Jos and Julia in Greece in the past she will be a terrific asset to the team and looks forward to welcoming you onboard for the vacation fo a lifetime!
 

Jos and Julia were absolutely amazing.
We had a wonderful trip - probably our best family trip ever! The boat was perfect for us - so nice to have a walk in shower. But what made the vacation so special was the crew - Jos and Julia were absolutely amazing. Julia's culinary skills were over the top - every meal, snack, drink was beyond our expectations. We only ate off the boat on NYE, and decided against bar hopping on the islands because what she and Jos created was so much better. They were able to predict what we would want/need and were lovely to chat with and be with on the boat. They are amazingly good at their jobs! We were all very sad to leave them and the boat.
Steve, Betsy, Meaghan and Jemma
November 2018
I can imagine no better charter boat experience than what we enjoyed on Foxy Lady with Jason, Kate, and Tayla. The boat itself was immaculate, spacious, beautiful, and comfortable. What really put our trip over the top was the crew. As a mom of three (ages 10, 8, and 5), vacations can be utterly exhausting for the parents! That was not the case this time. Every crew member took time to engage with our kids - they played board games daily, took them tubing, indulged their desire to chat about random topics, hosted a pirate party, swam with them (including a mermaid tail lesson!), put on an elaborate treasure hunt, gladly made grilled cheese or PB & J for the picky one, welcomed the kids' endless "help" with setting the table, making drinks, sailing, or even fileting a fresh fish to make ceviche. When we snorkeled, they constantly checked on them to make sure they were comfortable and having fun, offering to take the youngest one back to the boat when she got tired so the rest of us could keep going. It was almost like combined they were an extra crew member assigned to look after the kids. They did this stuff seamlessly, cheerfully, energetically, and all the while seeing to their everyday duties and making sure we four adults felt equally spoiled. 
We all adored our week on Foxy Lady and would recommend it to families who want to experience an adventure in paradise together. 


 2018
Kate and Jason did a fabulous job of keeping all of our rooms, the salon and their busy kitchen neat and clean. They were also amazing at hanging our towels each time we came out of the water and making sure the deck was clean at all times. This is our 5th time chartering and both Jason and Kate were hands down our favorite crew! This is the top captain and chef we have ever had on our private charters. They were both attentive to what we wanted to do while taking into account the conditions of that day. 

They organized a treasure hunt for our 4 year old grandson. Kate drew an amazing map based on the landscape of where we were, I think it was Peter Island. She burned the edges of the map and stuffed it into a bottle. They put it in the water at the front of the yacht so that it would float down and in front of my grandson allowing him to 'discover it'. Everyone jumped into the water and headed to shore. Poor Jason had to make at least 3 prior trips in to add additional clues and bounty. They turned our family trip into a magical adventure! The crews expertise was exceptional. They sometimes had some challenging winds to deal with. Jason handled the boat well in all conditions. Kate too.
We had a previous charter where the food was awful. Since then we have always specified that we wanted someone who knew how to cook. WOW can that girl cook. She sometimes had to make 3 different meals for one dinner. One for my grandson, one for someone who was allergic to the main course and the main course. 

Would we charter this yacht again? YES!!!! We are heading back out with Jason and Kate in November and would not consider sailing with anyone else after being with Jason and Kate.
                        

You guys are awesome ! 
The perfect crew mates at sea and in life. This was our first time on a week long boat trip and what a trip ! We did so many things it was unbelievable! I don't know how we fit so much in, in one week but we did and it just went way to fast ! We have had the most memorable vacation because of you and hope to see you again at sea or on land. You have a place to stay in Philly if your travels ever bring you there.
Best of luck Phil Moyer
---
Y'all are the Best !  
 Thank you soooo much for taking care of us and totally spoiling us. This trip was exceptional and such a pleasure.  Loved the food, drinks, company and SPACIOUSNESS of the boat !!! It was unbelievable how open and airy Foxy Lady is. Such a bonus... We loved dressing up as PIRATES !!! Thanks for the Pirate Celebrations....
We can tell you both have a passion for what you do and that made the trip even more fantastic !!  We are so grateful for being lucky enough to have the best boat Captain's ever !!!
We wish you the best
xx
Cory and Laura
---
The seas are better because of you two !
 Never in my wildest dreams did I think I would be able to experience something like this and hands down we know you're the finest crew out there ! Your attention to detail is unbelievable and your hospitality even better !
You will see us again soon !!!!
Much love and fair winds
---
Thanks for making our family vacation an absolute blast

We had an amazing time from snorkeling to wake boarding to eating to just hanging out. You both are such down to earth friendly people and that's what helped make this trip one of the best ever. We wish you the best of luck and hope you have many great adventures.
Sandy, Jim, Stephanie, Jessica, Nick, Adam and Billy
 Thank you for the epic cruise. 
Although Cindy was hesitant to cruise on a live-on-board, we were very comfortable by the moment Foxy lady left port. Especially enjoyed the excellent meals and the stellar itinerary. Appreciated the help with water sports and patience with Jim's boat conversations.
Thank you for all the knowledge you gave to us about the sea and sailing. You both are the best.  Please come to visit us in Edmonton. we would love to have you both.
Please keep in contact, we need some of your favorite recipes.
Jim and Cindy 
Exceptional commentary from a group of UK-based Travel Agents that catamaran FOXY LADY hosted aboard in late November.
What a fantastic yacht! There is honestly nothing I can fault with Foxy Lady – the amenities and water sports were great, food was fantastic and crew lovely and friendly. I hope to be sending clients their way very soon!
Indoor audio system, iPod dock, Media movie server, MP3 music server, Printer, Satellite radio, Streaming online media, TV master cabin, TV outdoor, Wi-Fi, 16ft/5.1m Custom Tender 70hp, Assorted water toys, Beach games, Board games, Floating mats, Inflatable floating island, Kayaks multiple, Kite board equipment, Paddleboard, Paddleboards multiple, Swimming noodles, Tube - towable, Wakeboard, Water skis - adult, Water trampoline, BBQ, Book library, Coffee machine, Deck shower, Big game fishing gear, Light fishing gear, Ice maker, Special diets, Sun cushions, Sun loungers, Swim platform, Water maker
Insured, Diving if certified, Diving lights, Snorkelling gear, Underwater lighting, Padi Divemaster,

Rendezvous Diving Only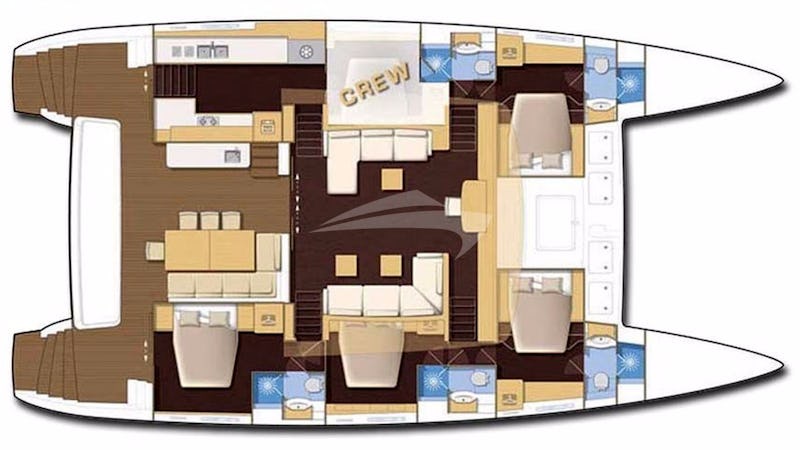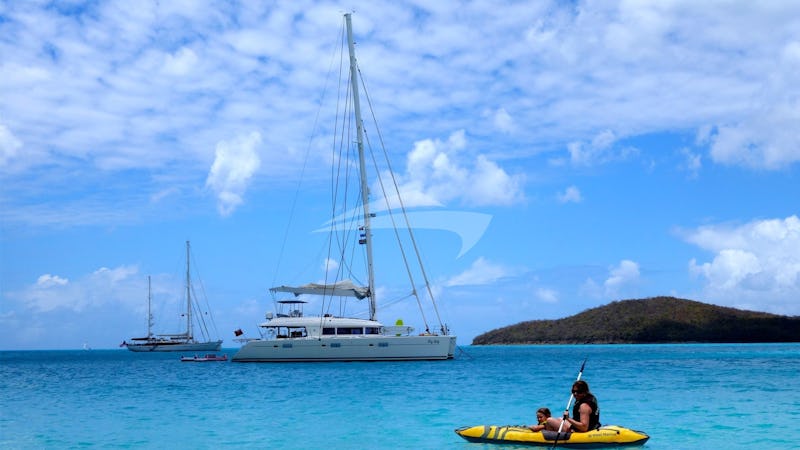 We have identified 3 similar yachts. Would you like to inquire on them as well?
Available in 1 area
Guests 6
65ft 11in / 20.1m
From $30,000
Available in 1 area
Guests 8
51ft 10in / 15.8m
From $30,000
Available in 2 areas
Guests 8
82ft 4in / 25.1m
From $29,166