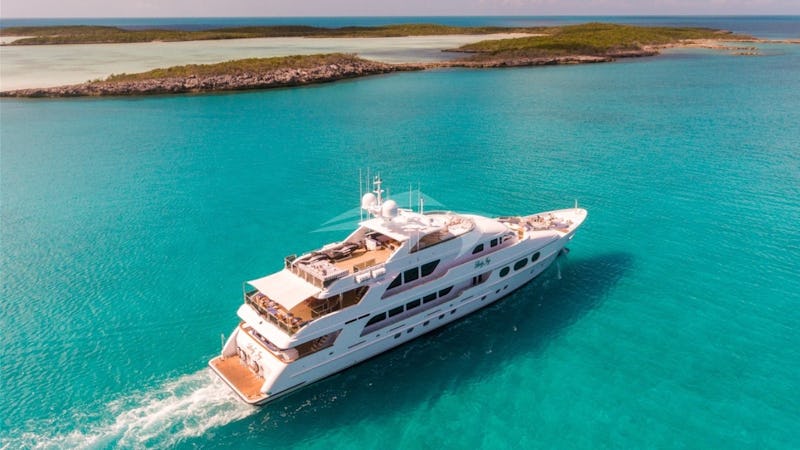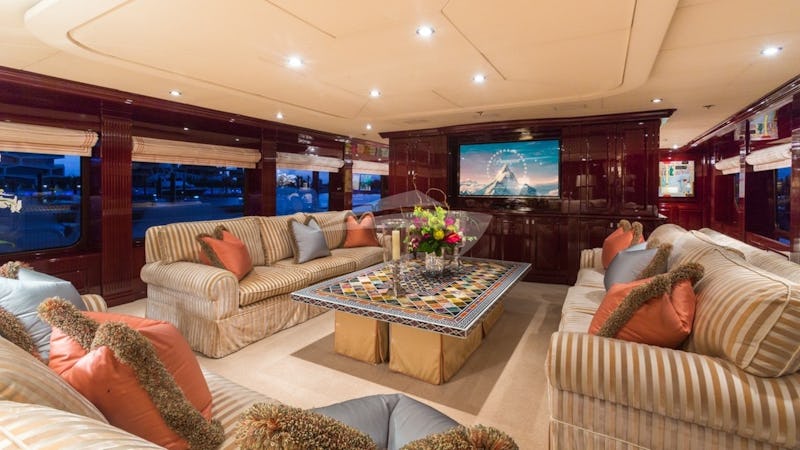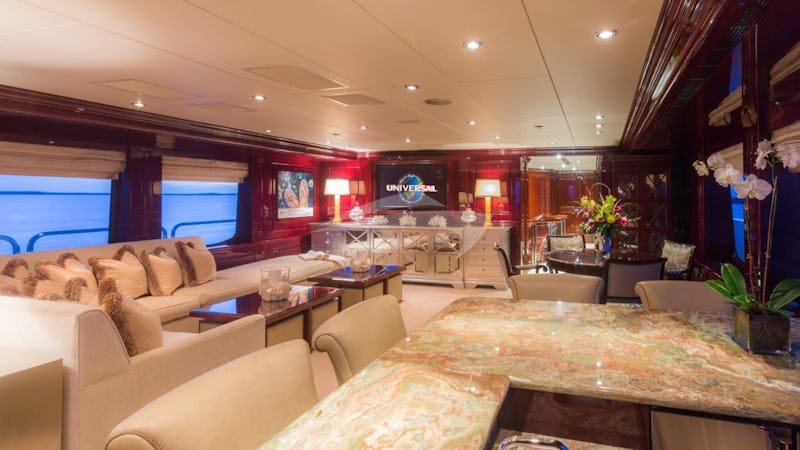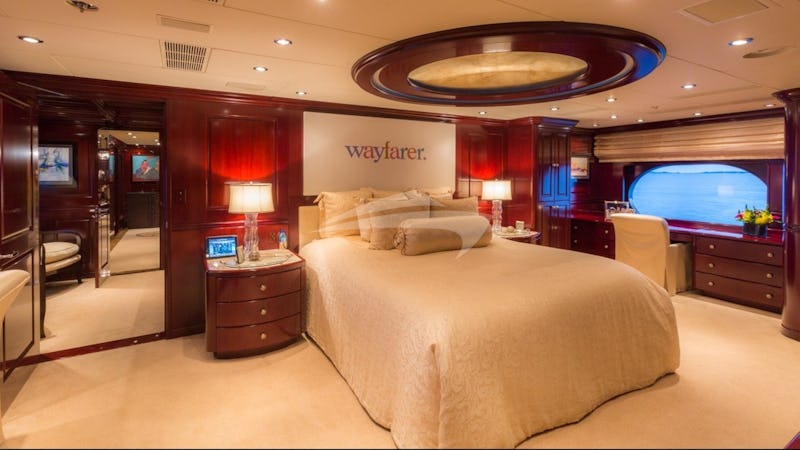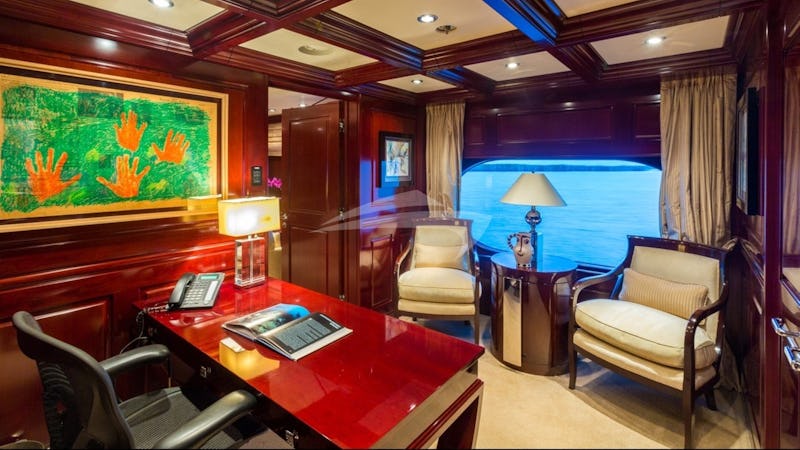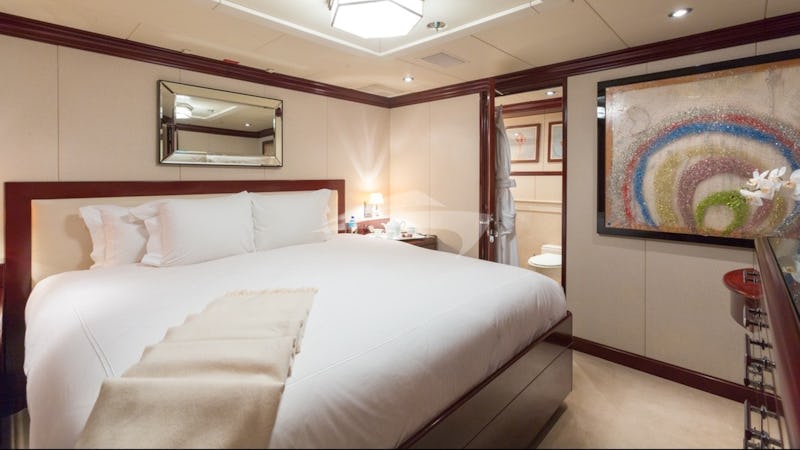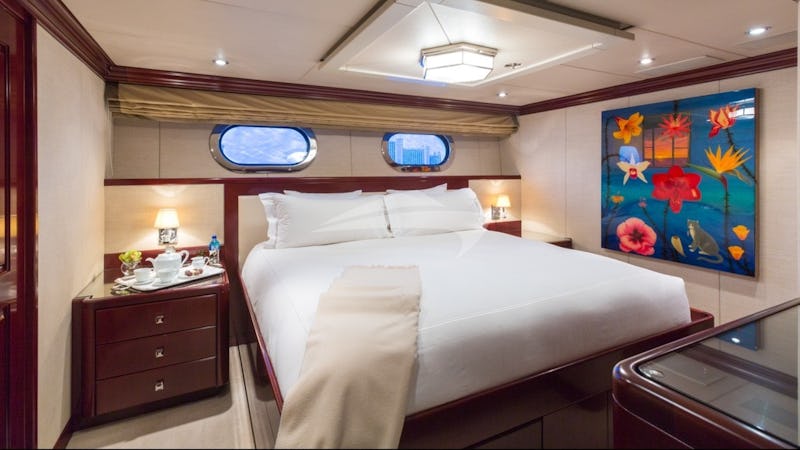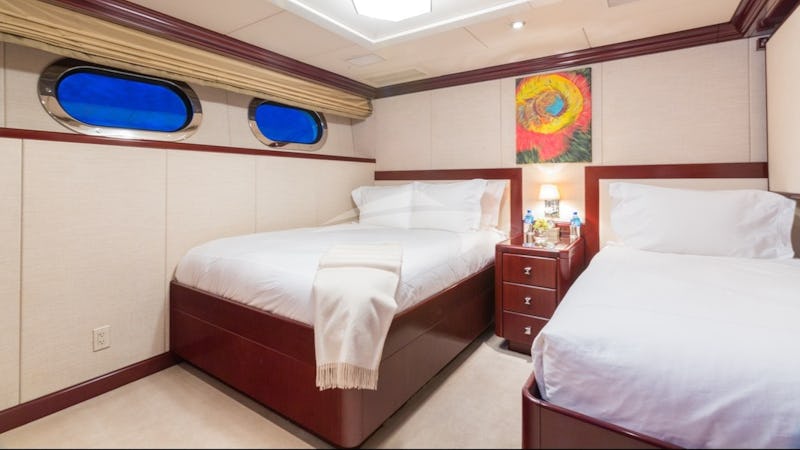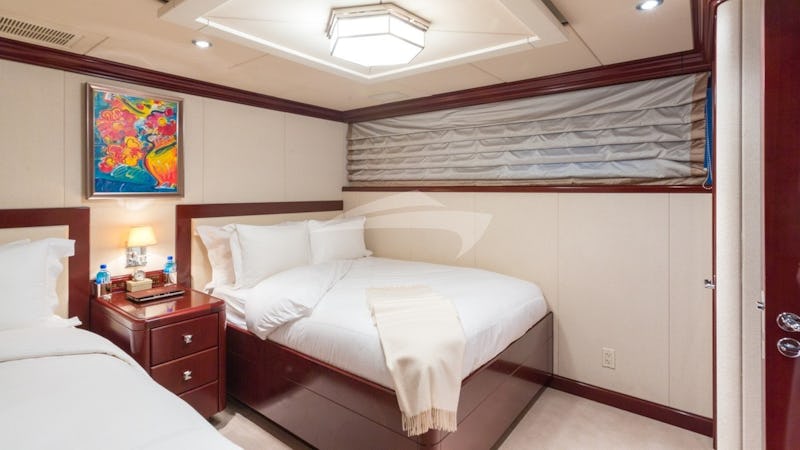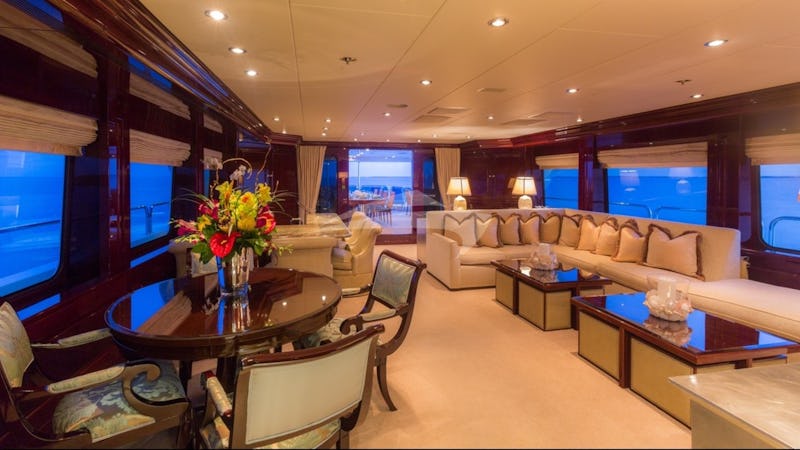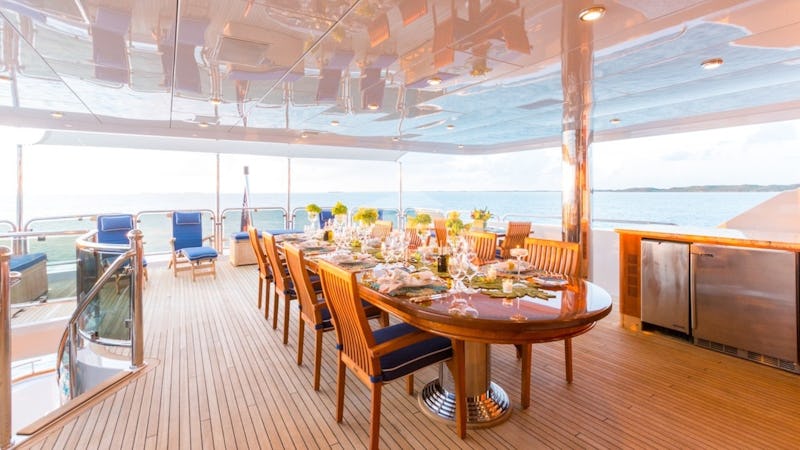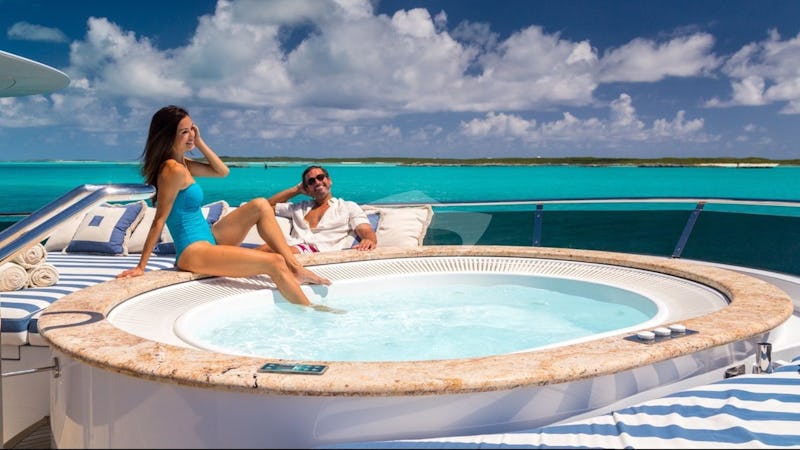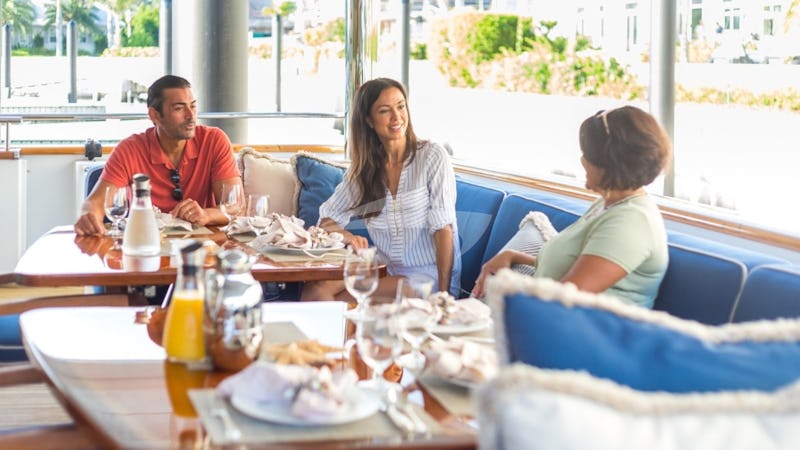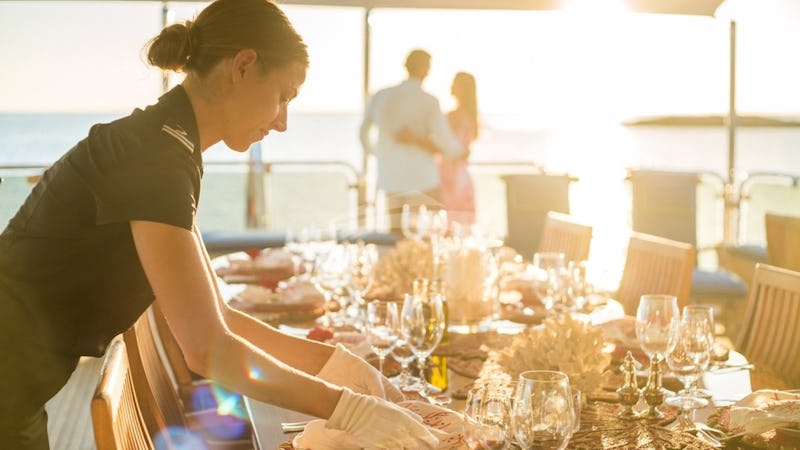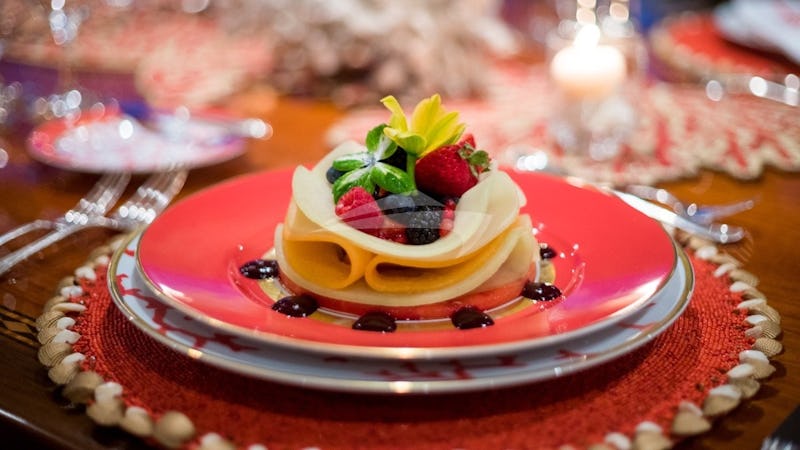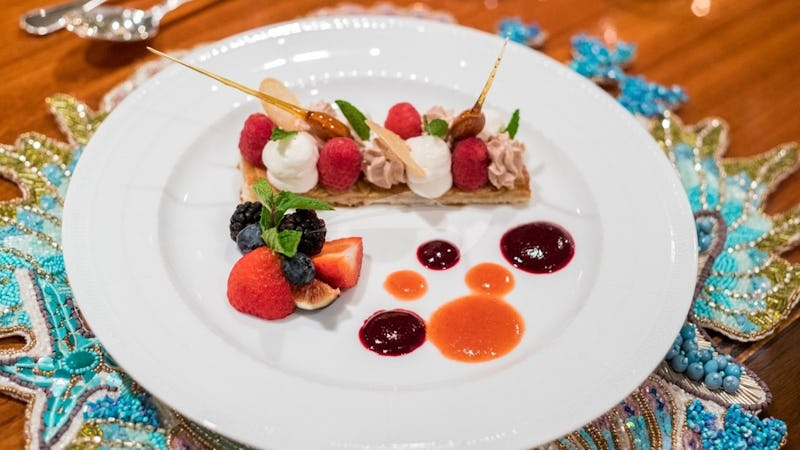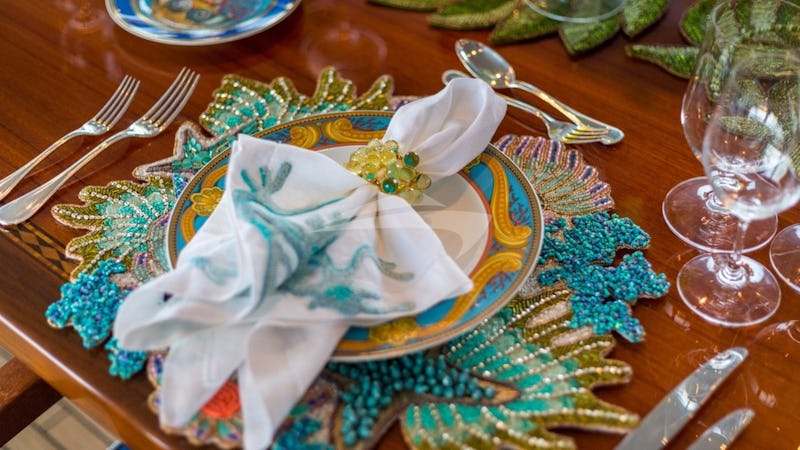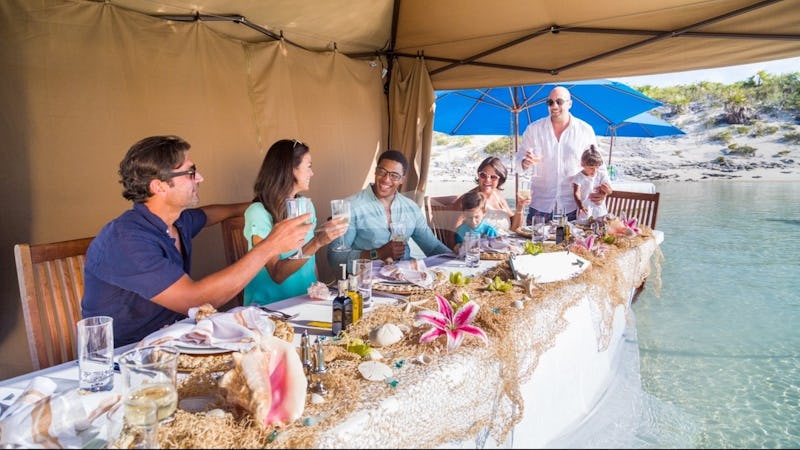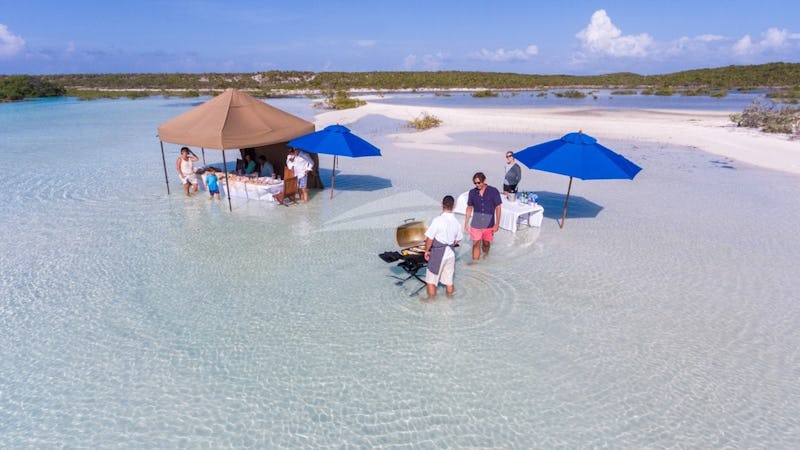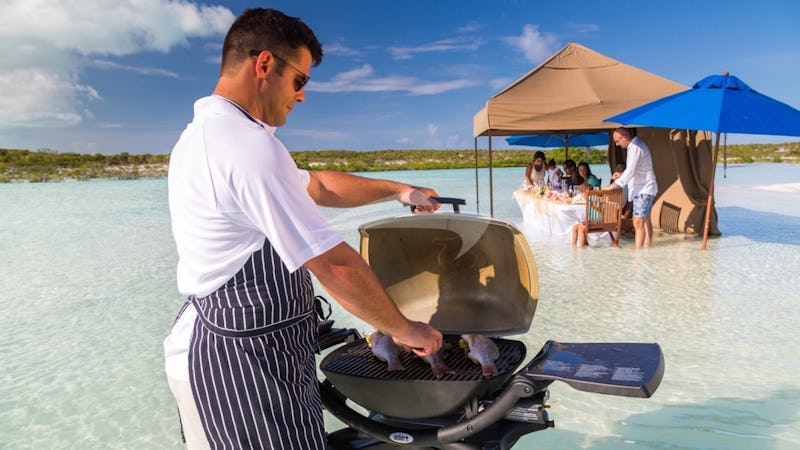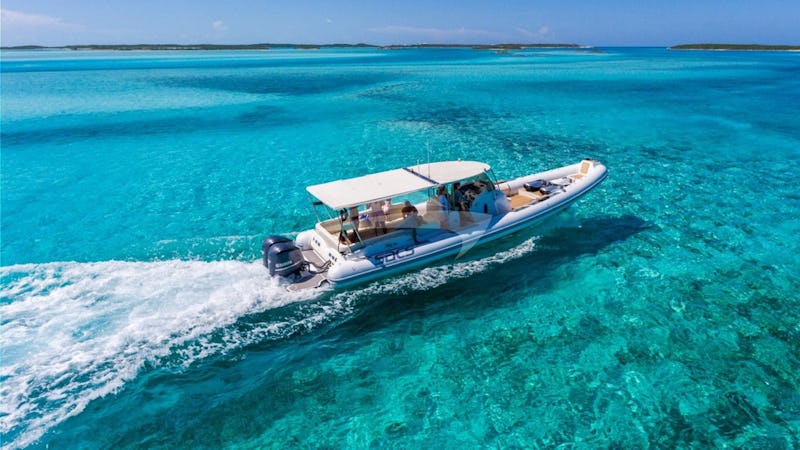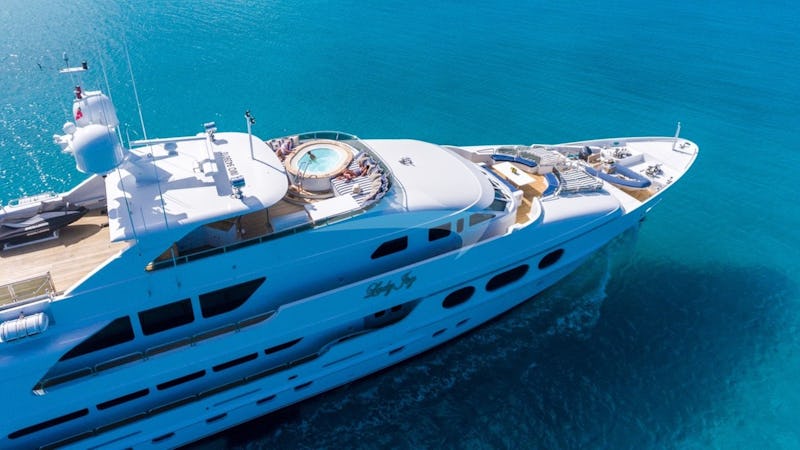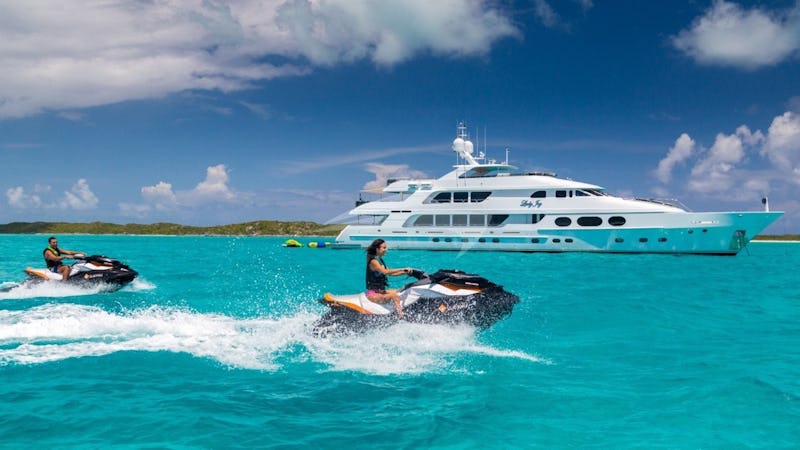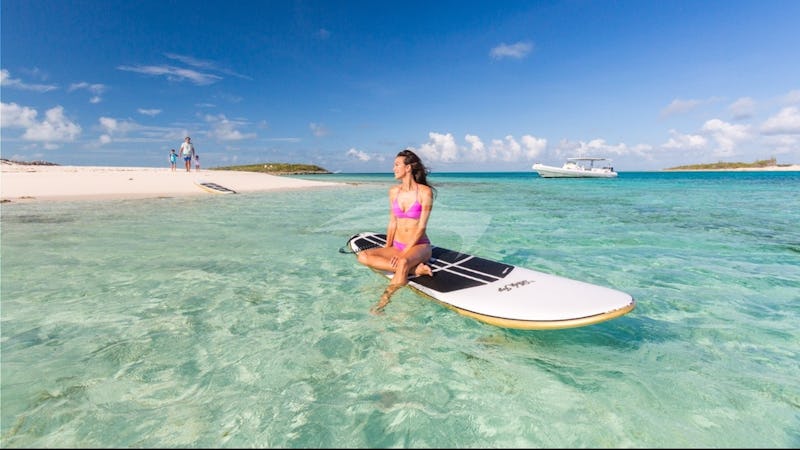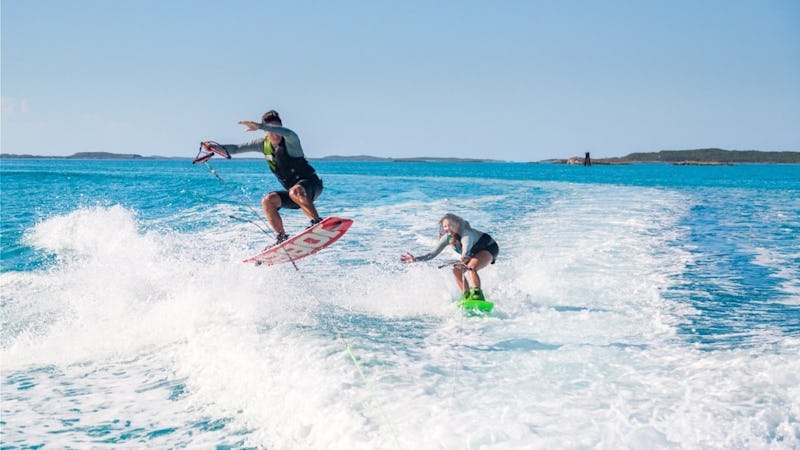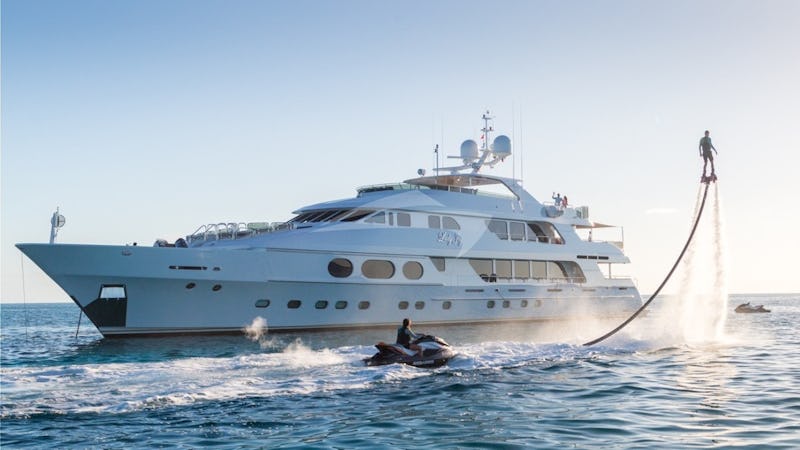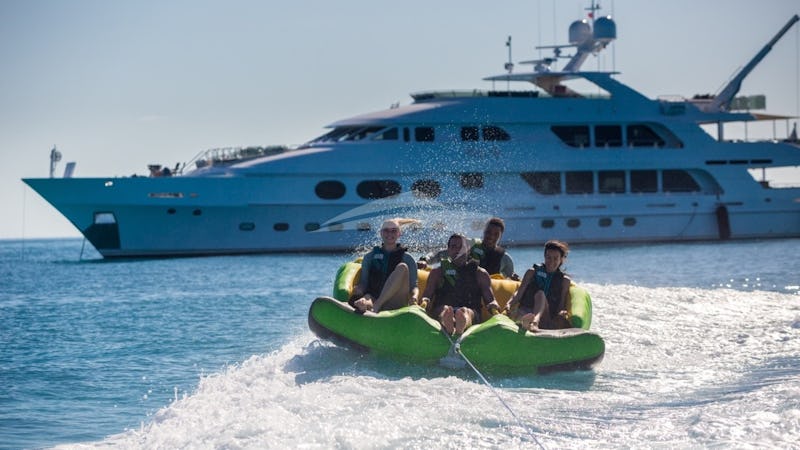 Charter This Yacht
157 ft / 47.9 m
│
11 CREW
│
FROM $189,000
│
12 GUESTS
157ft (47.9m)

29ft 6in (9m)

8ft 2in (2.5m)

2007

Christensen

Carol Williamson & Associates

12

Captain Chris Thomson

2020

12kts (22kph)

At anchor (0 speed)

Marshall Islands

(2) MTU 12V 4000 series 1,800HP each

Yes

Yes
MASTER STATEROOM ON-DECK FORWARD
On deck, forward, full-beam Master Stateroom: Upon entry, there is a private office with desk facing large windows for a gorgeous view.
The centerline king bed faces forward towards a 45" TV (hidden while not inuse). Dresser to port.
HER EN-SUITE is on the port side with Jacuzzi tub, bidet, head, and sink with communal access to the steamroom shower with dual shower heads, hand shower wand, L-shaped seat. HISEN-SUITE is on the starboard side with head, sink and shares the steam room shower. Heated marble floors and skylights add to the elegance. His- and her-walk-in closets include a safe for guests to use.
Lower Deck Accommodations:
There are five gueststaterooms on the lower deck which can be accessed by elevator.
Forward: Two equal staterooms each with one single-size bed, a Pullman berth overhead, and a double bed. Two port holes allow ample natural light. There is a 34" TV, dresser withdrawers and closet. The en-suite bathrooms each have a shower with bench seat, sink, head and porthole. 
Mid: Two equal stateroomseach with one king-size bed. Two portholes allow ample natural light. There isa 34" TV, dresser with drawers and closet. The en-suite bathrooms each have a shower with bench seat, sink, head and porthole. 
Aft: walk-around king-size bed, 34" TV, dresser with drawers and closet. The en-suite features a stall shower with bench seat, sink, head and porthole.
All guest staterooms include Ferette sheets, Matouk towels, robes, slippers,Molton Brown luxurious bath products, hairdryers, individual climate control, individualsatellite receiver, Crestron video and audio equipment with Kaleidescape Movie systemand apple tv with more movies, and an iPad.

Captain: Chris Thomson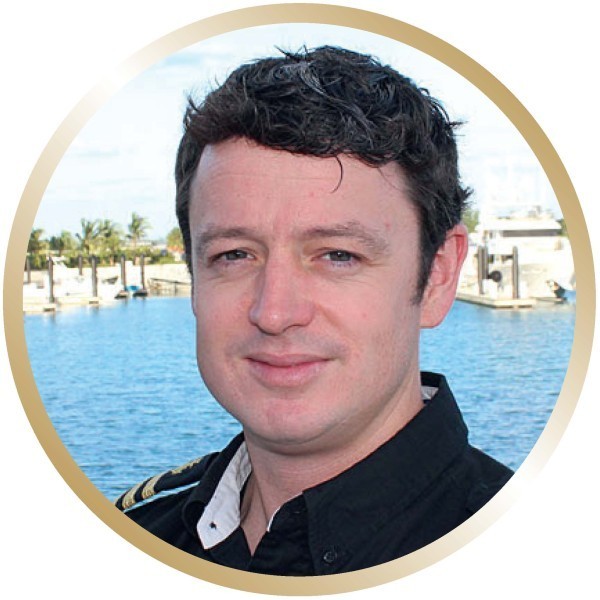 Raised on the South Coast of England, Chris started sailing at an early age and travelled Europe sailing both competitively and for pleasure. Now a father of two, time for hobbies is limited, but whenever an opportunity arises, he loves to introduce his children to boat life on the family sailing yacht or take to the water windsurfing. His safety consciousness is more pronounced as a father than ever, and he ensures that safety is of paramount importance on board LADY JOY. When maritime weather conditions are unsuitable, Chris is more than likely to be enjoying a round of golf or a game of squash. Chris's professional yachting career began over sixteen years ago, during which time he has also graduated from the University of Plymouth with a BSC honors degree in Marine Technology, and completed his "MCA Master of Yachts License". Chris has lost count of the number of times he has crossed the Atlantic, and knows the Mediterranean and Caribbean like the back of his hand; he has also spent time cruising the Baltic, Indian Ocean and west and east coasts of the United States. Chris has several exciting itineraries in mind to suit your cruising dreams. You can be sure that Chris will put his all into making your stay on board LADY JOY the holiday of a lifetime.
Chief Officer: Dan Waters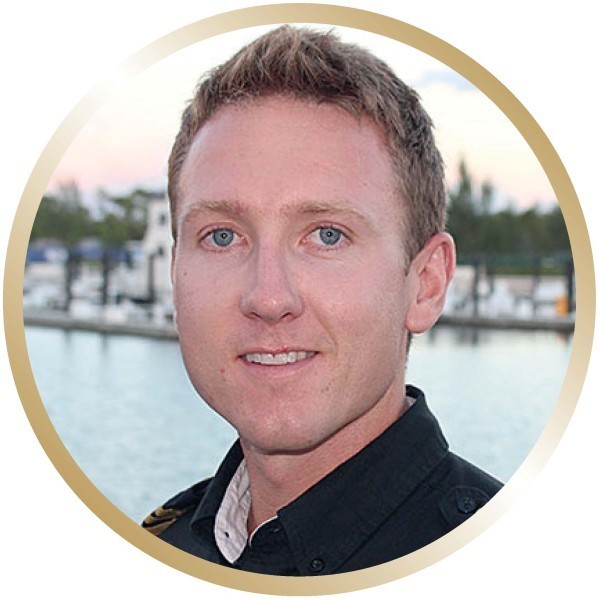 Dan began his career in 2005 as a cadet in the Merchant Navy, and completed a Bachelor of Science in Marine Studies at Plymouth University in England. During his cadetship, he circumnavigated the globe on a variety of commercial ships including several months on a sail training vessel teaching disabled passengers. Since then, he has worked his way through the ranks on a variety of yachts up to 160 meters in length. In his spare time, he enjoys going to the gym and running, but his real passion is fishing. Dan's adventures have ranged from catching 200lb catfish in Spain to salmon fishing in Alaska! He is also a keen diver and some of his best ones have included swimming with hammerheads in the Galapagos Islands and hand-feeding bull sharks in Fiji. Whether you are looking for a chilled beach holiday or an action-packed adventure, Dan will always go out of his way to make sure that your stay on board LADY JOY is one you will never forget.
Captain (Rotation): Simon Alway
Simon grew up in the West Country of England, becoming quite the sailor as a teenager during holiday trips on a relative's yacht. After studying Yacht Manufacturing at Southampton University, Simon worked for a boat building company in the UK, and soon realized that he would rather work on yachts than build them. He then spent the winter of 1999–2000 sailing in and around the English Channel before joining his first motor yacht as a professional crew member in 2000. Since then, Simon has gained invaluable experience working on various yachts while cruising the Mediterranean, The Bahamas, Caribbean, the US east coast and has completed numerous Atlantic crossings. Simon is the father of two boys with his family home now in Montreal, Canada. With his knowledge, expertise and love of the ocean, Simon always makes sure that guests are provided with the utmost safety, care and enthusiasm and that they enjoy a fun and unforgettable cruising experience on board LADY JOY.
Chief Officer (rotation): Dylan Lenard
Dylan is an energetic, enthusiastic, and efficient person who loves his career. He always likes to find the positive in everything and this rubs off on those around him. Having grown up in multiple countries including South Africa where he was born, Bahrain, Abu Dhabi and England, he developed a passion for the ocean and the outdoors. He loves physical activities and from the adrenaline seekers to the shy beginners, he has been told that he has a knack for getting people to enjoy themselves! He is particularly good with kids, helping them to improve their skills and partake in all the activities the yacht has to offer while always participating in an exciting yet safe manner.
Chief Engineer (Rotation): Nicholas Paul Cook
Nicholas grew up in the south coast of England. His passion for engineering developed at a young age, having learned a great deal from his father. After graduation, Nicholas joined Sunseeker International as an apprentice build engineer, where he obtained his qualifications in Marine Engineering and Industrial Studies. After completing his apprenticeship, Nicholas worked overseas as a warranty and test engineer for Sunseeker International. His vast knowledge and experience in engineering was a natural fit for the yachting industry, and he has not looked back since! In his spare time, Nicholas is an avid diver and keen golfer who loves the outdoors!
Chief Engineer (Rotation): Morgan Gregoire
Morgan's father was an engineer in the merchant navy so he spent his spare time as a child playing with tools more than toys. Morgan studied as a heavy machinery and systems engineer in his home town of Bergerac, France where wine growing is a prime industry. He first worked overseas in Sonoma valley at age nineteen during a harvest season. Returning to Europe, Morgan travelled to Italy, France, Spain and Germany upgrading cutting edge grape harvesters. He later took his mechanical skills to Australia where he worked on machinery for high output livestock farming. His next move was to South America overseeing a fleet of earth moving machinery used for building dams. Upon returning to Europe, Morgan was introduced to the marine industry in Holland, where he worked as a propulsion engineer. He was sent all over the globe and eventually contracted on a yacht in Malta, only to be offered a permanent job on board. Et voilà, nine years, 40000 miles, three equator crossings later, Morgan brings a wealth of experience to LADY JOY.
Chief Stewardess: Alice Green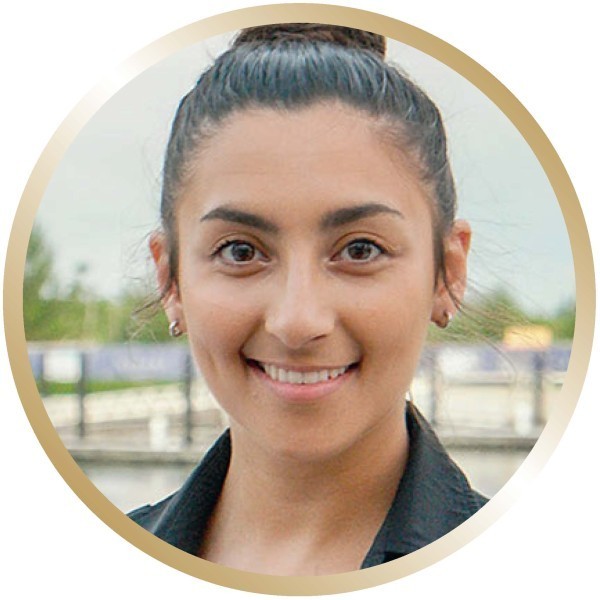 Alice hails from Belfast, Northern Ireland. After earning a Bachelor of Science degree in Sociology and Criminology, she held various jobs in retail and then became VIP manager for a well-known local nightclub. A keen sports enthusiast, Alice became team leader of the Red Bull Ireland Wings Team, and also spent more than ten years playing high level netball, representing Northern Ireland and Ulster University. After embarking on a journey of self-discovery, Alice spent a month in India where she obtained her 200 Hours Yoga Teacher Training Certification. Having enriched herself in so many disciplines, Alice decided to join the yachting industry in 2017 and hasn't looked back since! Yachting has allowed her to incorporate her love of adventure and travel with her passion for high end service. Alice looks forward to greeting guests with a flute of champagne and a warm smile, ensuring that they will enjoy every aspect that LADY JOY has to offer.
2nd Stewardess: Zuzanna Kilanowicz
Zuza grew up in a beautiful, small mountain town in southern Poland. After completing her Cosmetology Degree, she decided to set out on a new path and moved to France, where she founded her own business that specialized in VIP makeup and elite hospitality. Combining her love of the ocean with her experience in hospitality, a future in yachting appeared to be a natural career path for her. Her various hobbies include cooking, cosmetology, handicrafts, skiing and camping. Zuza always looks forward to meeting new guests and to offering unforgettable memories and excellent service onboard LADY JOY.
3rd Stewardess: Morgen Wallerich
Morgen grew up in Gig Harbor, Washington. After graduating with a bachelor's degree in strategic communications from Washington State University, she went on to work in the service industry in downtown Seattle. After a few years, Morgen decided it was time to immerse herself in different cultures and experiences around the world by joining the yachting industry and hasn't looked back since! In her free time, Morgen loves playing tennis, skiing, and going on hikes around the Pacific Northwest.
Junior Stewardess: Grace Baker
Grace was born and raised in the beautiful country of New Zealand where watersports and the ocean were a huge part of her childhood. Driven by the need for excitement and adventure, combined with a desire to explore the world, Grace began her yachting career in 2020 and hasn't looked back since. She is always ready to have fun with guests, ensuring that good times are constantly flowing. Her can do attitude and easygoing nature make her a great person to be around. Her excitement and energy are truly contagious! During Grace's yachting career, she has witnessed the America's Cup races in 2020, sailed through the Suez Canal and chartered along the Amalfi Coast. She looks forward to sharing many more exciting adventures with all guests on board LADY JOY.
Chef: Vincent Vieira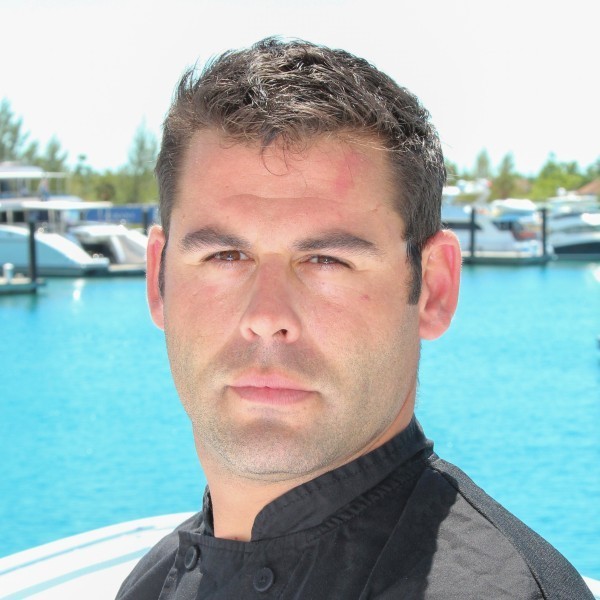 Originally from Cannes in the south of France, Vincent grew up in a typical French family that loved to cook. He attended culinary school at age sixteen and graduated two years later. Since then, Chef Vincent has worked around the world in fine dining restaurants, luxury hotels and for a British Premier League Football Club. Having worked in the yachting industry for over twelve years, his extensive travels have naturally inspired and enriched his culinary expertise. Whether it be French, Italian, Mediterranean or Asian, it will be Chef Vincent's pleasure to treat our guests to his wide array of menus and to cater to any requests they may have.
Deck/Engineer: Alex Wasilewski
Alex was born and raised in the northwest corner of Washington State in a small town called Lynden. He spent his youth exploring the outdoors, either hunting, fishing, riding ATVs, wakeboarding, snowboarding or camping. He spent many years working in his family-owned metal fabrication business where he acquired numerous mechanical skills. Alex attended Eastern Washington University and earned a degree in mechanical engineering. After graduating and spending two years as a Design Engineer working on heavy equipment and crane design, he decided that life behind a desk was not the way he wanted to spend his youth, so he headed to Florida where he began his yachting studies and jumped at the opportunity to work aboard LADY JOY. Yachting combines Alex's love of the water and mechanical systems with his desire to travel and explore new cultures. His most recent hobbies and interests include design and 3D printing, drone videography, woodworking, and cooking.
Bosun & Rescue Diver: Bradley Aleckson
Growing up on the pristine eastern coast of Australia shaped and developed Bradley's love and respect for the ocean. He learned to swim before he could walk and engaged in a variety of water sports including surfing, wakeboarding, skateboarding, snowboarding and more recently, kite boarding. Bradley graduated with high honors at Griffith University in 2016, obtaining a Bachelor of Commerce Degree with a triple major in finance, economics and financial planning and was awarded the University Student of the Year Award in 2016 for the Finance Industry in Australia. Realizing that the corporate world did not align with his adventurous leanings, Bradley decided to travel the world and began his career in yachting in 2018. As Bradley's family ran a commercial fishing business operating a prawn trawler, he brings a wealth of fishing experience to Lady Joy. He is not only a certified rescue diver with extensive experience diving the Great Barrier Reef but is a trained surf life saver as well. His extensive experience will ensure that he will always have his eyes open when assistance is required in or on the water. Bradley brings an array of skills and understanding to the Lady Joy team and looks forward to catering to her guests' needs.
Deckhand: Summer Kemp
Summer grew up in a small coastal town in Cornwall, UK. She studied marine biology and ecology for two years at Falmouth College, before recently obtaining her yacht master and starting her career in yachting. Summer was first introduced to the industry during her travels around the south of France and Spain, she knew then that yachting would be the career choice for her. Summer loves spending time on the water and taking part in a range of physical activities. She is positive, outgoing and always keen for an adventure!
Cell phone, Cinema, Indoor audio system, iPod dock, Media movie server, Outdoor audio system, Printer, Satellite phone, Satellite TV, TV all cabins, TV outdoor, TV saloon, Wi-Fi, 39ft/11.9m Custom Tender 700hp, 16ft/4.88m Nautica 90hp, 2 x Efoil and Wingfoil, Assorted water toys, Beach games, Free weights, Jet board, Kayaks multiple, Kneeboard, Mono ski, Paddleboard, Paddleboards multiple, Swimming noodles, Volley ball, Wakeboard, Water skis - adult, Water skis - child, Water slide, Water trampoline, Wave runners multiple, BBQ, Beach umbrella, Coffee machine, Deck shower, Exercise equipment, Light fishing gear, Ice maker, Jacuzzi in master cabin, Jacuzzi on deck, Special diets, Sun cushions, Sun loungers, Swim platform, Water maker
Insured, Crew certified, Diving if certified, Snorkelling gear, Underwater scooter multiple, 1 Compressor, 6 Tanks, 6 BCs, 6 Regulators, Master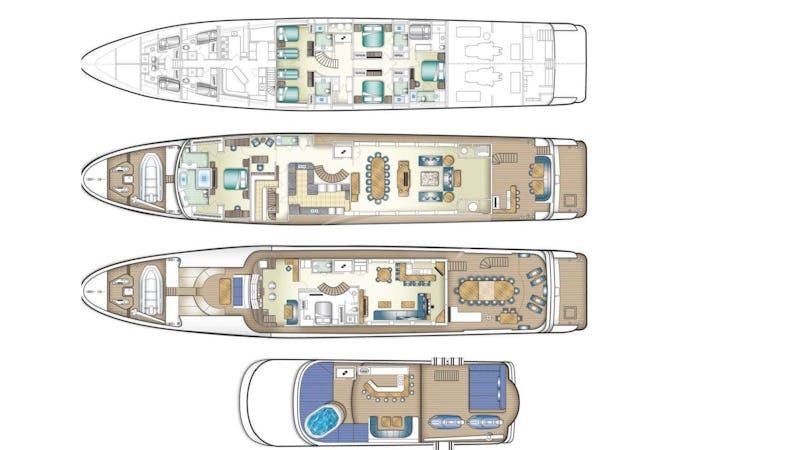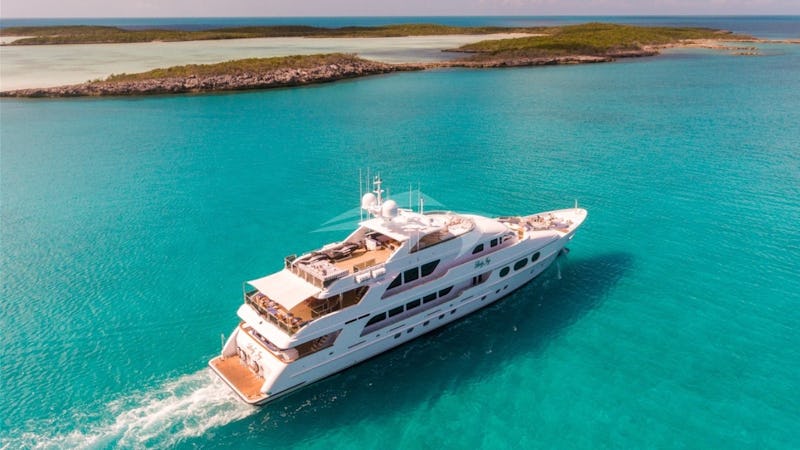 We have identified 3 similar yachts. Would you like to inquire on them as well?
Available in 3 areas
Guests 11
151ft 11in / 46.3m
From $185,000
Available in 2 areas
Guests 10
164ft 1in / 50m
From $195,000
Available in 1 area
Guests 12
137ft 10in / 42m
From $196,000