Charter This Yacht
173 ft / 53 m
│
14 CREW
│
FROM $199,470
│
12 GUESTS
173ft (53m)

29ft 2in (8.9m)

10ft 6in (3.2m)

1979

Feadship

De Voogt

12

Captain Colin Richardson

2015

14kts (26kph)

At anchor (0 speed)

Isle of Man

2x 839kW Caterpillars

Yes

No
Captain: Colin Richardson
Colin was born in the UK and grew up in South Africa.
Colin sailed professionally for ten years until 1998, and then spent the next 7 years running various sailing boats in South East Asia. Colin's next command was on a Perini-Navi in 2005, followed by Captain on M/Y PASSION for 7 years. Colin is a PADI Divemaster and holds his MCA 3000 ton Captain's license. He is a RYA Jet Ski and Level II Powerboat Instructor and as a result, M/Y MIRAGE can issue jet ski licenses for the duration of a trip.
As Captain of M/Y MIRAGE, Colin combines his extensive experience and qualifications to guarantee a fun-filled vacation with a well-developed sense of safety and security. Colin is always upbeat and great fun to be around and ensures that his crew all maintain the same positive attitude that he does. He places strong emphasis on planning, organization and training to ensure impeccable vessel preparation and presentation. Colin handpicks professional and motivated crew to cater for your every need.
Colin joined M/Y MIRAGE in 2012.
Rotating Captain: Steve Emmerich
Steve was born in Germany and grew up in South Africa.
Steve is an accomplished yachtsman, completing his first trans-Atlantic crossing as skipper on his parent's catamaran aged just 23. This experience ignited a passion to embark on a yachting career and 25 years on, Steve continues to be inspired by the many different aspects of yachting. In 1996 Steve became 2nd Officer on M/Y LADY MOURA, at the time one of the largest yachts in the world, and was promoted to 1st Officer in 2002.
As rotational Captain of M/Y MIRAGE, Steve uses his wealth of experience and passion for his job to ensure you have the best possible time onboard. Steve leads by example and he and his crew always give 110%. He is brilliantly personable and is always on hand to give advice on itineraries/ anchorages/ excursions etc. Steve works diligently to plan and carry out your perfect trip.
Steve is a huge rock music fan and attends many concerts when he's on land. He also likes to spend as much time as possible with his wife and two boys.
Steve joined M/Y MIRAGE in 2013.
Chief Engineer: Mark Bevis
Mark was born in the UK and moved to Mallorca in 2008.
Mark served a five-year Marine Engineering Apprenticeship immediately after finishing school. His passion for boats took him onto Flotilla Yachts where he worked for 3 years before joining the superyacht industry. Mark has been a Chief Engineer for 17 years and has worked all over the world.
Mark is an excellent troubleshooter and is always on hand to aid with any technical questions you may have. He has extensive knowledge of M/Y MIRAGE and is very happy to share information with interested parties.
When not working, he enjoys hiking and fishing on his self-built boat.
Mark joined M/Y MIRAGE in 2013.
Chief Engineer: Martin Engler
Nationality: German | Languages: English & German
Martin is from Lueneburg, Germany and has always enjoyed traveling the world. Owning a sailing yacht, Martin set out on a three and half year adventure in 2005 with his wife and daughter sailing around the world. They started off in Croatia and ended up sailing to Cape Verde and on to Brazil. From there, Martin and his family settled on the Caribbean Island of St Maarten for 9 years.
Martins' background is in air-conditioning and refrigeration engineering and in 2009 he combined his passion for sailing with his engineering knowledge and embarked in a career in yachting. Martin has been a Chief Engineer for almost 10 years onboard super yachts and is always at hand to answer all your technical questions.
Martin lives on the beautiful island of Mallorca with his family and when he is not onboard he enjoys kite surfing, riding motorcycles and practicing yoga daily.
Martin joined M/Y Mirage in 2017.
1st Mate: Tim Lempriere
Tim was born in Auckland, New Zealand.
Tim embarked on his yachting career in 2007 and has travelled the Mediterranean and the Caribbean extensively over the last 9 years. He recently obtained his Chief Mate 3000 ton ticket and also holds his PADI Advanced Open Water diving certificate, RYA Jet Ski and Powerboat Level II Instructor qualifications.
Tim leads an excellent deck crew of four and is on hand to ensure that all your needs are met – be it learning how to wakeboard or scoping out the best snorkeling sites in the area. Tim has an excellent sense of humor and is fantastic around children.
Prior to yachting, Tim played rugby professionally in New Zealand and also worked for a top PR firm in London. He is passionate about the ocean and owns property in Nicaragua where he can indulge in his love of surfing.
Tim joined M/Y MIRAGE in 2008.
1st Mate: Ben Dickerson
Ben was born and raised in New Jersey. He was first introduced to boating by his father at a young age. Ben has worked in the yachting industry for over 10 years and his previous vessels include M/Y Highlander, M/Y Passion and most recently M/Y Trafalgar where he was the captain.
Ben holds his MCA Chief Mate 3000 Ton License and is an advanced PADI Diver. An active outdoorsman, Ben enjoys wake boarding, snowboarding, camping, rock climbing and white water rafting. When not onboard Ben loves to spend time with his wife and sons.
Ben joined M/Y Mirage in 2015.
2nd Engineer: Andy Ingle
Born and raised in Cape Town, South Africa, Andy has always had a passion for the sea and an outdoor lifestyle. His investigative and inquiring mind steered him to qualify in IT Engineering in 2010. Over the next 3 years, Andy gained extensive experience within the IT field working as a Technical Manager before pursuing a yachting career in 2014. Yachting has taken Andy to various places around the world, including the Caribbean and USA, where he was fortunate enough to expand his marine engineering knowledge as 2nd Engineer on various private and charter yachts.
Andy is always ready to assist with all your IT needs, ensuring your experience on board is as smooth as possible. In addition, he is always willing to help when guests go diving, having gained his Dive Master certification in 2014.
Andy joined M/Y Mirage in July 2016.
Bosun: Chris Booker
Nationality: Australian | Languages: English
Chris was born and raised near the Gold Coast, Australia and from a very young age the ocean played a large role in his life. After finishing his schooling, he headed into the construction industry where he gained a lot of practical skills. However, his love for the ocean combined with his outdoor personality led him into the yachting industry in 2014.
Chris travelled to Europe to commence his yachting career which involved extensive Mediterranean cruising on M/Y Enigma. He then obtained his RYA Yachtmaster Offshore Qualification in 2017 and was employed as Lead Deckhand/First Mate on 40m M/Y Vegas in Australia last year.
Chris' knowledge of the yachting industry combined with his responsible nature ensures all your activities are enjoyed in a safe and meticulous fashion during your stay onboard. He is always at hand to assist with any queries or questions you may have.
When not onboard Chris enjoys taking time out to travel back to Australia to spend time with his 9-year-old daughter. Chris is a keen skateboarder and enjoys keeping active.
Chris joined M/Y Mirage in 2018
Head Chef: Iain Tedbury
Nationality: British | Languages: English
Iain's passion for culinary arts ignited as a result of being exposed to one of the food capitals of the world, London, England. He trained at Westminster College, completing a three-year Diploma where he passed with Distinction.
Since 1998, Iain's career as a chef has had him working in various restaurants, hotels and private yachts. The hustle and bustle of the restaurant scene gave Iain the opportunity to work alongside seven Michelin starred Chefs; and becoming the Head Chef of a Michelin star restaurant, Michael Dean in Belfast, Northern Ireland.
Embarking on a quest for expanding his food knowledge and a search for developing new skills, the yachting industry reeled him in, in 2006. Iain enjoys cooking the finest food in the finest locations and when not at sea level, he likes escaping to the mountains for a variety of extreme sports.
Iain joined M/Y Mirage in 2016
Sous Chef: Jack Baracco
Nationality: Australian/Italian | Languages: English & Italian
Jack was born in Italy in 1990 and moved to Australia at the age of 5, being fluent in both languages (italian and english). He started cooking aged 17 and completed a 3 year diploma which led him to work in several of Melbourne's top restaurants, including Grossi Florentino & Vue De Monde.
After working in restaurants Jack decided to move into the catering business giving him the opportunity to cook for some of Australia's most prestigious clients. Jack has always had a passion for discovering new things and managed to find a way to combine cooking and travelling by moving into the yachting industry in 2016. He joined M/Y Mirage in 2018 and his healthy and fresh cooking style keeps the crew very happy and well fed!
In his time off, Jack is a keen diver.
Jack joined M/Y Mirage in 2018
Chief Stewardess: Megan Rutty
Megan was born in the UK and lived there until 2013 after graduating from the University of Manchester with a degree in Geography.
Megan always knew that she wanted to embark on a career in yachting and started in October 2013 where she quickly climbed through the ranks. Megan leads her fantastic team of five interior staff to ensure all of your needs are met, be it sundowner cocktails, booking restaurants or a 'pirate themed' lunch. Megan has gained extensive experience as a stewardess over the years and works meticulously to ensure all of your needs are catered for. Megan's personable and attentive nature ensures unforgettable memories are made throughout your trip.
Megan is passionate about sport and excels in many. She has represented both her country in rounders as captain, and her county as captain of the hockey team. When not onboard, Megan likes to travel and has been fortunate enough to explore a variety of countries.
Megan joined M/Y MIRAGE in April 2014.
Chief Stewardess: Jess Rutty
Nationality: British | Languages:
Jess was born and raised in Shropshire, England. She has been working in the luxury hospitality industry for over 10 years after discovering yachting at 18 years old. Jess joined her first boat M/Y Passion in 2008 as a junior stew and left 6 years later as a chief stewardess. In her time in the industry Jess has travelled all around the Mediterranean, Caribbean and America. She also spent 6 months in the Netherlands where she managed the interior aspect of the build and launching of a brand-new 50m yacht. At the end of 2016 she decided to jump ship to work ashore to manage a 5* lodge in Kenya and has since worked at several lodges around South Africa.
Jess is passionate about delivering high-end service and will ensure that your every need onboard is tended to in order to create an unforgettable trip.
Jess' interests include further her studies in wine and she is currently in the process of her WSET Level 4 wine diploma. In her spare time, she enjoys camping and hiking and loves to spend her time in game reserves throughout Africa. Jess joined M/Y Mirage in 2019.
Second Stewardess/ Pilates and Fitness Instructor: Nikolina (Nina) Brozović
Nationality: Croatian | Languages: Croatian & English
Nina was born in Ogulin, a small town in Croatia - more commonly known as the city of sport! Naturally this sparked Nina's passion for sport, starting with gymnastics. Growing up with boys presented the camaraderie that ensues with team sports that lead to Nina's love for handball, which she played for 17 years - 5 years at a semi-professional level.
Nina has spent the last 7 years working at a seasonal resort at which she was a sport and PR entertainer. As well as instructing a vast array of sports to the guests of the resort, Nina also instructed personal and group training, aqua aerobics, latino fit workouts, nordic and power walking, group as well as 1-on-1 pilates sessions. Nina believes that Pilates is enriching for mental and physical health and expresses this in every session conducted.
Although Nina majored in Landscape Architecture she is also a certified wellness therapist, her love for pilates has grown each day over the last ten years. This has encouraged Nina to complete a diploma at the Fitness University of Rijeka in Croatia where she was one of the first to obtain a diploma as a pilates instructor.
It goes without saying Nina's main passion is any sport, but when she's not out training Nina enjoys photography, exterior design and has an aptitude for learning new languages.
Nina joined M/Y Mirage in 2017.
Stewardess: Milly Ignatova
Nationality: Bulgarian | Languages: Bulgarian, English, Spanish & Russian
Milly was born and raised in Ruse, Bulgaria - a small town also known as "The Little Vienna", best known for its beautiful and rich architectural heritage. After graduating with MA in Architecture, she worked for two years in Mallorca's biggest Architectural studio. Working within an international team of professionals, she is highly organised, friendly and always willing to assist. Milly specialised in the development and interior design of high-end residential and hospitality projects. This naturally sparked her passion for exploring other aspects of the high-end industry. Milly's strongest passions are arts, design and foreign cultures. Milly joined M/Y Mirage in 2018.
Stewardess/ Masseuse/ Beauty Therapist: Elle Watton
Nationality: British | Languages: English
Elle was born in Essex, England and went on to university in Southampton to study International Business Management. Whilst completing her degree Elle worked in various hospitality roles, always priding herself on her dedication for providing the best possible service. After graduation Elle decided to follow her true love of beauty therapy and completed her Level 2 & 3 Diploma in Beauty Therapy. Working in high end spas in Hampshire and subsequently running her own beauty business in the New Forest. This year she decided to combine her love of the outdoors with her passion for beauty therapy and joined the yachting industry. Although new to the industry Elle is at hand to tailor her beauty therapy skills to your needs and is excited about the coming season on Mirage. Elle is a true believer in the importance of incorporating massage regularly into your daily routine. Elle is highly trained in all styles of massage including Swedish, deep tissue, Indian head, and lymphatic drainage, in addition to other beauty treatments. When not on board Elle enjoys exploring new destinations, paddle boarding and learning about new cultures. Elle joined Mirage in 2019.
Lead Deckhand: Matt Lennox
Nationality: British | Languages: English
Matt was raised in Leeds in Northern England, but spent much of his youth on the south coast of Scotland, where his love for the water first began.
After completing his degree in Sports Coaching and Psychology, Matt chose to do his RYA Sailing Instructor qualifications in Vassiliki, Greece. He went on to teach sailing, windsurfing and a whole host of other water sports all over the world, from Australia to Borneo over a 4 year period.
In 2016 he jumped ship to the super yacht industry and has recently completed his Yachtmaster Offshore and RYA Jet Ski Instructor certificates to further his skills. Matt is always at hand to take you out on the lasers and to pass on his sailing knowledge and water sport skills.
Matt is a massive sports fan with a particular love for rugby, football and just about any other sport in which he can partake. A friendly and outgoing individual, Matt will always try and put a smile on your face.
Matt joined M/Y Mirage in 2018.
Deckhand & Kitesurf Instructor: Nico Scheepers
Nationality: South African | Languages: English
Nico was born and raised in Cape Town, South Africa. After finishing school he gained practical skills in the electrical and refrigeration industries before pursuing a career as an operations manager in the medical consumables and pharmaceuticals industry. Living on the infamous "Kitebeach" in Bloubergstrand led Nico to find his passion for big air kitesurfing and during his years in the corporate world found a love for teaching others to kitesurf. In 2018 Nico became an IKO kitesurf instructor and decided to follow his love for kitesurfing and begin his super yacht career in Florida. Nico loves being active and will ride any and every board he can get his hands on. Always friendly and eager to ensure there are smiles all around Nico is at hand to assist you with any water sport activities you may wish to try out during your time onboard. Nico joined M/Y Mirage in 2019.
DVD player all cabins, Fax, Indoor audio system, iPod dock, Outdoor audio system, Satellite phone, Satellite TV, TV all cabins, TV master cabin, TV saloon, Wi-Fi, Zodiac 15hp, 21ft/6.5m BSC 115hp, Laser sailing dinghy, Kayaks multiple, Mono ski, Paddleboards multiple, Tube - towable, Wake skate, Wakeboard, Water skis - adult, BBQ, Coffee machine, Deck shower, Exercise equipment, Ice maker, Jacuzzi on deck, Special diets, Sun cushions, Sun loungers, Swim platform, Water maker
Not Insured, Snorkelling gear, 6 Tanks, 6 BCs, 6 Regulators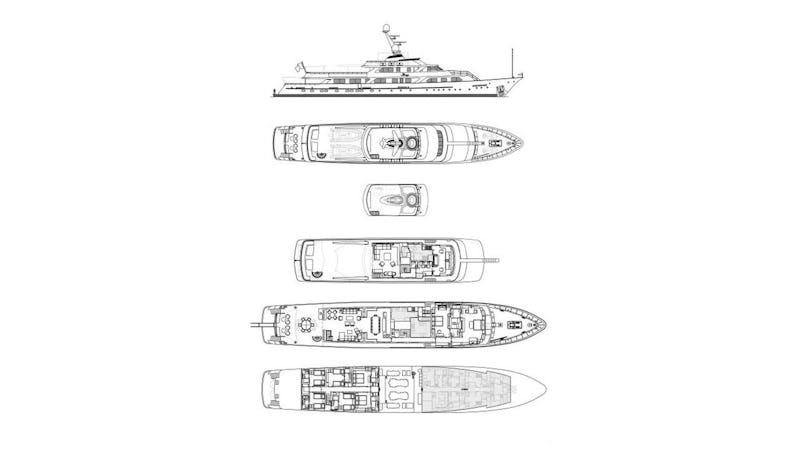 We have identified 3 similar yachts. Would you like to inquire on them as well?
Available in 4 areas
Guests 12
157ft 2in / 47.9m
From $189,000
Available in 1 area
Guests 12
142ft 9in / 43.5m
From $170,171
Available in 1 area
Guests 12
154ft 2in / 47m
From $197,618