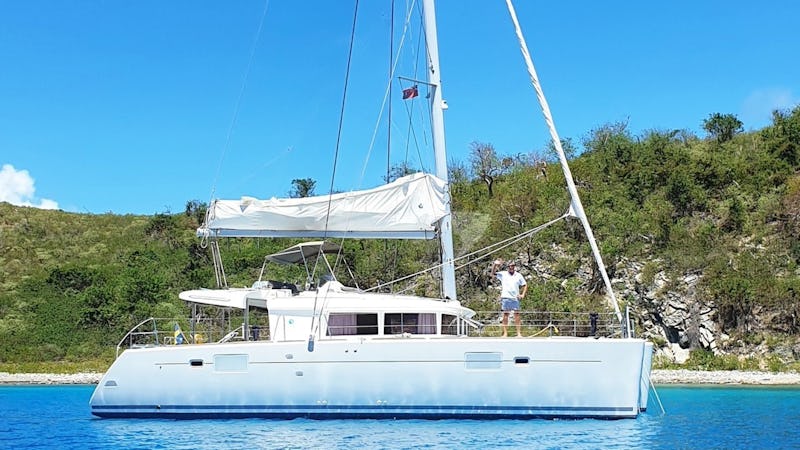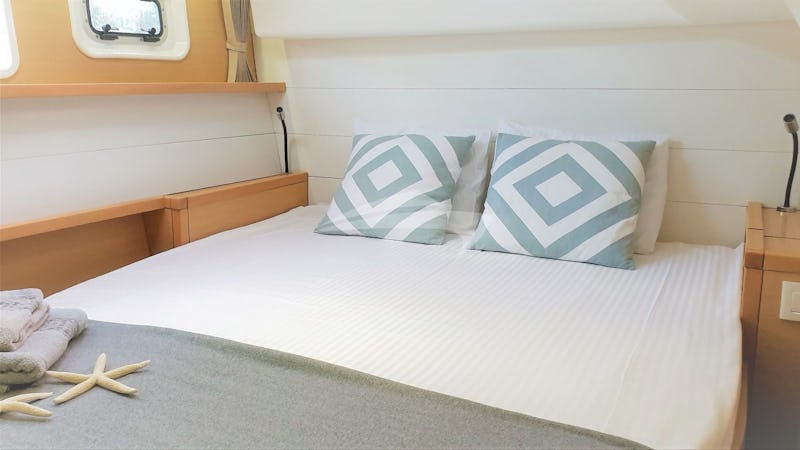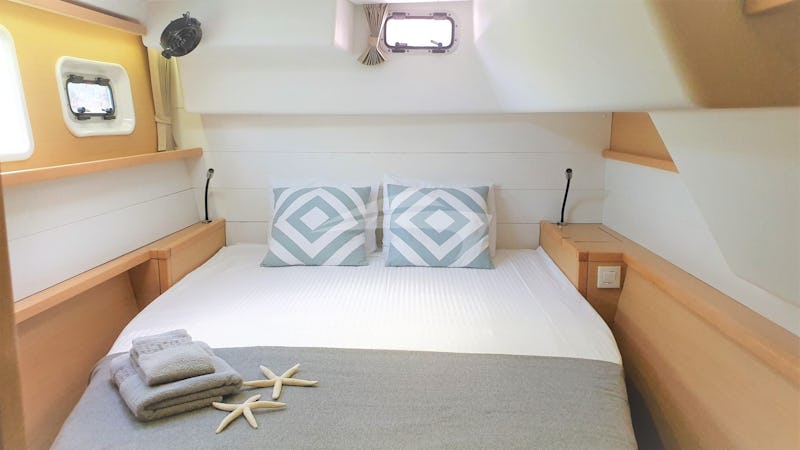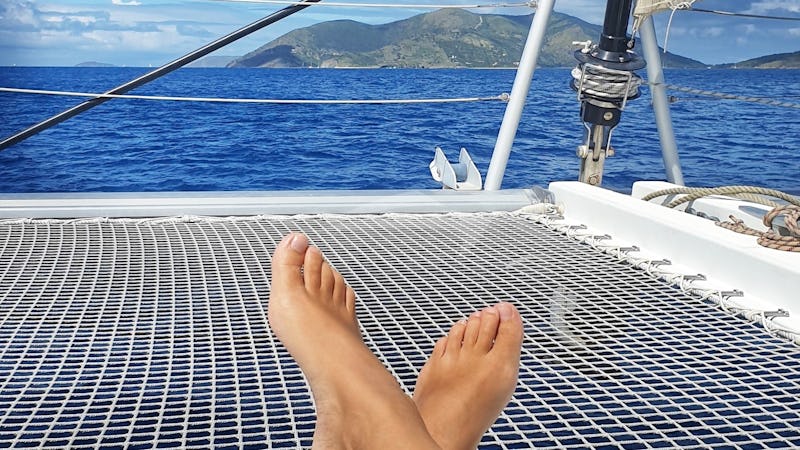 Charter This Yacht
44 ft / 13.7 m
│
2 CREW
│
FROM $10,250
│
6 GUESTS
44ft (13.7m)

25ft 11in (7.9m)

4ft 3in (1.3m)

2014

Lagoon

VPLP

6

Captain Per Skogsberg

2020

7kts (13kph)

None

Sweden

2 x 54hp

No

No
With 3 queen berth guest suites, MISS SUMMER also has flexibility in her two forward guests suites, which may become twin berths.
Captain: Per Skogsberg (54)
Per, also called "Captain Swede", has traded the cold and dark waters of Sweden to the wonderful waters of the Virgin Islands and other Caribbean islands. He will captain the boat whenever possible regardless if it is day, week or term charter.
Per and Lina are both social persons and like to meet new people. They will gladly guide you through the islands and take you to the places you wish. Onboard they will give you a touch of Scandinavia while you are sailing the Caribbean waters.
Earlier Per worked many years as a business developer and coach with early start ups and
Chef / Mate: Lina Nilsson (37)
Lina has a more pronounce friendly name and is simply called Lina. She will be part of the crew or act as your captain when needed.
Lina has been sailing since childhood and Per got hocked 15 years ago, when they started sailing together home in Sweden. For the last five years they have had the pleasure to sail the Caribbean waters up and down. Mainly in the British Virgin Islands which nowadays is their base.
They are both social persons and like to meet new people. They will gladly guide you through the islands and take you to the places you wish. Onboard they will give you a touch of Scandinavia while you are sailing the Caribbean waters.
Lina has run a project management and consultancy company.
As captains, Lina and Per will at all times put your safety on board first!
March, 2022 guests in the BVI aboard MISS SUMMER said:
A massive THANK YOU to you both, we had the best of times, lovely yacht, very delicious food and to top it all you are both great company, you made us feel at home, relaxed and nothing could have bettered how you looked after the four of us.

Again, many thanks!

Mid November, 2021, charter guests on MISS SUMMER said"
Thank you so much for everything Lina and Per. A trip of a lifetime because of you both!! We will have such wonderful memories forever!!

October, 2021, guests in the BVI wrote:

We had such a wonderful time cruising with y'all! You are really experts in Hospitality! The way you cared for our safety, your knowledge of the BVI, and your sincere love of what you do was so evident in our trip with you! 
The food was 5 stars, and it was new and exciting every day. So wonderful to be involved in the planning for each day too! Yes I can think of nothing better than to return and "finish the Guinness!"
Larry
Mid June, 2021 guests in the BVI aboard MISS SUMMER wrote:
We had a wonderful vacation with Lina and Per on the Miss Summer! Per is a master sailor (so is Lina!), and they know the BVIs very well – everything from the best snorkeling spots to the best beach bars! And Lina's meals were delicious and healthy! They pampered us during our entire trip. We are already looking forward to chartering with them again soon!

Guests aboard MISS SUMMER in mid-March, 2021, wrote:

Dear Per & Lina

We can't thank you enough for touring us around BVI in such grand style.
It has been a trip of a lifetime!
Truth told, this expressed little...

You and Per taught us not only about sailing, but about life, choices, and how to make the most of what we have. 

I cannot thank you enough,

Abby
________
February, 2020 -
We went on a private tour to the Baths. Over all a super nice experience.
The "stone caves" at the Baths was fun to explore and we also made a stop on the way at Cooper Island, to do some snorkeling.
We brought our own snorkeling gear, but the snorkels and fins offered on the boat was good.
The boat was really nice. Thumbs up for the food and drinks.
We can highly recommend going with captain Swede and Lina, they made this tour fantastic, thank you!
We will come BACK

________
February, 2020 -
I don't think I can say enough good things about our experience. We met Lina & Per just outside of Tortola pier park for a private day sailing with a party of 12, including some children as young as 4. Lina & Per were/are super friendly and accommodating. They provided a delicious light lunch, snacks, and lots of different beverages. The Painkiller drinks for adults were really tasty. The provided snorkel gear looked brand new, and was top quality equipment. The boat was also looked brand new, was very nice, and had plenty of space. We saw lots of turtles, corals, tropical fish, and sea caves. Lina & Per gave us a perfect day of snorkeling and fun. Skip the other cruise ship excursions (we arrived on Norwegian) and book with Lina and Per!
12 ft Hardbottom with 15 HP outboard, Floating mats, Kayak, Paddleboards multiple, Swimming noodles, Trampoline, BBQ, Deck shower, Owner operator, Swim platform
Not Insured, Snorkelling gear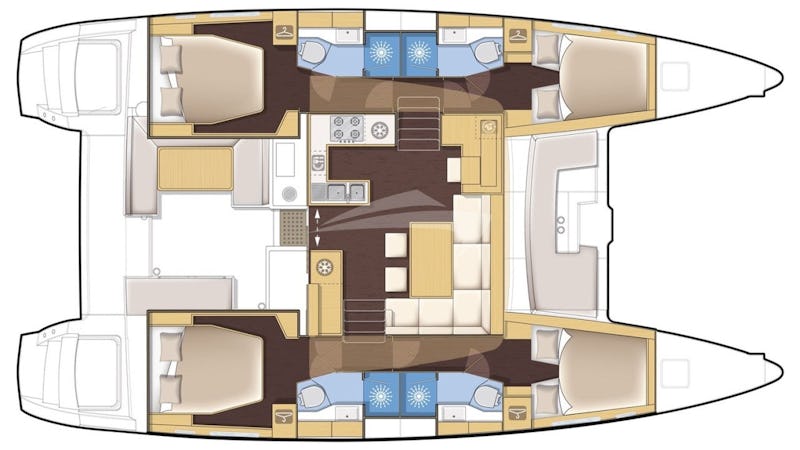 We have identified 3 similar yachts. Would you like to inquire on them as well?
Available in 1 area
Guests 8
71ft 10in / 21.9m
From $10,200
Available in 1 area
Guests 6
55ft 1in / 16.8m
From $10,400
Available in 1 area
Guests 2
46ft 11in / 14.3m
From $10,800