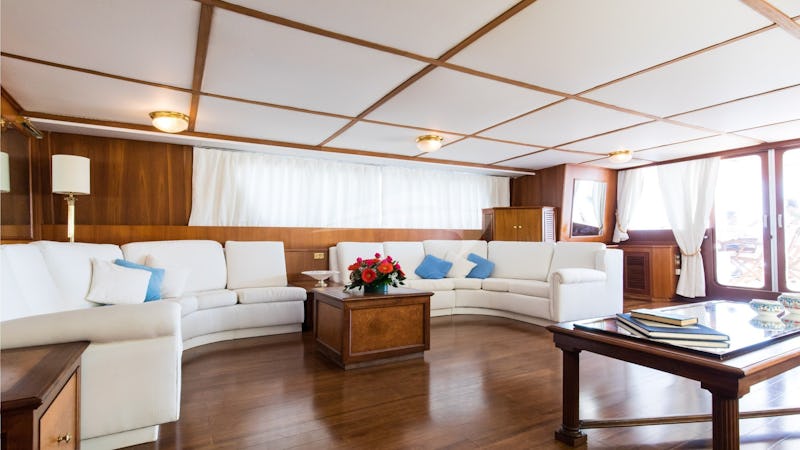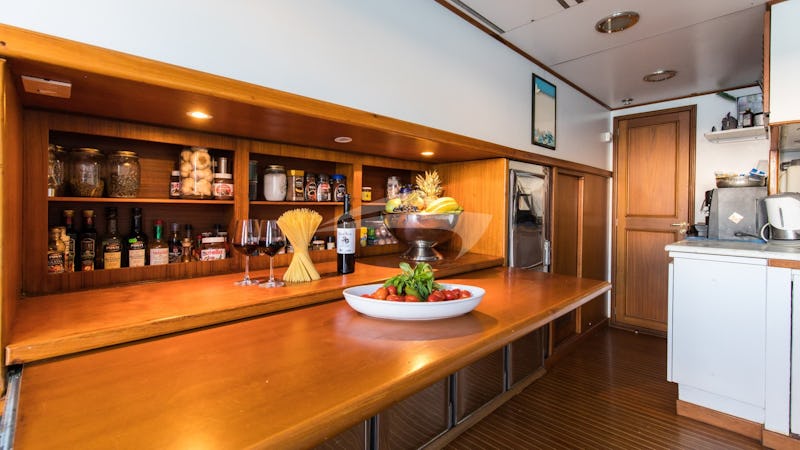 Charter This Yacht
108 ft / 33 m
│
6 CREW
│
FROM $35,624
│
10 GUESTS
108ft (33m)

26ft 3in (8m)

6ft 11in (2.1m)

1975

Admiral Yachts

Cantieri Lavagna

10

Captain Salvatore Costagliola

2019

13kts (24kph)

None

Italy

2x 1770hp MTU

No

No
NAFISA can accommodate 10/12 guests in 5 cabins. The Master cabin has a king size bed, shower and toilet. A VIP cabin has a king size bed, shower and toilet. A Guest cabin has a queen size bed, shower and toilet. A Guest cabin has a twin bed,  shower and toilet. A sofa bed in the salon offers accommodation for two additional guests.
NAFISA is fully air conditioned through out. Crew has a separate heads and shower.
Captain: Salvatore Costagliola
Born in the beautiful island of Procida, Salvatore is a reliable seamen with more than 23 years of cruising experience.
He started working aboard merchant ships when he was very young and later he become Master on an Oceanographic vessel. Then he spent many years working as a Captain on several yachts before coming at the helm of Nafisa. His great skills in navigation, his kindness and his ability to lead a team make him a valuable Captain.
He's an expert of the Amalfi and Neapolitan Coasts and he's always happy to introduce his guests to the secrets of these amazing lands.
Salvatore holds also a PADI qualification and speaks English.
Chef: Giuseppe Perreca
Giuseppe is a very experienced chef that has grown his skills by travelling all around Europe. In fact, after attending the catering institute, Giuseppe started working as a chef in all the most high end destinations in Italy, including Venice and Cortina. Then he decided to widen his horizons and headed to Barcelona, Nice, Tangeri, where he learned to please international palates adding exotic touches to his background.
He loves cooking handmade bread, pasta and pizza and he always prefers fresh, seasonable products. His dishes are incredibly tasty still they remain healthy: fresh caught, fruit, salads, Giuseppe's cuisine is a typical example of the Italian tradition. His patisserie creations are a real delight: guests will absolutely adore his babbà (Neapolitan rum-soaked cake), his chocolate mousse and his "diplomatica".
1st Officer: Carmine Salese
Carmine is a very welcoming team member, he loves sea life and his wide and sincere smile always makes guests feel like home. Always fascinated by the sea, he started working in the maritime field at a very young age, gaining over ten years of experience and covering several different roles; he started as an electrician for small boats, was then hired as a mooring man in touristic ports and shipyards and then began his career on board on private yachts. He joined the charter industry in 2019 and is now a precious addition to Nafisa's crew. His extensive mechanical knowledge allows him to face any kind of situation on board and his outgoing character is one of his strong points. He speaks Italian and a basic level of English and Spanish.
Deckhand: Fabio Barbera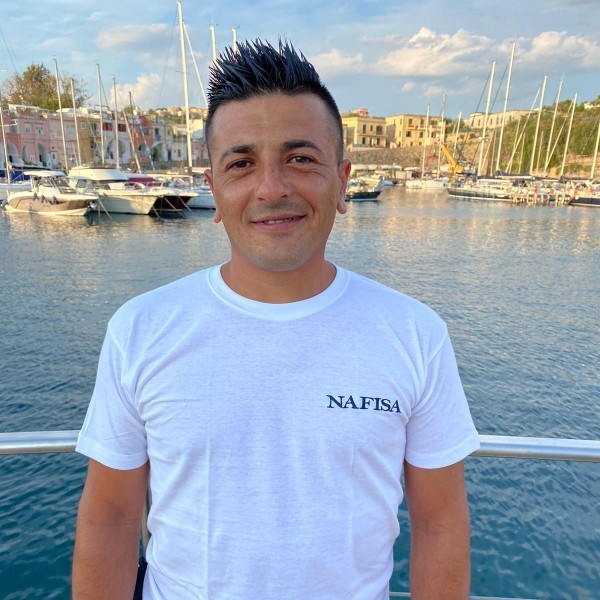 Fabio is a professional and expert team member. He started working very young as shipyard worker in Messina from 2003 to 2016. Later he employed as deckhand and tenderist aboard the Gulet Santa Barbara till' 2018. He followed his career as deckhand aboard the Sailing Yacht Kaptan Yilmaz. Very accurate and used to teamwork, Fabio will bring aboard all the Sicilian warmth of his native land. Italian mother tongue, he speaks a basic English.
Chief Stewardess: Daniela Masiello
Daniela is a professional and very skilled Chief Stewardess, boasting a proven multi-year experience in the maritime field. After her Science Degree in 2001, she enrolled at Physical Education University and in the meanwhile she started working aboard luxury yachts as stewardess, specializing in the preparation of tasteful typical Neapolitan dishes. She followed her career aboard luxury yachts from 2016 to 2017 where she dealt with guests' management. Before embarking again, Daniela employed for 3 months as Shipyard worker for maintenance and refit works together with the Captain. In 2018 she comes back aboard the Sorrento Holiday Charter as stewradess, tour guide and embarkation and disembarkation guests' assistant. Based on her excellent organizational and professional skills, Daniela holds solid skills in the management of boat, galley and guests on board. Italian mother tongue, she speaks a good English.
Stewardess: Olga Goncharovska
Very flexible and dynamic, Olga is a young Ukrainian girl, living in Italy for several years. After taking the Philology Bachelor in Kiev University, Olga joined her family in Italy where she took her second degree in Languages, Literatures and Cultures Of Europe and Of Americas at L'Orientale University of Naples. In the meanwhile she obtained the professional habilitation as Tour Guide. Combining her wide languages skills with her cultural knowledge, she has been working in Sorrento since 2015 as reception manager guests and tour guide. With a remarkable level of personal initiative, she is used to handle stress situations successfully and to pamper guests with her amazing aperitif cocktail. Junior diving Ukrainian champion, Olga holds the Ukraine seaman's identification card and water is her favorite natural element. Russian and Ukrainian mother tongue, she can speak fluently English, Spanish and Italian.
Charter 2-9 October 2019​
Hello my dear friend Captain Salvatore,
I want you and your crew to know that along with myself, Judy, Brooke, Newell and Amelia what an amazing trip we had onboard NafisaNot only did we love being on your wonderful yacht but the fact that we had you as our captain and crew members Giuseppe, Carmine, Massimiliano, Cettina and Elena completed the formula for a magical trip.  We all considered you our good friends rather than captain and crew.  You took us to wonderful places and offered many great suggestions.  We felt safe and very comfortable the entire trip.  I can not thank you and your crew enough for giving the five of us a trip we will never forget.  We  sincerely hope that our paths will cross again sometime in the future.  Maybe Sicily 👍   We send you all much love.  
Charter 14-21 September 2019

We had a marvelous trip on Nafisa under Captain Salvatore. The captain was very competent and accommodating. 
Chef Peppe and the meals were fantastic. Cettina and Alina were lovely and amazingly helpful.
The crew was fantastic. The new white leather seats are gorgeous! 
Many Thanks,
Marta
Charter 31 Aug - 7 Sept 2015

" The Captain and crew are fabulous ! They have gone out of their way to make us happy, we all get along very well and the fact that two of our group speak Italian helps as well. Unlike other guests I think they like the fact that we enjoy interacting with them and spending time talking with them while learning about the islands and their livelihood. Today we are in Procida. We are loving everything thus far. "

Thank you ,

R.

"We had a wonderful time on the boat. I was on the Nafisa myself and it was a beautiful boat and the crew was wonderful. Thank you so much for your help. My husband and I want to come back for our 10 years anniversary and rent a big yacht to stay on for 2 weeks and bring our friends, so I will keep you in my files."
Thank you again
T.

Charter 2011
"Nafisa was a perfect charter boat for our requirements over the wedding week in Capri. Salvatori and all the crew were very adaptable and happy to try and please me and my family. The boat allowed us to explore the islands and enjoy swimming which was very pleasurable."
T. B.
CD library, Fax, Indoor audio system, Satellite phone, Satellite TV, Wi-Fi, 34ft/10.5m Custom Tender 250hp, Custom Tender 40hp, Jet ski (standup), Kayaks multiple, Paddleboards multiple, Tube - towable, Wakeboard, Water skis - adult, Water skis - child, Wave runner (sitdown), Deck shower, Exercise equipment, Fishing gear - light, Gym, Jacuzzi on deck, Swim platform
Not Insured, Crew certified, Snorkelling gear
We have identified 3 similar yachts. Would you like to inquire on them as well?
Available in 1 area
Guests 6
75ft 6in / 23m
From $33,249
Available in 1 area
Guests 8
88ft 7in / 27m
From $35,624
Available in 3 areas
Guests 10
67ft 11in / 20.7m
From $38,000