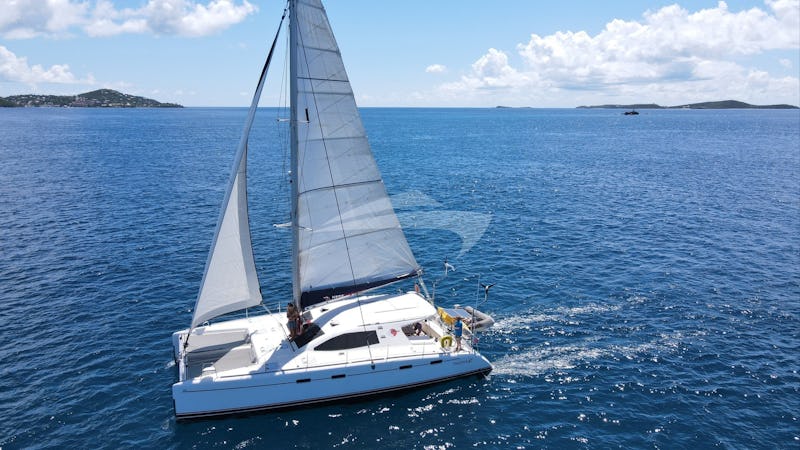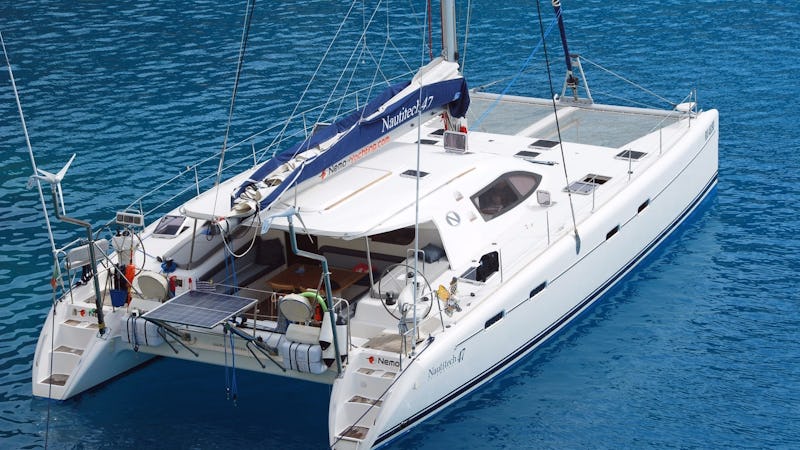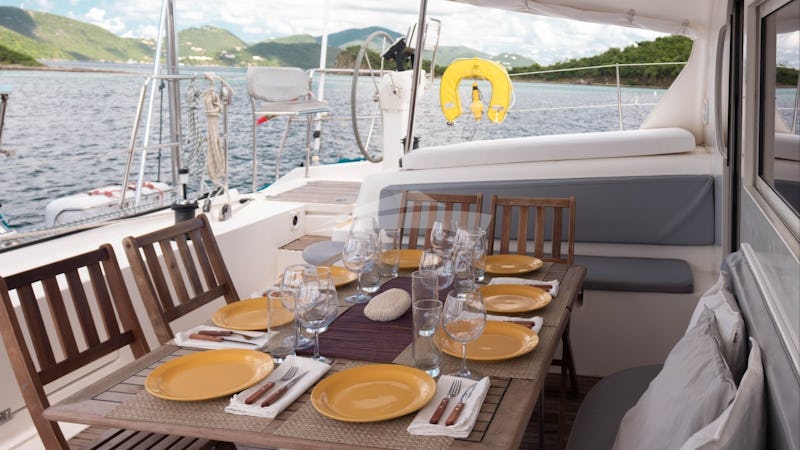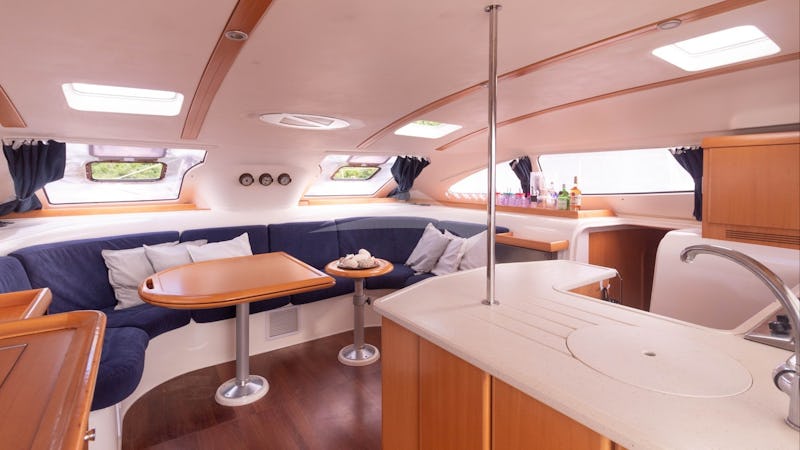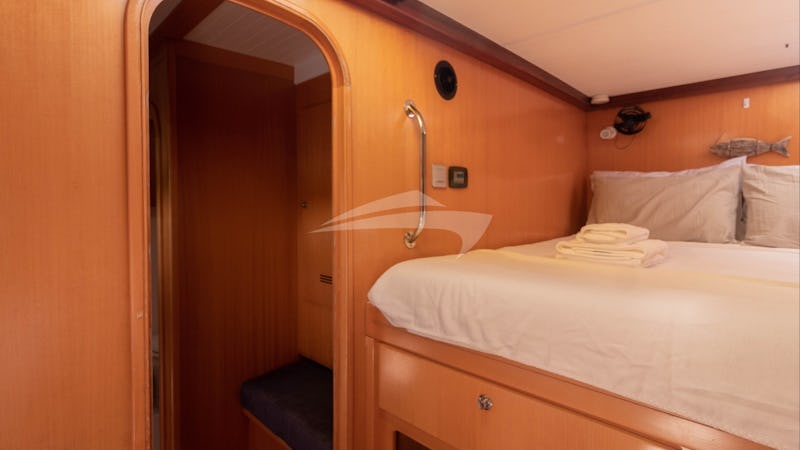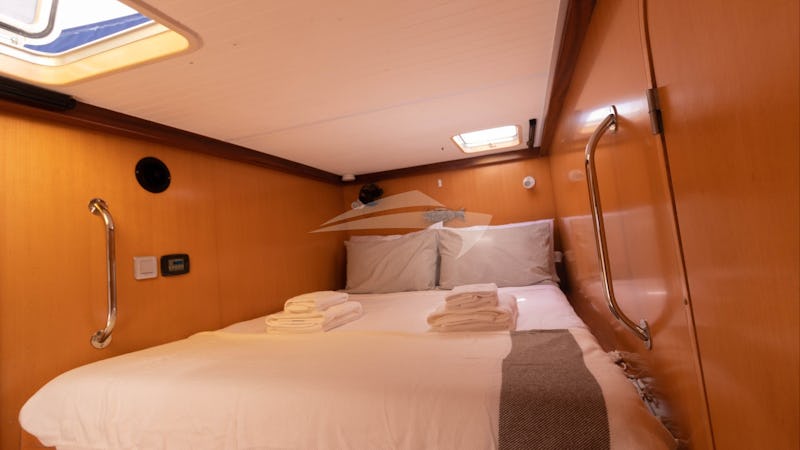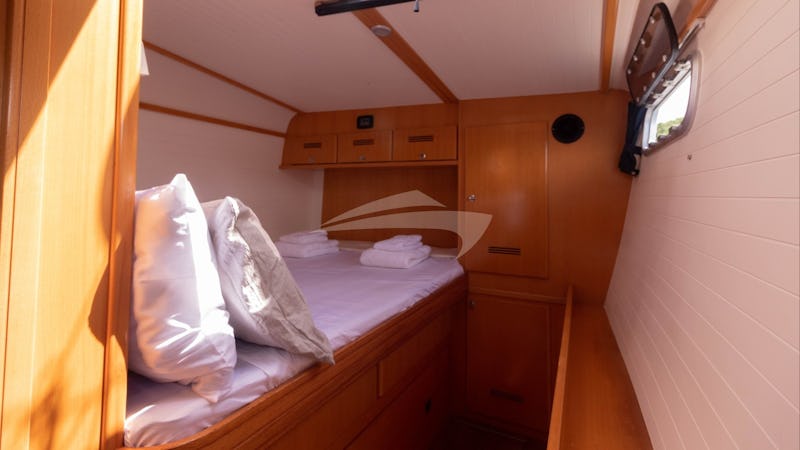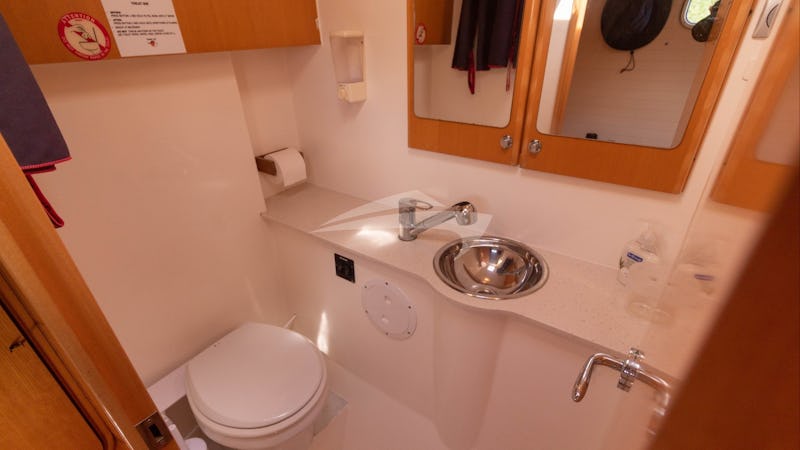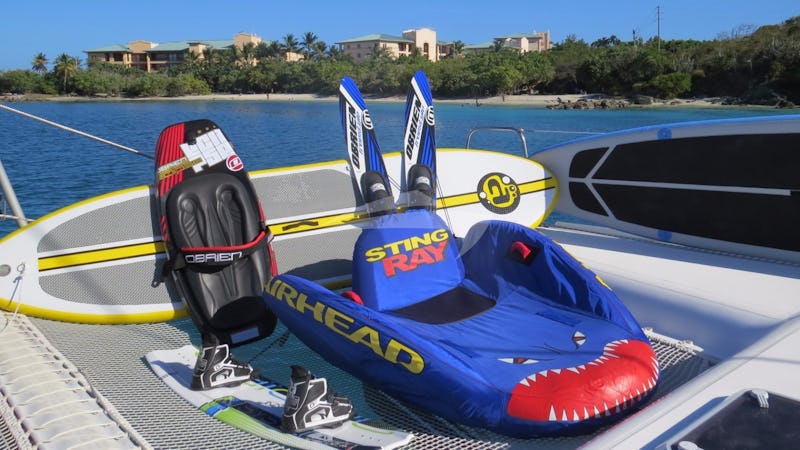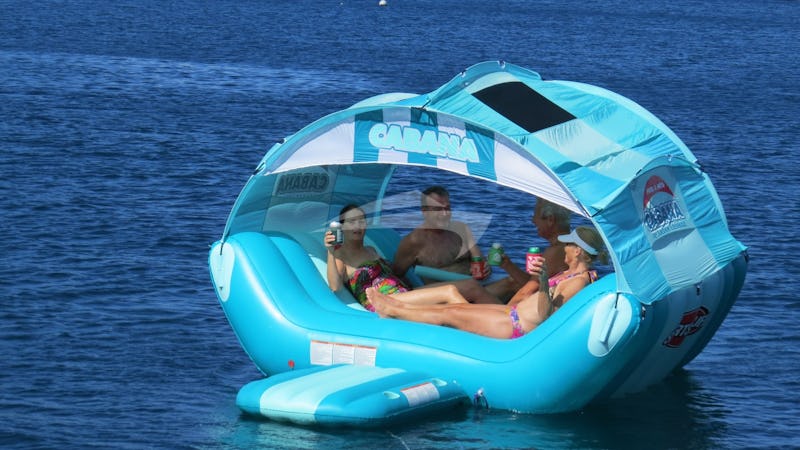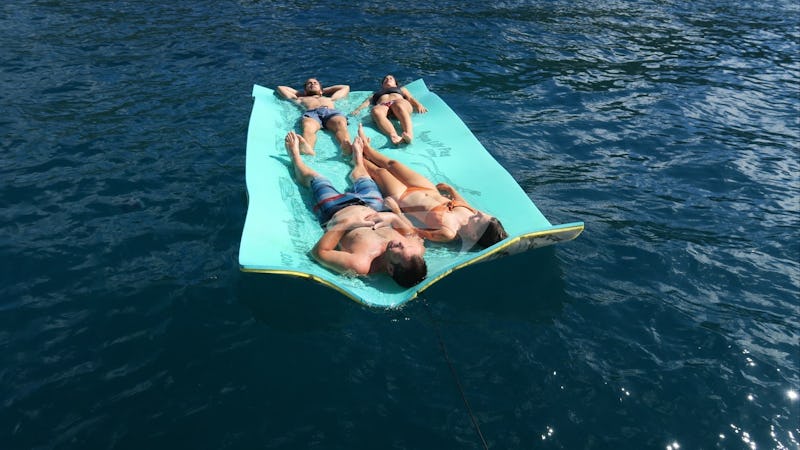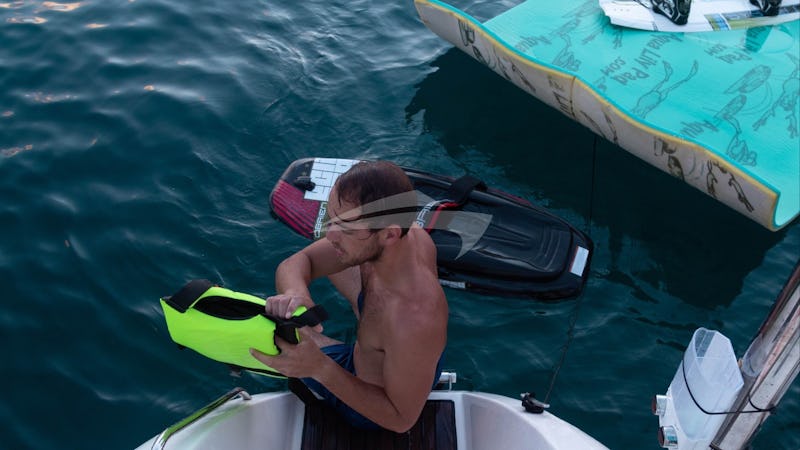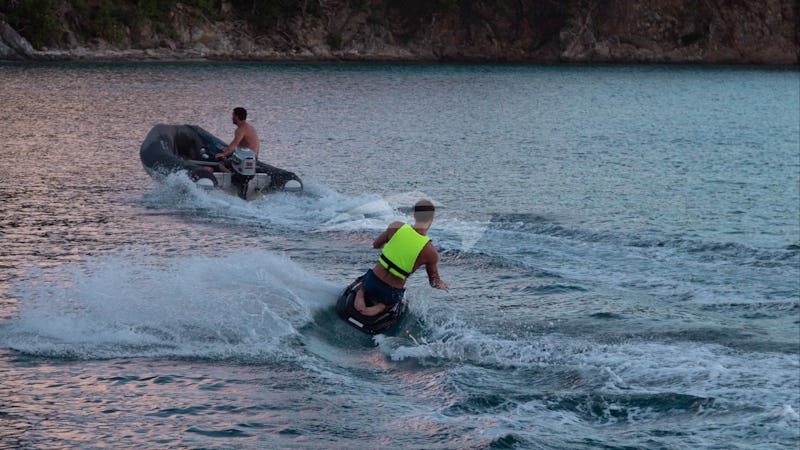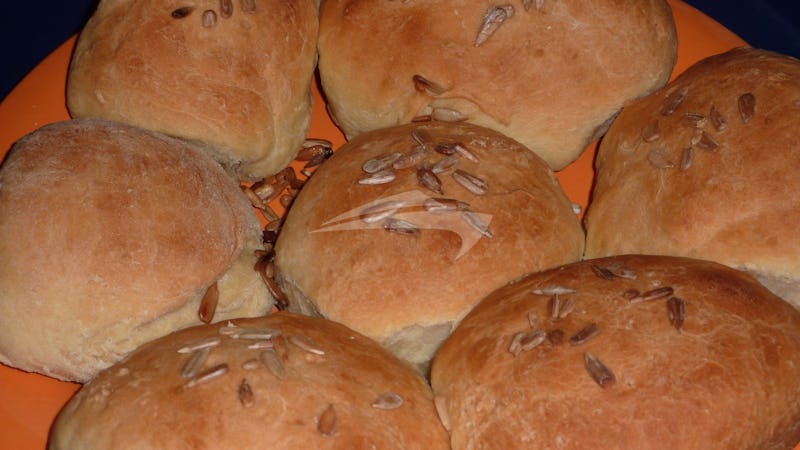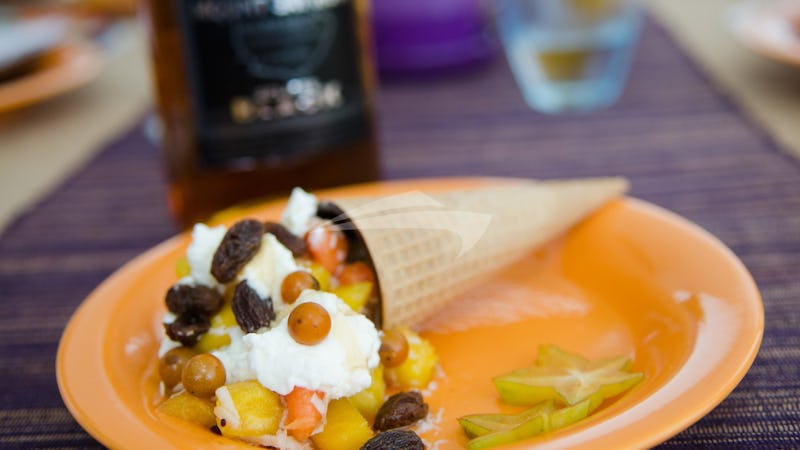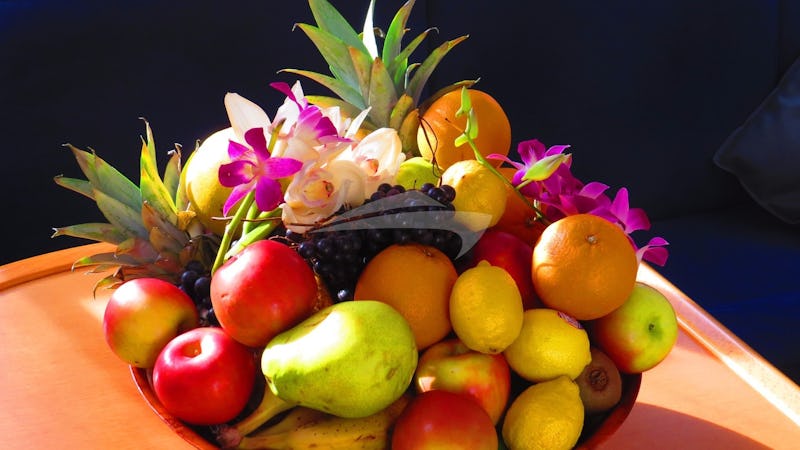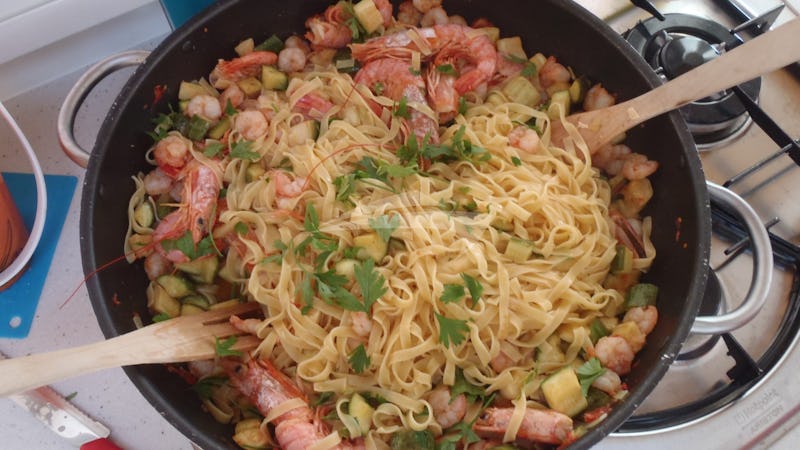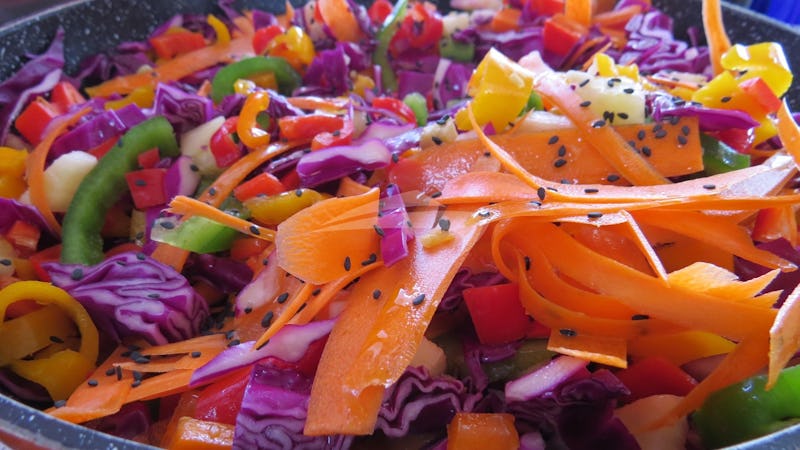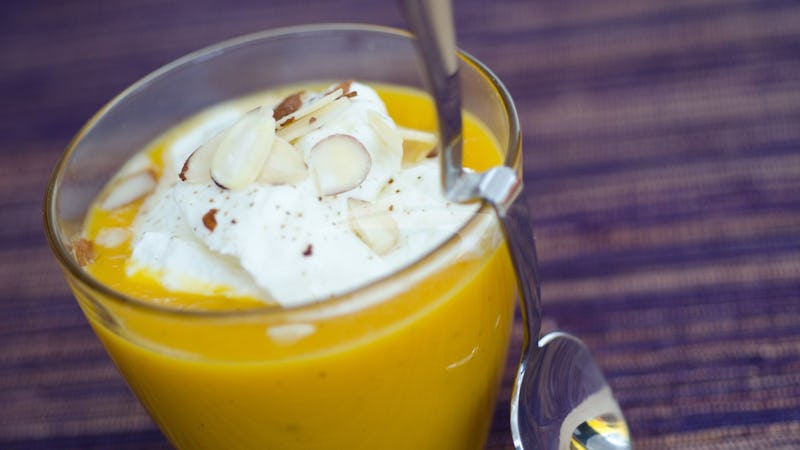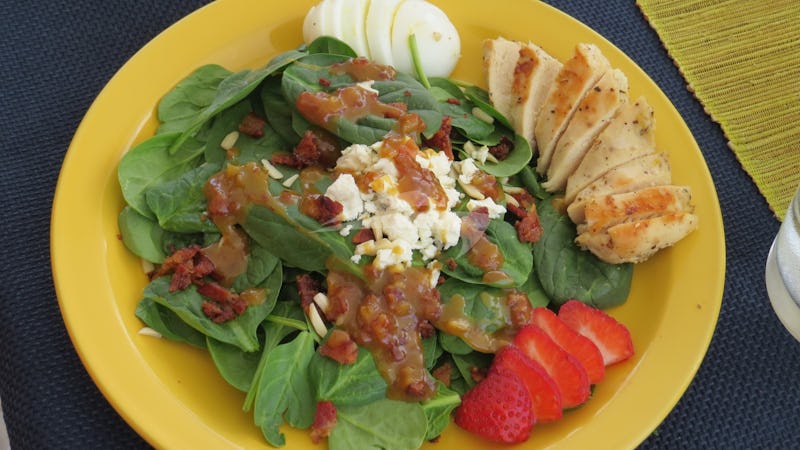 Charter This Yacht
46 ft / 14.3 m
│
2 CREW
│
FROM $13,100
│
6 GUESTS
46ft (14.3m)

27ft 11in (8.5m)

3ft 11in (1.2m)

2009

Nautitech

Nautitech

6

Captain Santiago Aranguren

2020

8kts (15kph)

None

British Virgin Islands

2X54 HP CV Volvo

No

No
3 Queen CABINS ALL WITH EN-SUITE FACILITIES.
3rd queen has single bunk bed with entrance through queen cabin and shares the queen cabin head.
 **Bunk only available for age 12 and under.
4th queen cabin is crew use only.
ECO FRIENDLY:
1. Nemo offers personalized containers for drinking water to their clients so they can either use the desalinated boat water that has been through 7 filters, or large water bottle containers for refill. To help save the planet no small plastic bottles are bought.
2. NEMO does not buy disposable plastic plates or cups.
3. There's an eco dishwasher on board that only uses 3 gallons of water each cleaning cycle.
4. Clients are encouraged to open their hatches at night to avoid using A/C.
5. NEMO uses biodegradable cleaning products and cleaning cloths for cleaning boat interior.
6. Natural bio-degradable cosmetic products on board (includes body wash and shampoo).

Captain: Santiago Aranguren (36)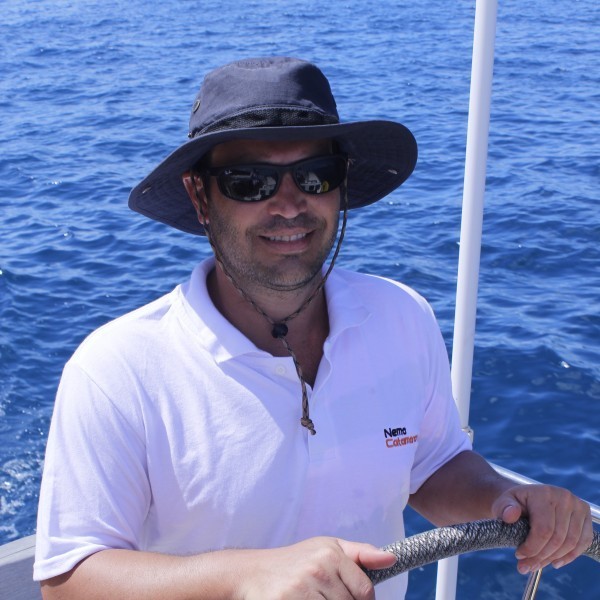 Santi - June 8, 1985 (35) - Buenos Aires, Argentina
Santi grew up in San Isidro (Buenos Aires), where he lived with his parents and seven brothers until he was 19 years old. All men! With a large family, there was always much organization.
At the age of 20, he traveled to New Zealand to work and for the travel experience. Then he went to live in Spain for one year, working in a hostel reservation center for Europe.
From a very young age (5 years old), he started sailing an Optimist, and then as a cadet until 17 years old. He plays different sports, but his hobby is making electric LEGO trains.
His family always had a boat (sailboat and (powerboat) cruise ship), so he was always in contact with the water, his great passion.
Santi went to "Marín School". Moreover, he is self-taught in all matters of technology and processes. He has dedicated many years to these tasks.
His friends define him as an introverted, executive, and fun person.
"Only one thing makes a dream impossible: The fear of failure."
Chef/Hostess: Lucia Valentini (29)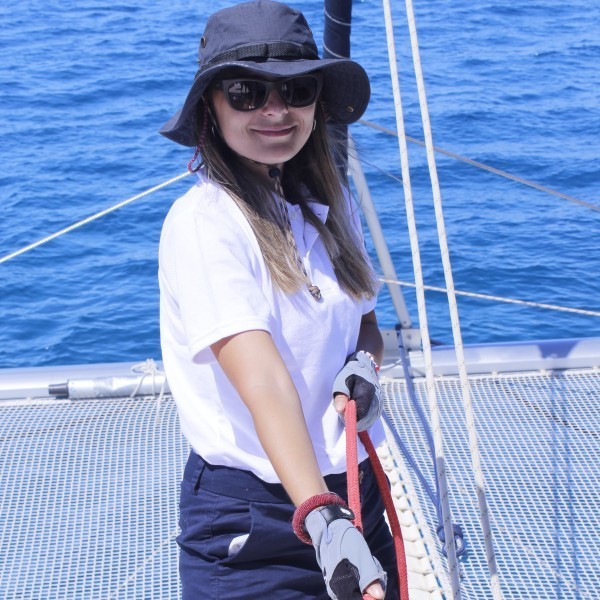 Luli - January 5, 1992 (28) - Buenos Aires, Argentina
For her first 28 years, Luli lived with her parents and three sisters in San Isidro, a very beautiful, quiet city with green spaces and a coastal area.
As a child, she went to the club almost every weekend and played with her friends. That is where her love for boats began. The club is near the river, and she could see everyone hoisting their sails.
Many friends had boats so many times we went sailing. In 2017 she bought her first boat with Santiago that they enjoyed every weekend and on day-offs.
Luli studied at "La Unidad School", graduating as a Passenger Cabin Crew. For eight years, she worked in a travel agency arranging itineraries and sales of tourist services.
Her hobby is making crafts such as knitting in two rows or the macramé technique. Moreover, her favorite sport is riding a bike.
Luli's friends define her as fun, Natural, and very perfectionist.
"Kiss slowly, Speak clearly, Fail a little, Dance a lot, Love hard and Laugh really."
Our Service
We want our guests to feel at home with quality service. We will work to give them the space to enjoy an unforgettable experience. Furthermore, we will always be at their disposal for the new adventure of each day. We love what we do: preparing each trip, each itinerary, each navigation, and each meal so that they will always be comfortable and relaxed.
"On a good vacation, you have nothing to do, and you have all day to do it."
industry. She says, "All my previous experiences allowed me to master the kitchen, provide high-quality, individual service, and second the captain in maneuvers. I am a simple person, and my job as cook, hostess and mate makes me very happy."
Working in top island restaurants has allowed Priscilla to excel at West Indian recipes using local ingredients. Her other favorite culinary style is Mediterranean. Guests particularly rave about her fresh fish tartare and carpaccio, her coconut custard, and other decadent desserts. Fattening, yes, but Priscilla organizes hikes, games, theme nights and water sports play, so burning off calories is as much fun as putting them on. Plus, she never goes anywhere without her juggling balls. Her motto: nothing is impossible.
Late April charterers in the BVI aboard NEMO wrote:

Santi and Luli
Thank you for an enjoyable week in BVI. Hopefully we should you the best place to anchor in Anegada. We had a great weather. Thank you for sharing the helm and your explanation.
A mid-March, 2022 all boys trip in the BVI aboard NEMO... They wrote:
Luli and Santi
Thank you for the incredible moment you made us live.  Excellent places and hospitality.  A perpetual memory for all of us, it was a great selection that our trip of 40 be in Nemo.  Love from "the good eating band".
Late February guests aboard catamaran NEMO in the Leeward Islands wrote:
So sorry for the long delay in our feedback. We both dropped straight back into work life, and haven't come up for air much in recent weeks!
 
Our trip was simply amazing! Santiago and Lucia were amazing hosts; polite, accommodating, helpful. They were very knowledgeable about their vessel, the area, and everything we could possibly have wanted to know or do. They let us be together, alone, as a family for the most part, but also were sure to check in with us whenever they thought we may need something. Lucia especially always seemed to anticipate our schedule, with food materializing at just the right time when we were waking up, or when people were getting hungry for lunch or pre-dinner snacks. In short, they were terrific!
 
The food and drink were great. They were always well stocked with plenty of food or drink options, and we were never left wanting for anything! Lucia's cooking was great. She made simple, healthy, tasty dishes that we all loved. Every time we sat down for a meal, we were excited to see what she would deliver. Also, she did a great job of accommodating our vegetarian daughter, which I know always adds an extra wrinkle for the chef. The food was well prepared, fresh, tasty, and always available! Dinner was a special time for us each night. Lucia would start with a small appetizer, and we would gather to talk, share our feelings on the day, and play games as a family. Santi and Luli would be checking in, keeping drinks in front of us, setting a cozy scene on the back of the boat where we would watch the sun drop below the horizon, and welcome the evening as a family with games and a wonderful meal. I think dinnertime was our favorite part of each day.
 
Oh, and the beds were shockingly comfortable! I'm sure the gentle rocking of the boat, which was very stable, by the way, helped us all sleep soundly through the night, but we all remarked on how much we liked the mattresses!
 
Santi always involved us in putting together the plan for the day or days ahead. We would discuss what he had in mind, and occasionally made slight adjustments so we could anchor in a calmer harbor, or spend more time in a particularly beautiful spot. They knew the islands very well, and we trusted their input as to where we should go to see what we wanted to see, and do what we wanted to do.
 
Our favorite parts of the trip were the times we spent anchored off of Pinel Island (St. Maarten) and Ile Fourshue (St. Barth's). Both spots were gorgeous and calm, lots of snorkeling, and both with islands we could paddle to so we could hike and explore. They were just breathtaking places in the world, and both were so uncrowded that we felt like we had it all to ourselves. In fact, the day we spent at Fourshue was almost entirely alone, and when we hiked the island there was no one else there with us. It was a beautiful place to be, and that much the better to be on our own private boat! We especially loved the water, snorkeling at every anchorage, sea turtles and rays everywhere! Gustavia was a great little town to visit to come ashore for an afternoon, and both islands were just gorgeous, but we really loved the privacy and solitude of being on the Nemo as a family.
 
Honestly, we don't have a lot of critical feedback about the experience. We were sad to leave the boat; loved the beds, the cabins, the food, and the beautiful locales that Sanit and Luli shared with us. We have never been so relaxed following a vacation, and are already making plans to get back on the Nemo as soon as we can make it happen!
 
Thank you so much for helping us to make this experience happen. It was a memory our family will hold onto forever!

Mid February, 2022, guests on catamaran NEMO wrote:
Santiago and Lucía,
What an incredible week! Thank you so much for all of your attention, care, and for showing us so much beauty islands. We have felt like queens thanks to your hospitality and are so grateful to have become friends with the two of you. The food, drinks, and sailing were phenomenal and such a treat! Thank you for making this an adventure that we will hold clear in our hearts. We will be back for VIP sailing lessons soon!
Alex, Susan, Dionne, Stephanie, Lauren 
Guests for the last week of January, 2022, on catamaran NEMO wrote:

To our new friends Santi + Luli
Thank you for giving us an unforgettable honeymoon that we will remember forever ❤️ Nemo is an amazing boat but you two really made it special and coul not have done any more for us!
We will miss our evening cocktail hour, Santi's amazing Pina Coladas, Luli's cosmos and rum punches ❤️.
Luli your cooking was estupendo! So delicious, we really enjoyed all of our meals but particular to the Argentinian Milanesas, chocolate mousse and tenderloin, woww!!
Thank you Santi for the drone shots and for letting us drive the boat for a while. If you ever need a co-captain just give us a call.
Thank you for taking us to the different places and introducing us to Barbuda-paradise on earth!
I hope one day we can do it all again. 
Safe travels
Charlotte + Nick