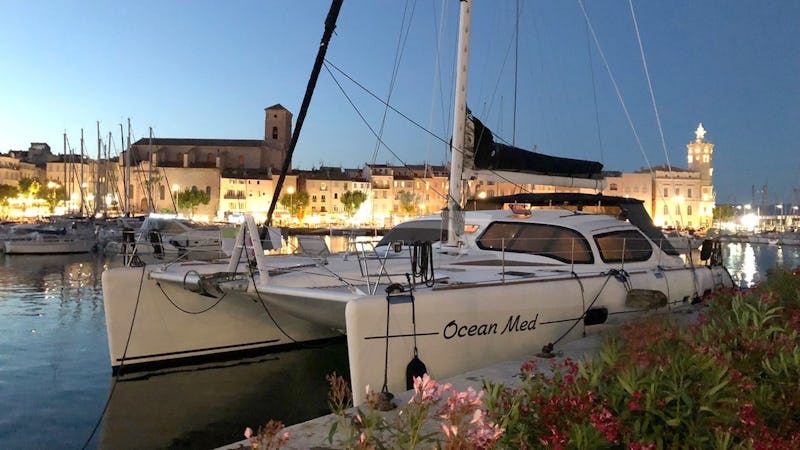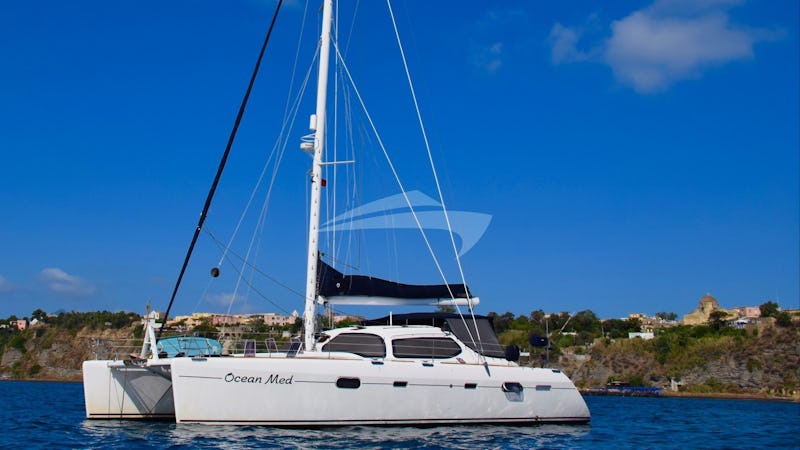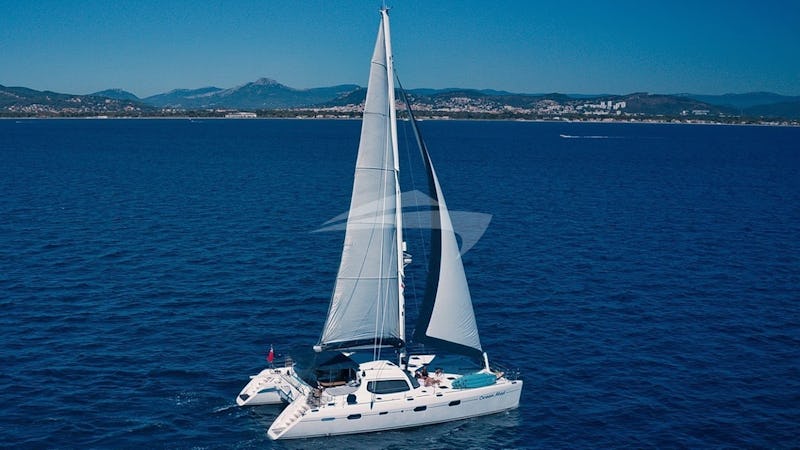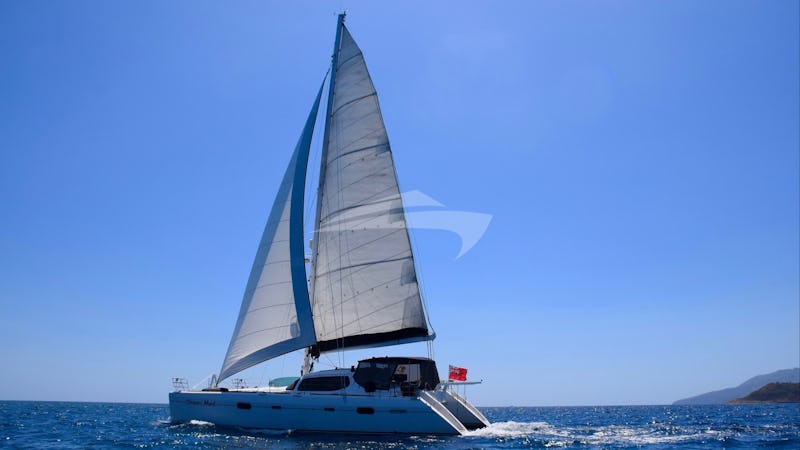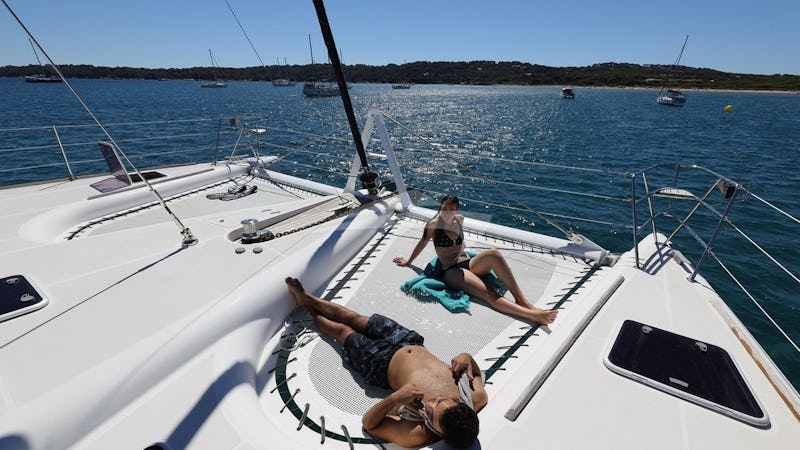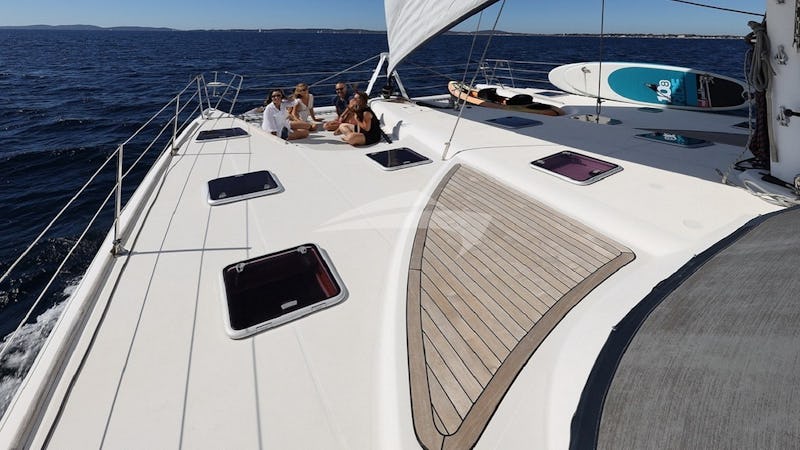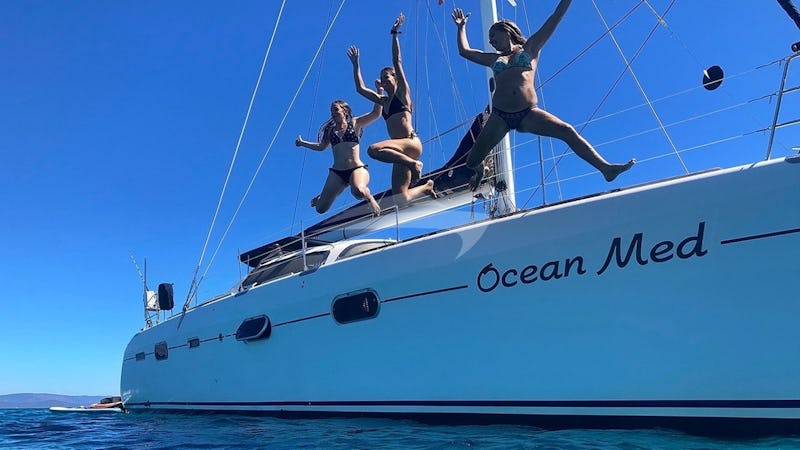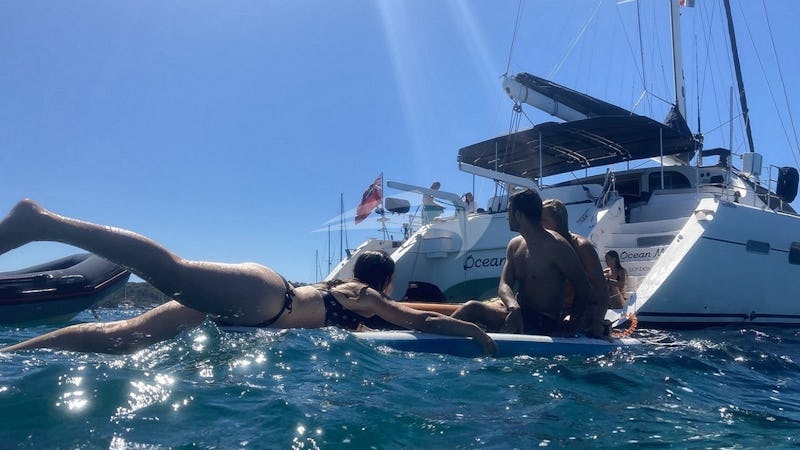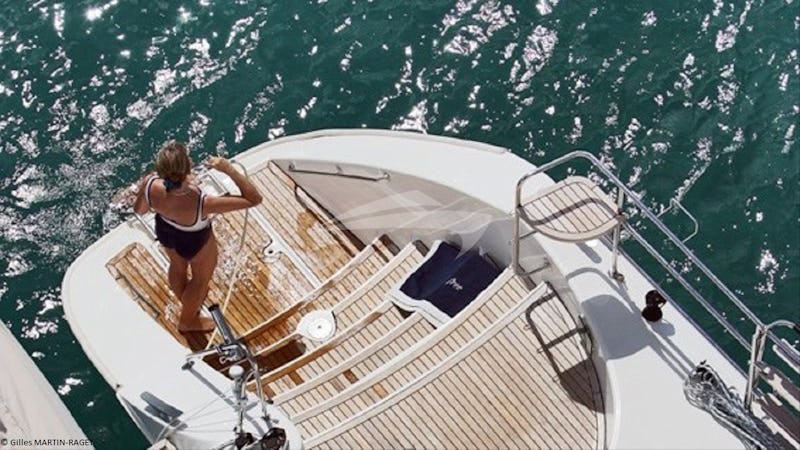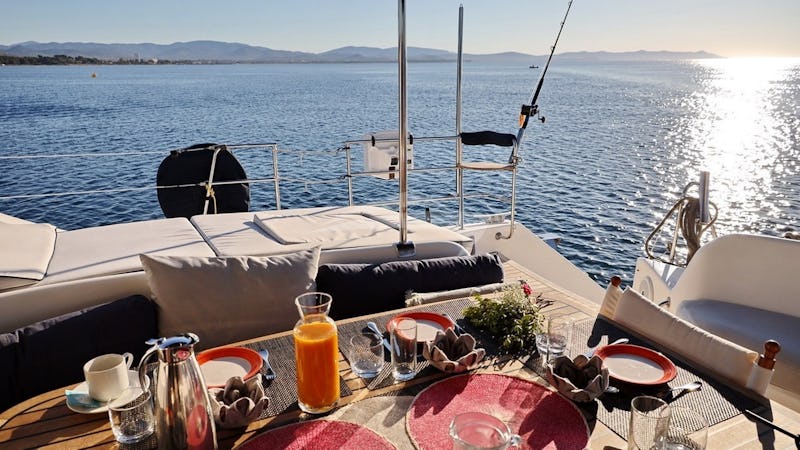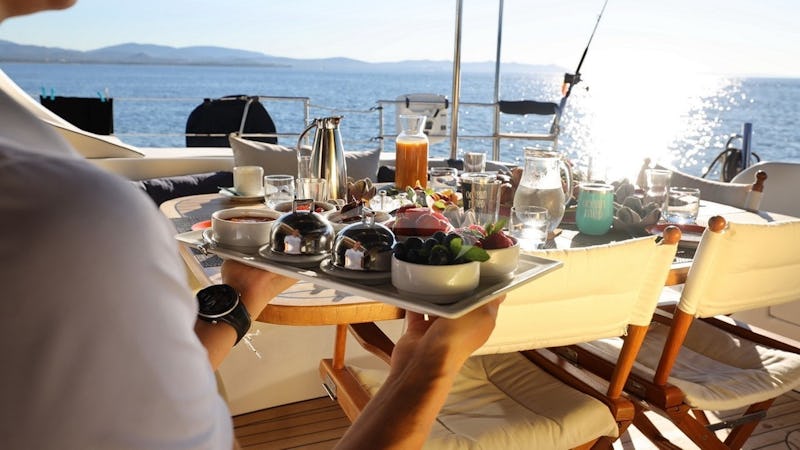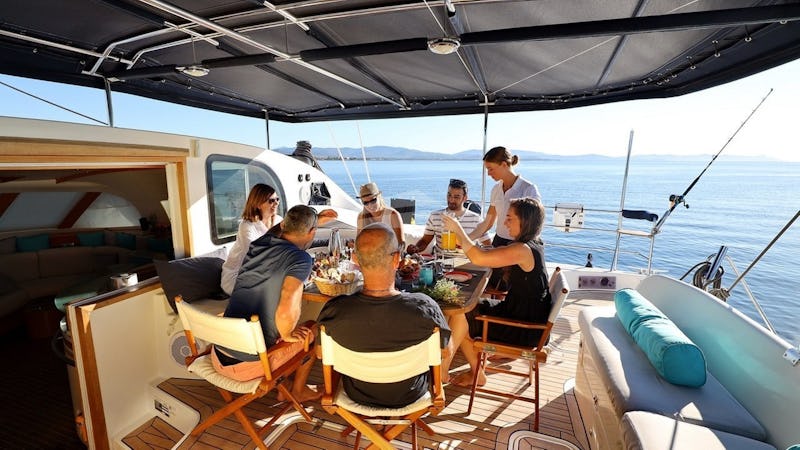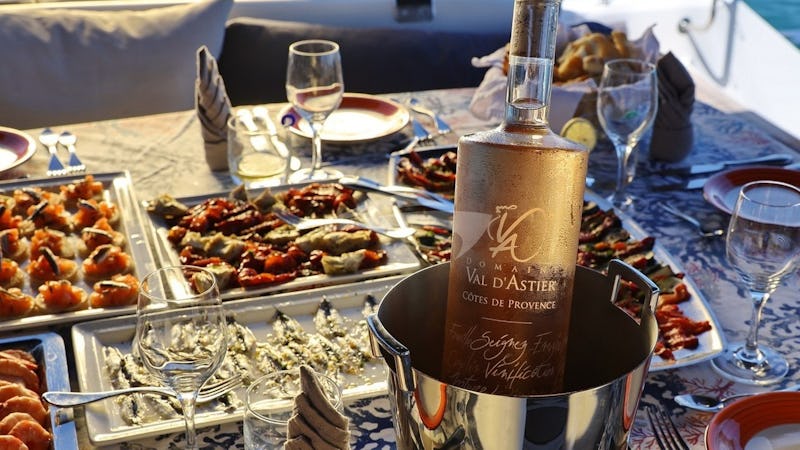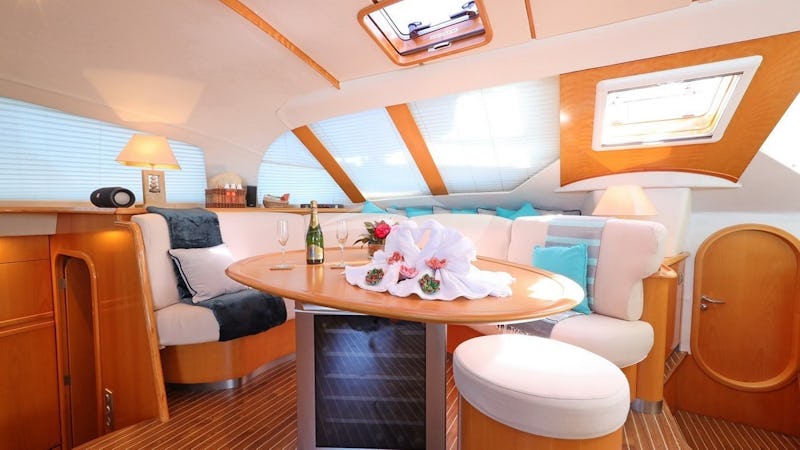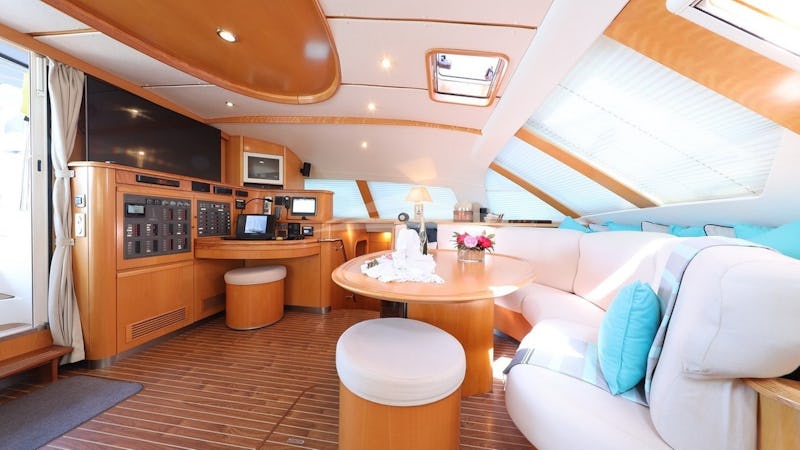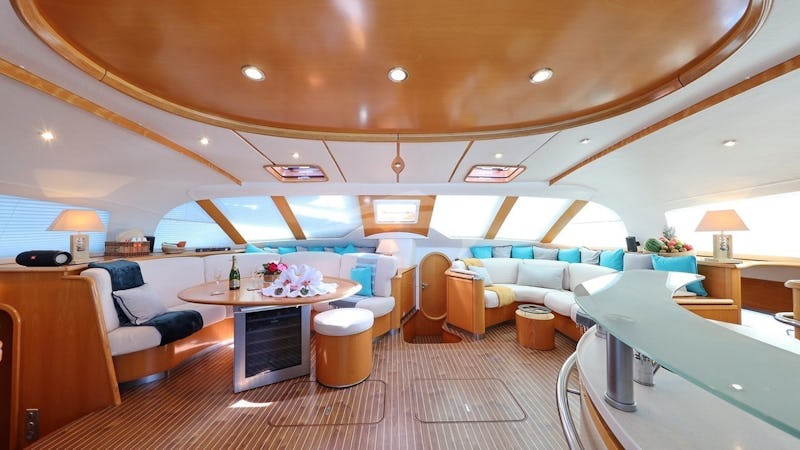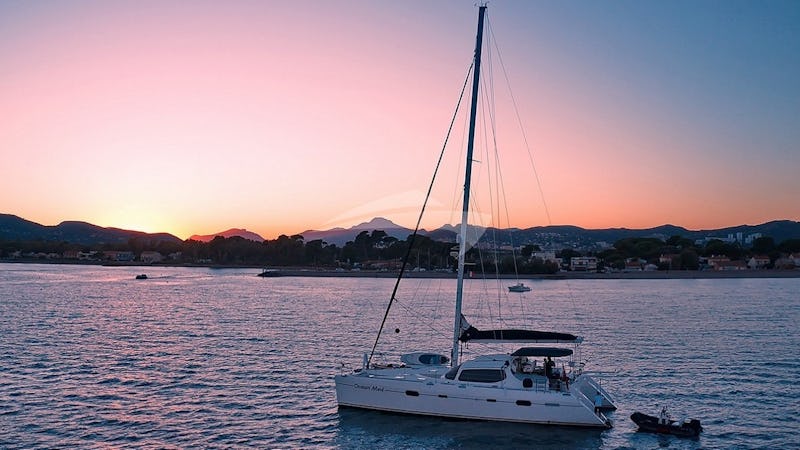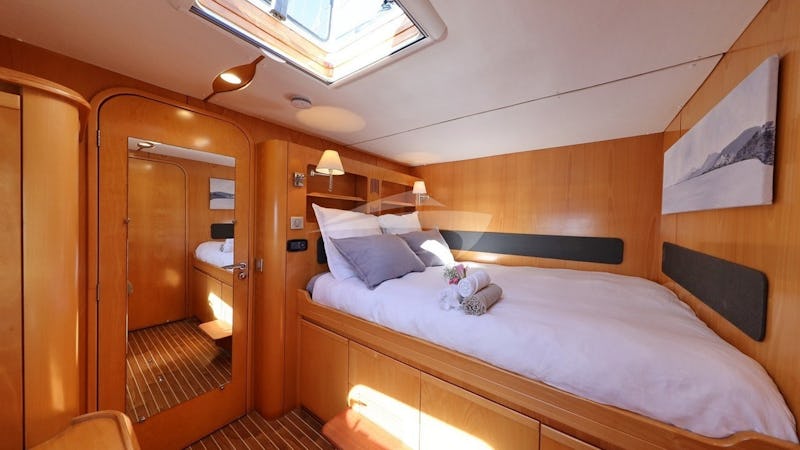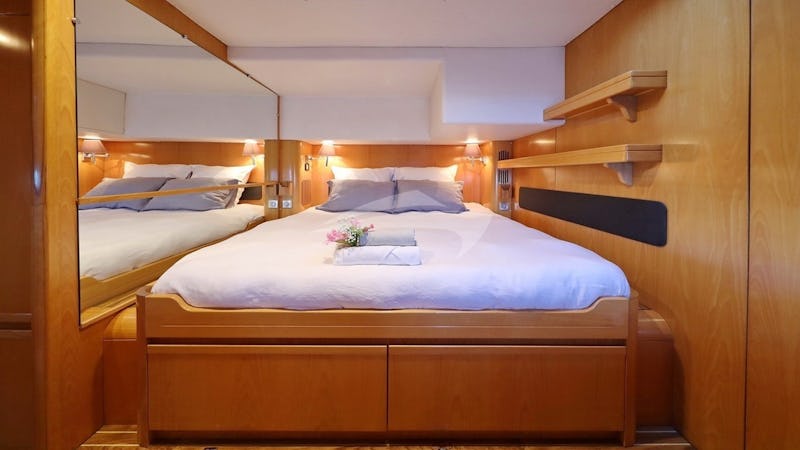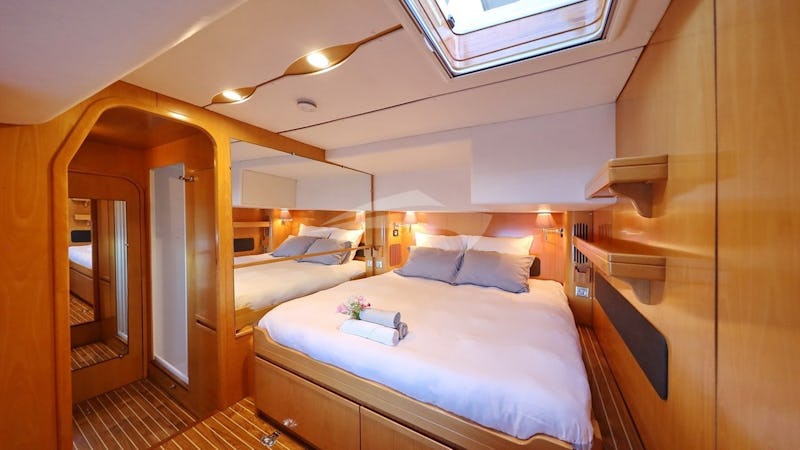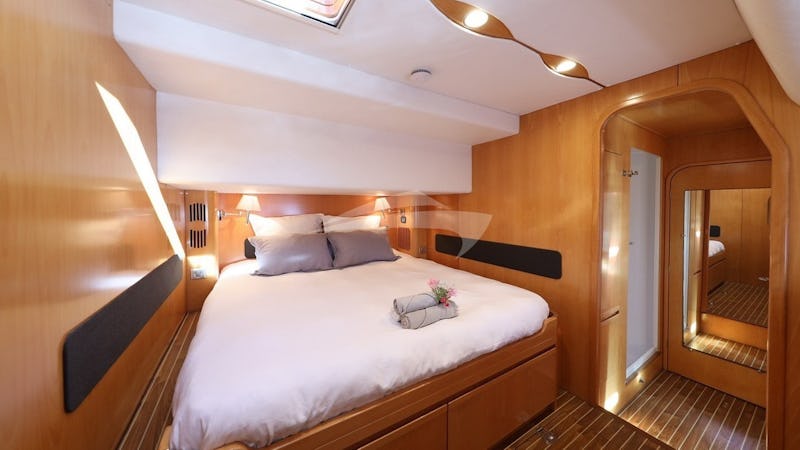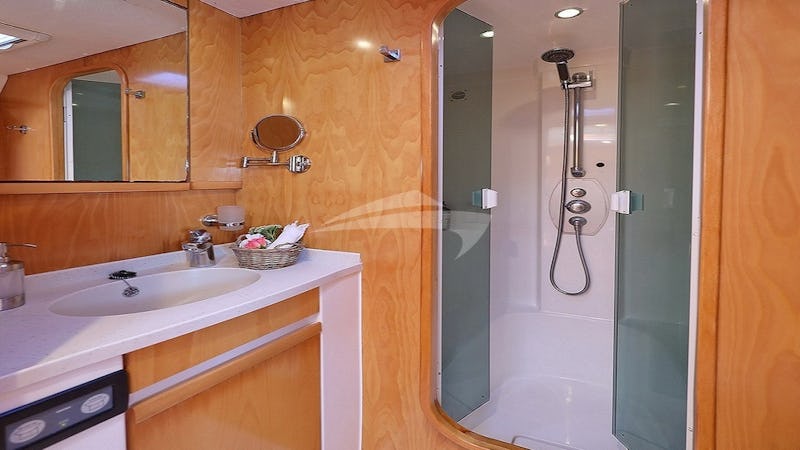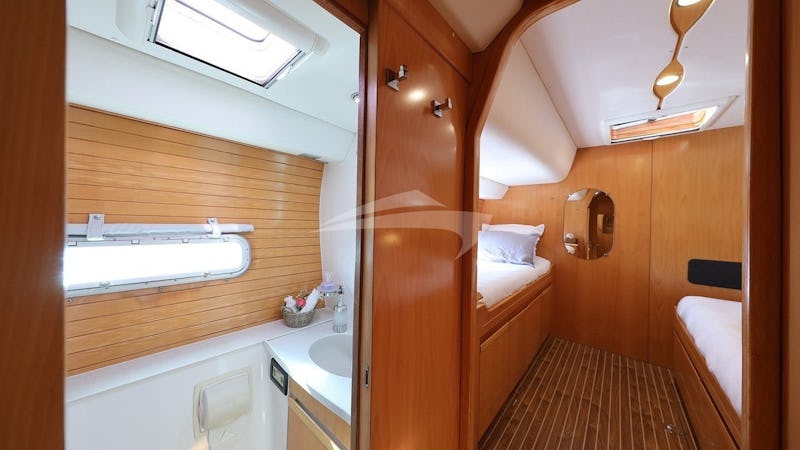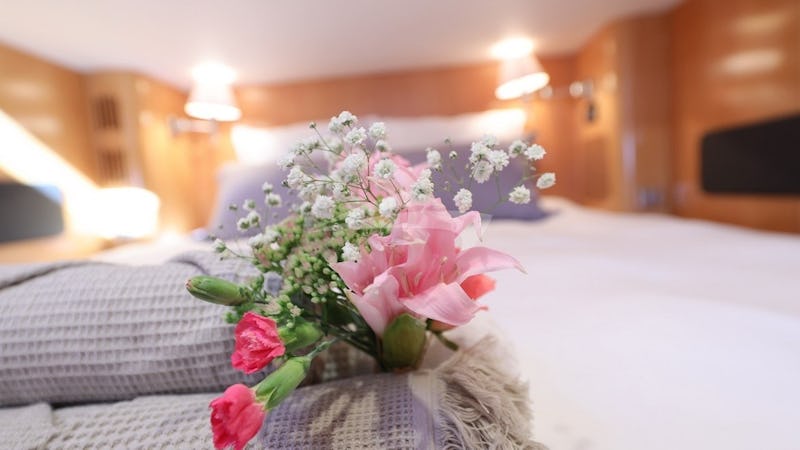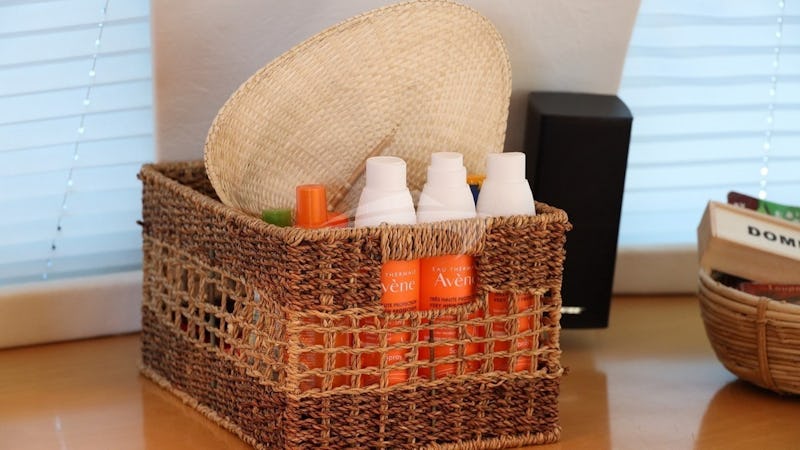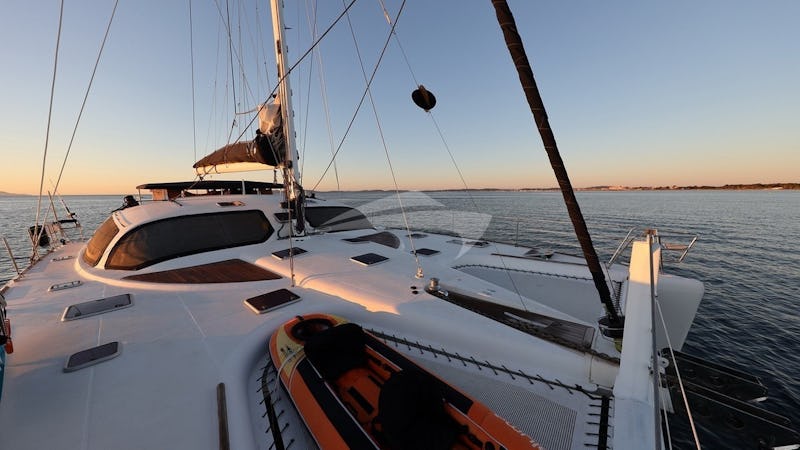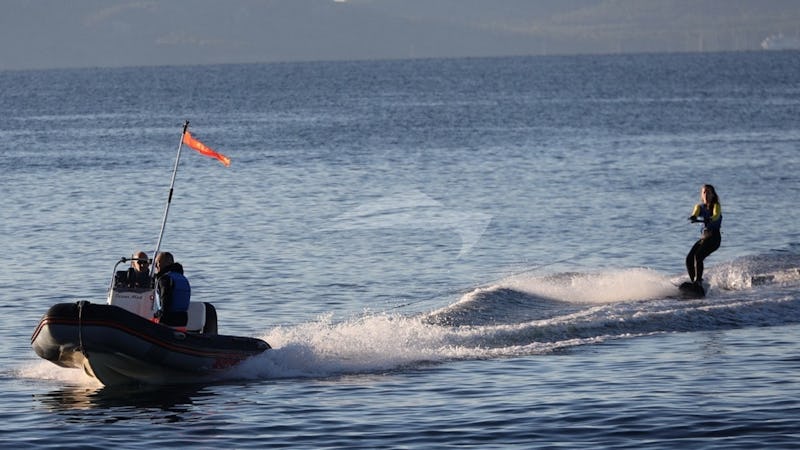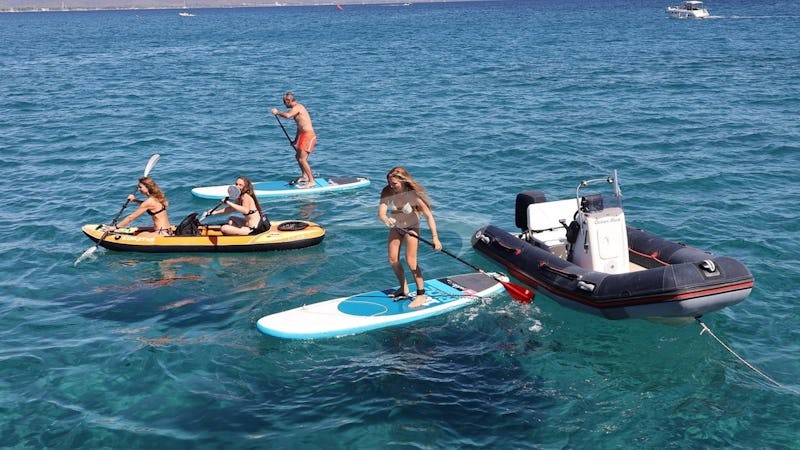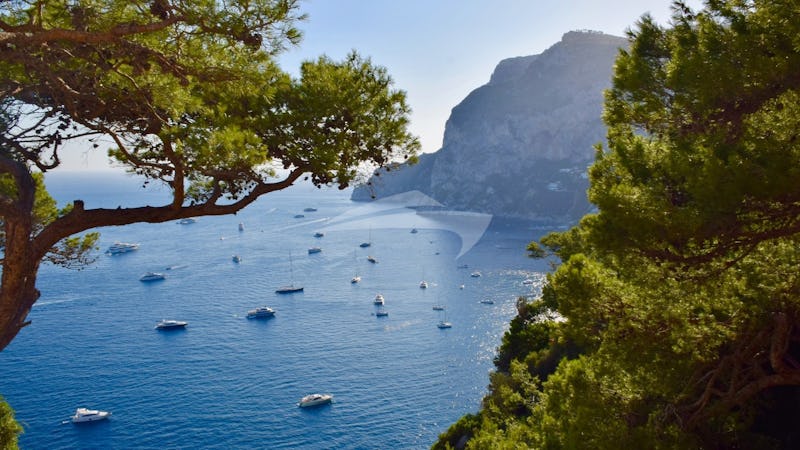 Charter This Yacht
58 ft / 17.9 m
│
2 CREW
│
FROM $16,087
│
8 GUESTS
58ft (17.9m)

35ft 1in (10.7m)

5ft 11in (1.8m)

2004

Privilege Yard

Architect Marc LOMBARD / Design DIEDRE

8

Captain Federico Stefanelli

2018

9kts (17kph)

None

Guernsey

2 x 130 HP VOLVO

Yes

No
Spacious lounge, bar saloon
OCEAN MED is accommodating 8 guests in 4 cabins as follow:
Star board: 2 King size bed cabins - 150 x 195 and sofa with ensuite heads & shower
Aft board: 2 Queen size bed cabins - 170 x 200 with ensuite heads & shower -
ON REQUEST only - possibility for 9 guests: with an extra bed 190 x 70 (not upper, beside) in the starboard aft cabin (Ideally for a child)
Air conditionning in the cabins only, with private control in each one.
Separated crew quarters
Plugs in each cabin (1 for the shaver + one for the vanity)
Hair dryer in each cabin
Electric voltage : 24 & 220V/ adaptators 110 V
Captain: Federico Stefanelli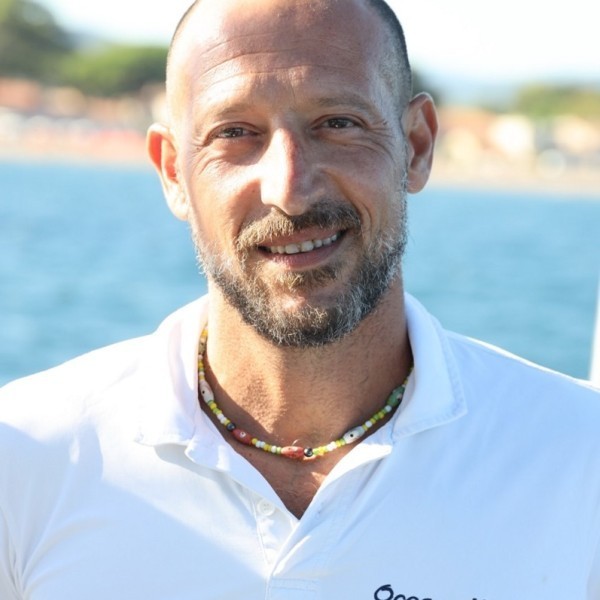 CAPTAIN: Federico STEFANELLI
Italian
STCW 95
Languages: Italian, French, English, Spanish
Federico is an extremely versatile and creative cook. Growing up in Italy, he became an expert in Mediterranean culinary traditions at a very young age and has now more than 10 years of experience,
He is a follower of the Fusion Cooking Tradition and he can manage and harmonize the flavors from different continents and cultures - North African & Middle East dishes, Moroccan, Syrian, Asia, Peruvian, Japanese, Pacific specialties -
He will be pleased to assist the new Stew-Cook offering you a variety of his plates.
Federico has also ridden 35 000 nautical miles and crossed four times the Atlantic.
During the last 3 years on board OCEAN MED in addition of his Chef position, he also invested a lot in sailing with Francis the Captain and friend of him. He has also acquired an in-depth knowledge of the West Med, more specifically the Corsican & Sardinian Coasts.
Today with his diplomas in hand, he is very happy to take over and is looking forward to welcoming his new guests
STEW/COOK: Jessica-Lee BRICCHI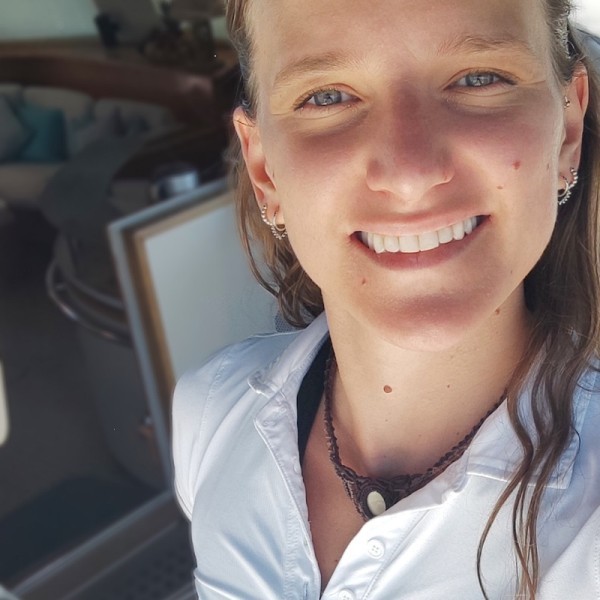 STEW-COOK: Jessica-Lee BRICCHI
Italian/British
STCW 95
Languages: Italian, English, French
Jessica Lee is an extremely creative cook and precise sailor.
She was born in Italy from an English mother and Italian father (captain of their private boat).
She has had many experiences with them on their sailing boat since birth.
She has sailed the Mediterranean Sea, taught in sailing schools and participated in some regattas in Italy.
She also worked in their family-run hotel, bar and restaurant, where she assimilated the rules of hospitality and cooking skills.
She even has an Italian license to conduct motor and sailing boats.
Smart and kind girl, she will be glad to welcome you on board and give you the finest experience at sea.
Charter August 16 - 24, 2021 in North Sardinia / Italian group of 8​
Bellissima crociera nel nord della Sardegna tra l'Arcipelago della Maddalena e la Costa Smeralda, con visita e Bonifacio.Grazie all' esprerienza del commandante Francis abbiamo visto rade stupende e mare straordinario.
Grazzie alla gentilezza di tutto l'equipaggio siamo stati coccodati e ci siamo goduti una vacanza rilassante.
E grazzie all'alta cucine di Federico abbiamo gustato prelibaterre cullati del Mare ; Cathy simpatica e gentilissima.
Ringrazziamo tutto l'equipaggio per questa bella settimana !
R.P. E. D. C
Beautiful cruise in the North of Sardinia between the Maddalena Archipelago and the Costa Smeralda we visited and Bonifacio.
Thanks to Captain Francis experience we saw beautiful bays and extraordinary sea.
Grazzie to the kindness for all the crew we were pampered and we enjoyed a relaxing holiday.
And grazzie to Federico high culinary we tasted delicious sea meals.  Cathy nice and very kind.
We want to thank the entire crew for this beautiful week!
R.P. E. D. C



Charter July 22-29, 2021 in South Corsica – North Sardinia / American family of 4
Un grand merci à l'équipe OCEAN MED pour la semaine magnifique.
On a vraiment aimé notre semaine à bord et certainement le service et l'accueil super sympathique.
Merci Francis pour nous montrer en toute sécurité les baies les plus belles de la Corse et de la Sardaigne.
Merci Federico pour nous soigner avec des repas fantastiques.
Nous et les enfants avons beaucoup aimé votre cuisine italienne.
Merci Cathy pour le très bon service chaque jour on a été accueilli avec le sourire !
On a vraiment aimé notre congé en Méditerranée !
C, E, Y & A
Charter July 4 - 17, 2021 in Amalfi Coast/ American family of 8

What an incredible trip! The boat has been fantastic and the food and service even better!
The crew has made us feel so special and made things so easy for us.
Highlights:
Watching traditional swordfish boats and 2 swordfish in the Massina straits
Watching mt Etna erupt from Vulcano
Stromboli town
Hicking the valley above Amalfi
Exploring Ischia, especially the Castello
Procida
Every meal prepared by Federico!
Thank you for such a magical holiday.
P Familly
Please visit us in Winston-Salem, NC or Los Angeles.


Charter on August 11-21, 2020 in the French Riviera / French familly of 6

Séjour extraordinaire à bord d'Ocean Med.
Moments inoubliables grâce à une équipe au top.
BEST HOTESSE, merci Sélène!
BEST CHEF, merci Federico
BEST CAPITAINE, merci Francis!
A très bientôt en mer!!!

10 jours magiques! C'était super sympa.
Merci pour tout!!! B.

Semaine dingue! On pouvait pas rêver mieux.
On a passé de super moments grâce à l'équipage toujours au top.
Merci! M.

Merci pour une expérience de dingue; c'était top! R.

Vacances exceptionnelles. Equipage exceptionnel , Merci !!! J

Charter on August 1 – 8, 2020 in the French Riviera /  French family of 5
Quelle belle semaine ! Avec un super capitaine, Francis, avec un super top chef Federico number 1 ! et a belle Selène qui nous a gatés. Une semaine inoubliable, des moments précieux : CARPE DIEM
Grazzie mille per tutto ! EF
Super séjour ! Top crew ! Spots de rêve
Bravo à l'équipe pour touts les souvenirs que nous emportons grâce à vous.
A bientôt ! TF
Merci pour cette parenthèse enchantée, votre gentillesse à tous n'ont d'égal que le professionnalisme de Francis, le talent de Frederico et l'Amazing grâce de la belle Sélène.
Mille mercis ! BF
5* - Première expérience en charter et vous savez quoi ? Vous avez réussi à me convaincre de refaire une expérience l'année prochaine.
La qualité de l'équipage y est pour beaucoup.
Captain Francis est super pro 5*
Sélène adorable et serviable 5*
Federico Miraviglioso Cappo di Cuccino 5*
Vous êtes top et je suis prêt à refaire une autre semaine tout de suite.
BRAVO
Un grand merci à l'équipage, nous avons passé une séjour inoubliable.
Notre capitaine très à l'écoute de nos moindres désirs et très professionnel. Nous avons mouillé dans des sites magnifiques et très protégés de vagues malgré le vent.
Notre cuisinier hors du commun, très créatif et attentionné aux demandes de chacun de nous. e soleil était au rendez-vous dans les assiettes à chaque repas.
Notre douce et adorable Sélène très attentive à nos moindres souhaits, artiste à ses heures, dans le pliage des serviettes, musicienne pour notre plus grand plaisir, souriante et j'en passe…
A tous, un sincère remerciement. Il sera difficile de retrouver un service comme celui-là. A moins que l'on se retrouve l'année prochaine…
VF
Charter on September 21-28, 2019 / Portisco - Portisco / on couple from Swizerland

Difficile de faire mieux et de surpasser les commentaires des charters de l'été!!
Une bulle de bonheur!
Merci au capitaine Francis l'homme orchestre, le magicien.
Merci au sourire et à l'efficacité de la jolie Marion.
And last but not least un grand bravo au talent et à la gentillesse du solaire Federico!
G B
Thank you!

Francis, Marion & Federico... le top du top!
Merci à vous 3 pour cette croisière parfaite!
Bon vent
LS
GRAZZIE!!!
Charter on September 5-12, 2019 in Amalfi Coast / American family of 4

We can't thank you enough for such an amazing wonderful week!!
It was such fabulous way to visit Italy!!
All of our destinations were fabulous and so different! We loved the small villages as much as the large and sometimes crowed ones!
Francis, Rosalie & Federico, thank you for prouding us with such a comfortable home.
We felt so very safe and confident in your experience and expertise on the sea!
The food + taking care of our every wish so very much appreciated!
You are a wonderful team!
We will always have such terrific memories of this week!!
Xoxo
Thanks again for everything!
M, B, B & J
Charter on August 16-29, 2019 in South Corsica / French group of 8
Merveilleux voyage autour de la Corse du sud avec un capitaine qui outre ses qualités professionnelles indéniables a un sens des relations humaines pour rendre le séjour des plus agréables. Je ne parle pas de Federico le cuisinier qui serait étoilé au guide Michelin s'il n'avait pas le gout de la marine et l'envie de rester en mer.
Quant à Rosalie, c'est l'hôtesse exceptionnelle avec les qualités de son père et la bienveillance pour faire passer cette croisière dans la joie.
Merci à tout l'équipage.
MH
Je ne peux qu'être en phase! Ni trop ni trop peu, l'équilibre parfait entre discrétion et présence. Un service 4* avec le sourire et la gentillesse d'une équipe expérimentée. Et un chef italien exceptionnel. On l'aurait bien embarqué!
KH
Merci encore pour tout!
C'était vraiment un super voyage, une très belle équipe.
Je vous souhaite le meilleur et à très bientôt!
JH

PS: Federico is the best chef ever! I am a fan of all your special dishes.
Charter on August 3-11, 2019 in Amalfi Coast / American party of 5

What a fantastic week with captain Francis and crew along the Amalfi Coast.
The boat was great, the food was phenomenal and Roselite was the best.
We all really appreciate your kind and generous service to entire the group, loved all the great places we visited.
Hope to come back again.
Come to see us in Texas.
T C
Couldn't have asked for a better crew. Thank you so much for the hospitality and care!
R C


Charter on July 21-28, 2019 / Naples – Naples / Family of 8
Thank you for such a wonderful week ! The beauty of Italy was amazing. We made a ton of memories 😊 
Perfect service and food !
Thank you for an amazing trip. Thank you again Ocean Med crew.
C.M
Thank you for an amazing adventure ! We loved the boat, itinerary and crew. The food was incredible and service too !
Thanks to the crew for an amazing trip ! You guys made this trip a blast and one to remember.
P.M
Charter on July 10- 20, 2019 / Roma - Naples / British family of 7 
E Family
Wonderful cruise, safe and secure under captain Francis and his professional crew.
A great thanks to super Frederic and to the hard working, always there helpful, Roseline.
Ocean Med is as usual perfectly appointed boat.
Many thanks
D. & family
PS: sorry for the writting we are under way!!

Merci Francis, Roseline et Frederico. J'ai adore le bateau et tout était super et amusant, merci beaucoup!
Frederico - your food was AMAZING§§§
It was so fun!
C xx

Merci pour un superbe voyage à la découverte de la côte Amalfitaine! Francis un capitaine exceptionnel. Rosalie merci pour toute votre aide et Federico, I will never forget your spaghetti vongole!
Thank you, Grazie mille
E. family

Charter on June 27 - July 4, 2019 / Sardinia /  American family of 4
Thank you so very much for the amazing week! The sailing was gorgeous, every port was the perfect choice and the staff was warm and amazing. The food simply the best! We planned for a memorable trip. This was more than we expected!.
Thank you so much!
M, G, M & A
Charter on June 8 - 15, 2019 / French Riviera / American Family  of  5​
He cannot thank you enough for this wonderful week!
Everything has been perfect... from the boat, the professionalism of the crew, the food, and the kindness you have shown our family.
He will take these wonderful memories with us forever!
Love + gratitude !
The P.
Charter  on June 14 -21, 2017 / Naples - Naples / American family of 9
Hi Patrice,
From my end - I wish to clone you.  🙂
Perfection. I appreciate very much your communication, your calmness and your good mood!!
Thank you very, very much.
 
Hi Patrice – So the clients agreed, you are indeed amazing at what you do.
I cannot thank you enough for your hard work.  I would be truly delighted to give you references so please don't hesitate.
Many thanks for your attention to details.
Everything went just fine on Ocean Med. The catamaran was a great choice as the rooms were perfect for our group.
We appreciated & were delighted to have the extra crew member.
I believe it would have been just too much for just 2, as the cook was busy most days in the kitchen, food terrific.

Patrice was a delight as a captain with a can do attitude. He was very conscientious in regards to keeping our APA low.
Luck had it that Capri was booked, along with restaurants; the water to rough to enter the blue caves, such is traveling. 
We did have a great time ashore enjoying the shopping and restaurants. I guess we will have to return!
We look forward to our next family vacation next year:)
 Thank you so much for all your assistance to ensure a successful charter.
Cell phone, DVD library, DVD player saloon, Indoor audio system, iPod dock, Local TV, Outdoor audio system, Satellite phone, TV saloon, 14ft/4.3m Zodiac 50hp, Board games, Kayak, Paddleboards multiple, Swimming noodles, Tube - towable, Wakeboard, Water skis - adult, Water skis - child, BBQ, Coffee machine, Deck shower, Big game fishing gear, Ice maker, Sun cushions, Sun loungers, Swim platform, Water maker
Not Insured, Diving by arrangement, Snorkelling gear, Underwater lighting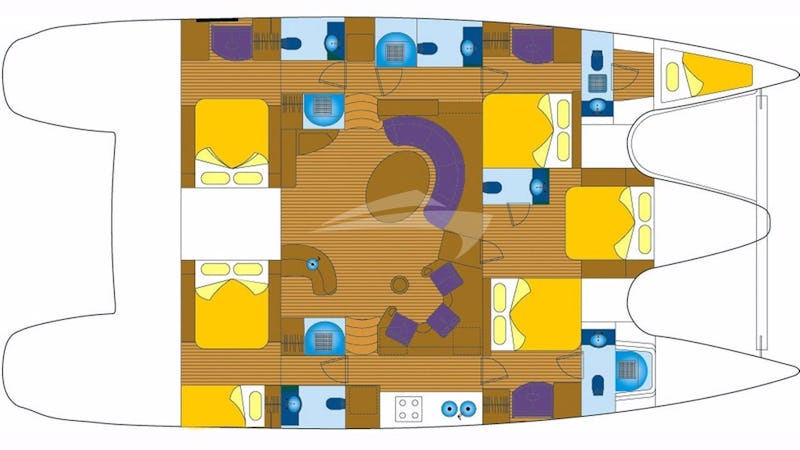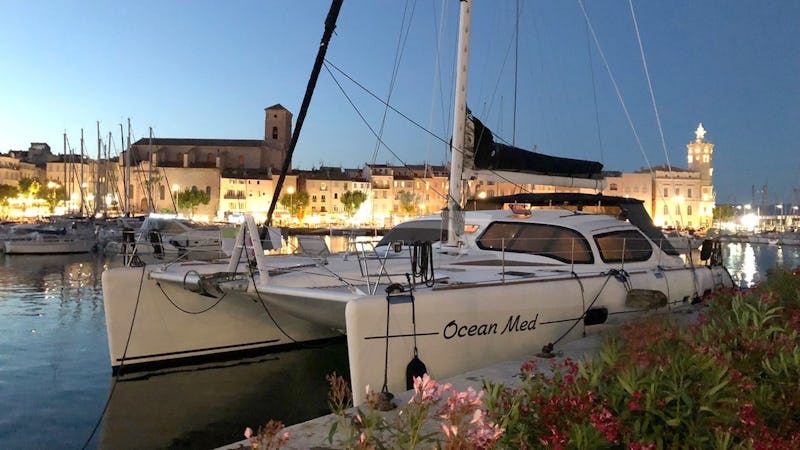 We have identified 3 similar yachts. Would you like to inquire on them as well?
Available in 1 area
Guests 7
62ft 4in / 19m
From $16,124
Available in 1 area
Guests 6
70ft 10in / 21.6m
From $15,116
Available in 1 area
Guests 6
50ft 2in / 15.3m
From $17,132