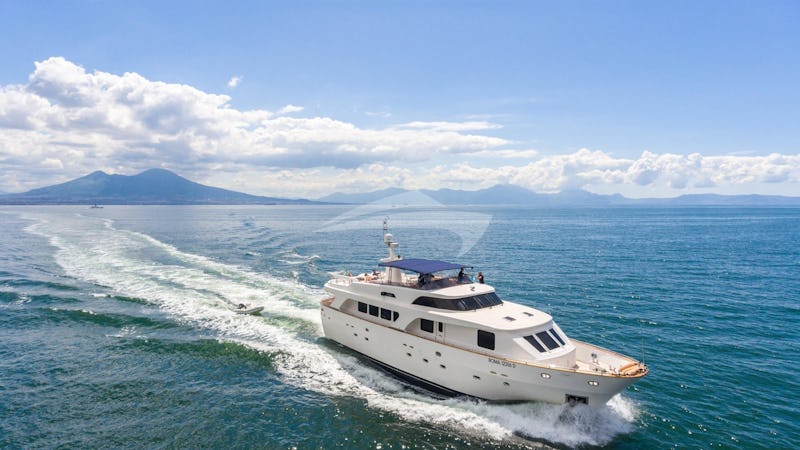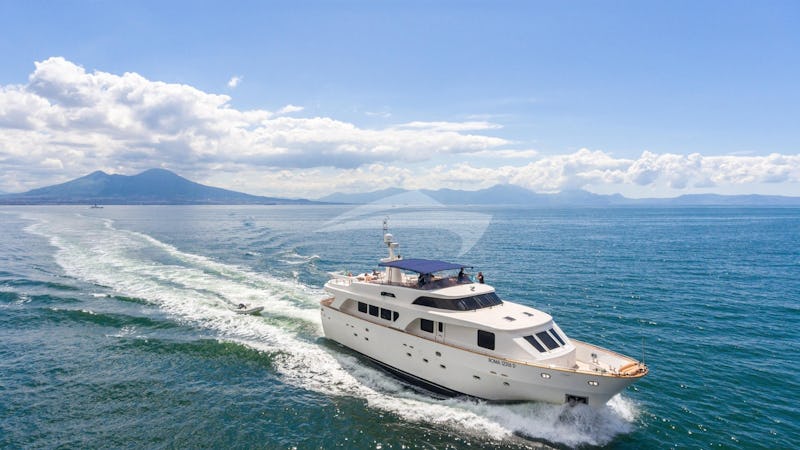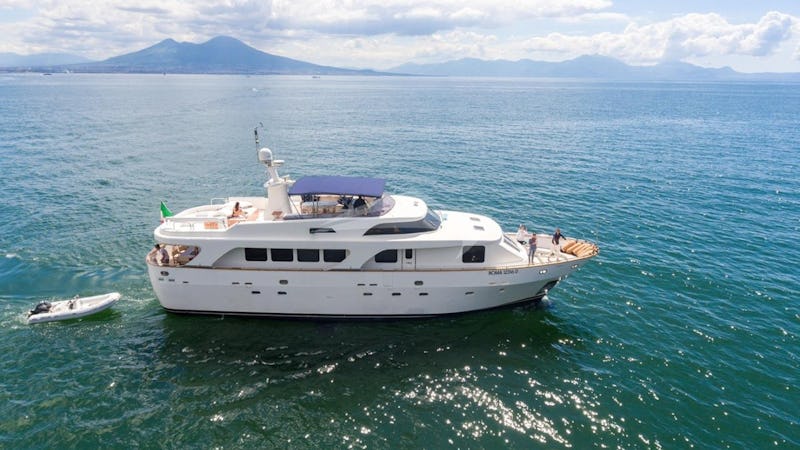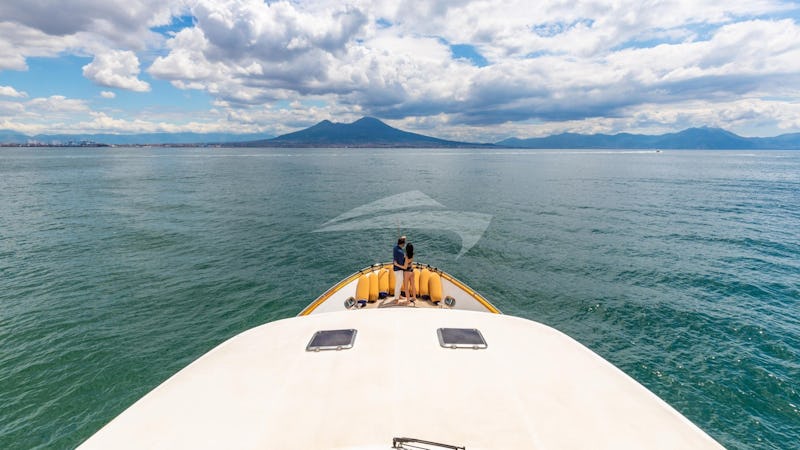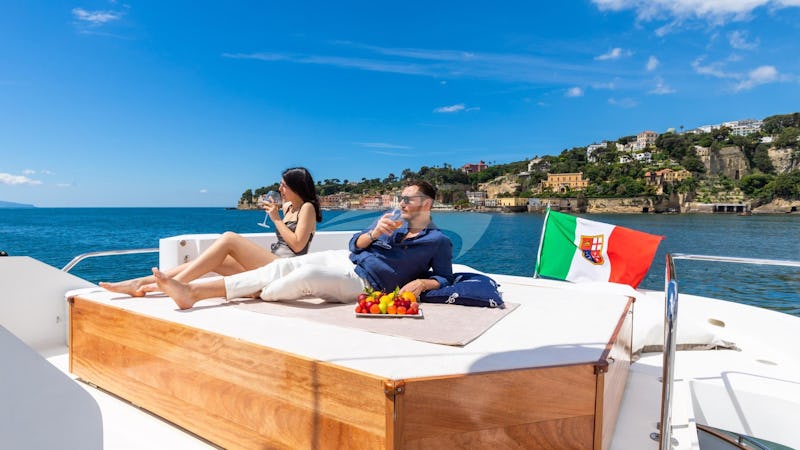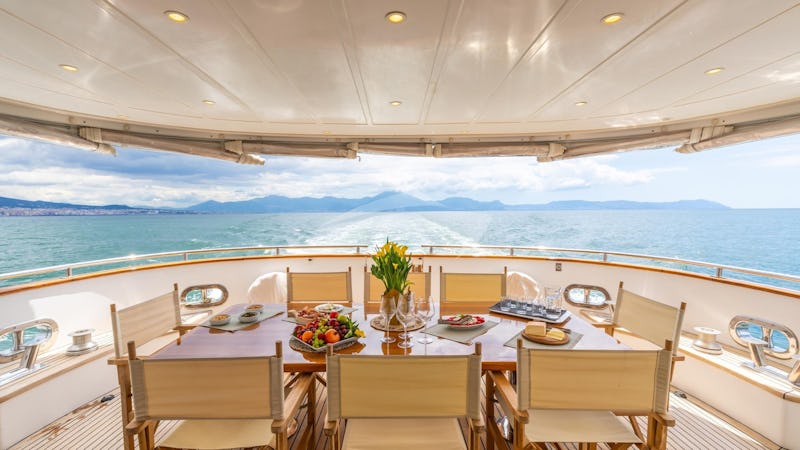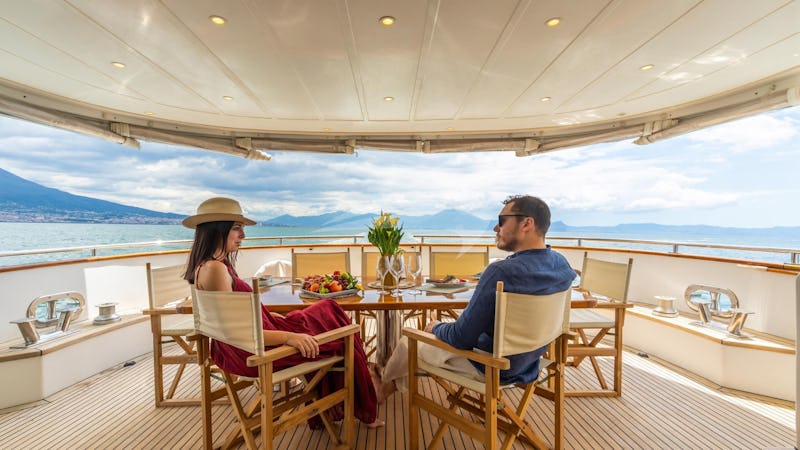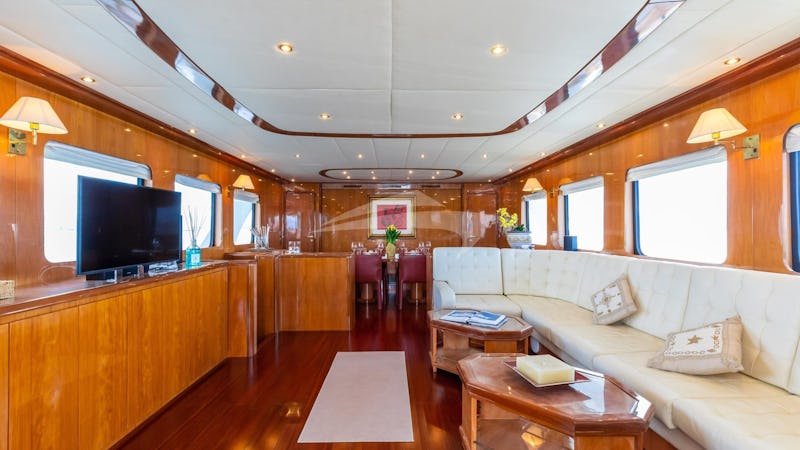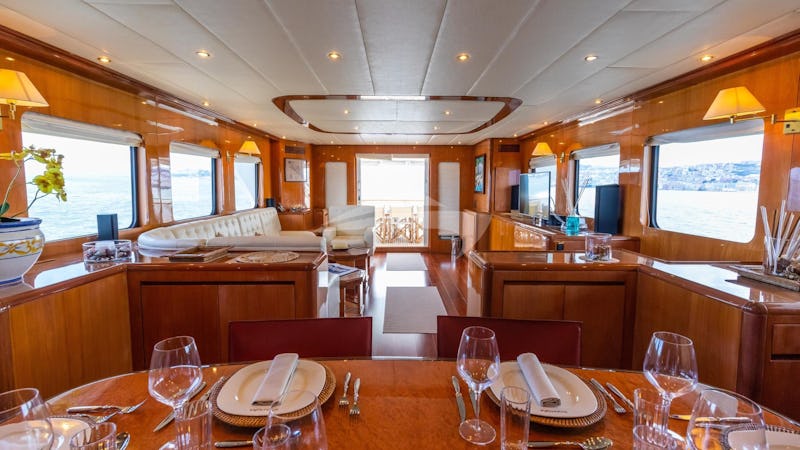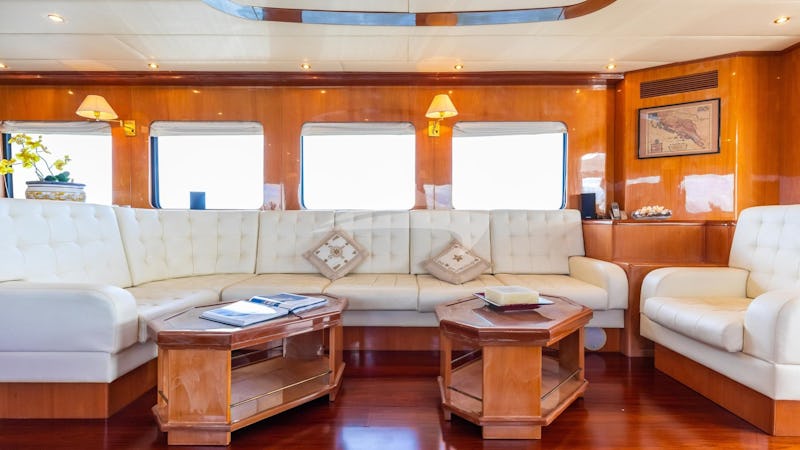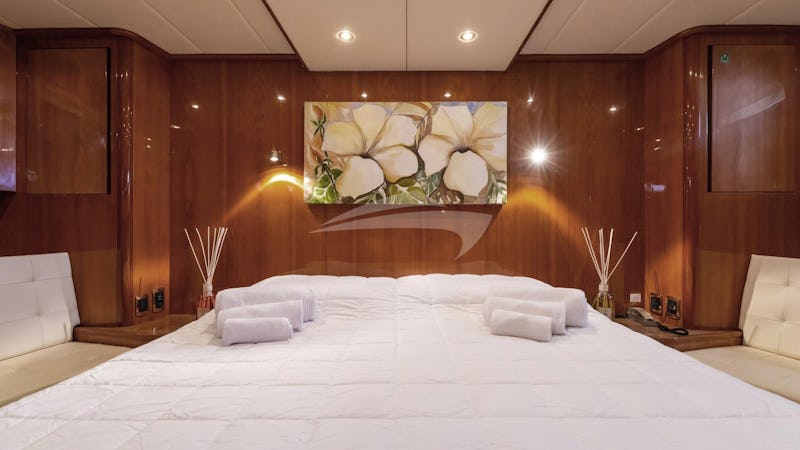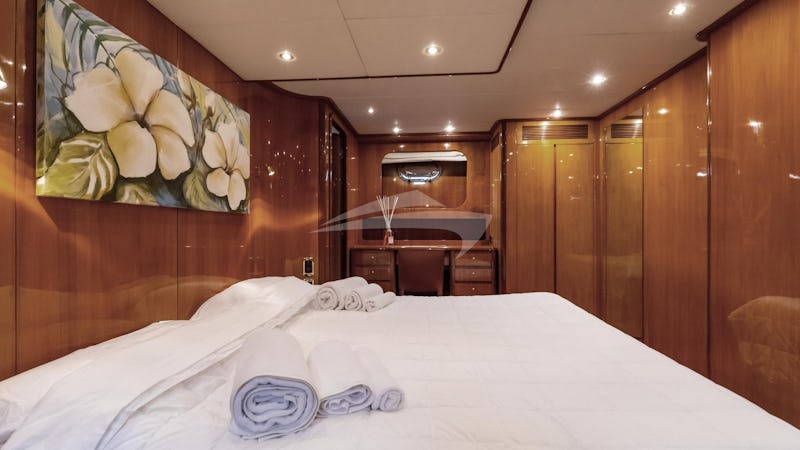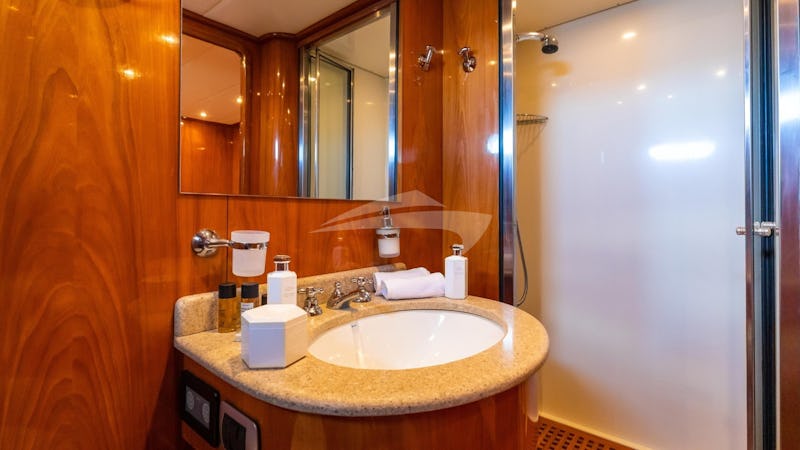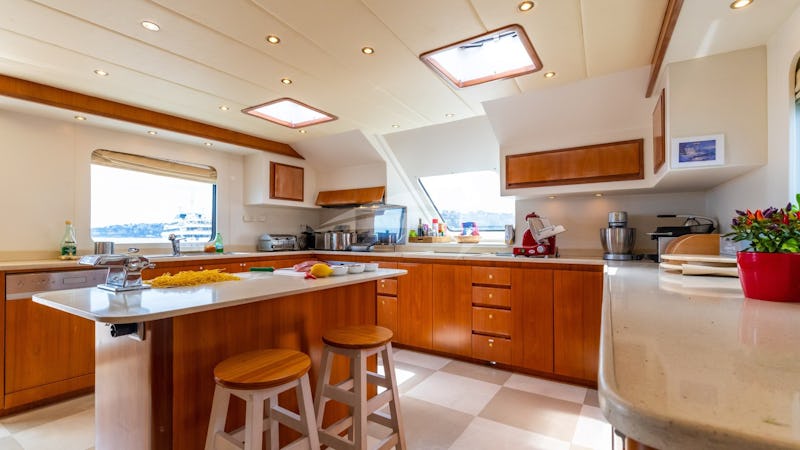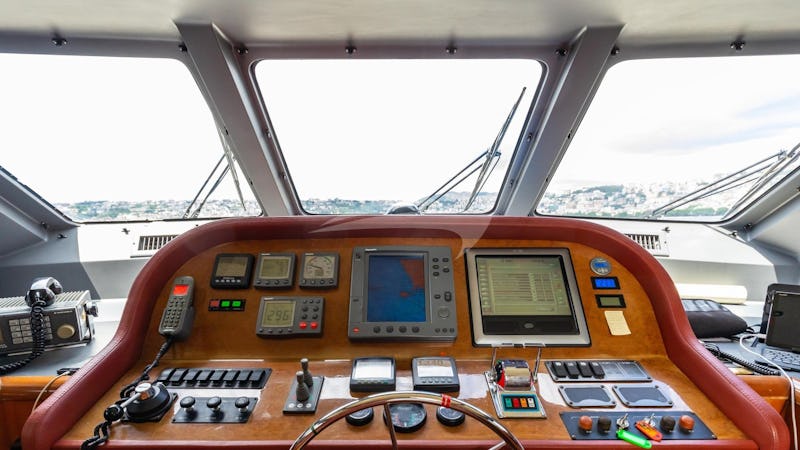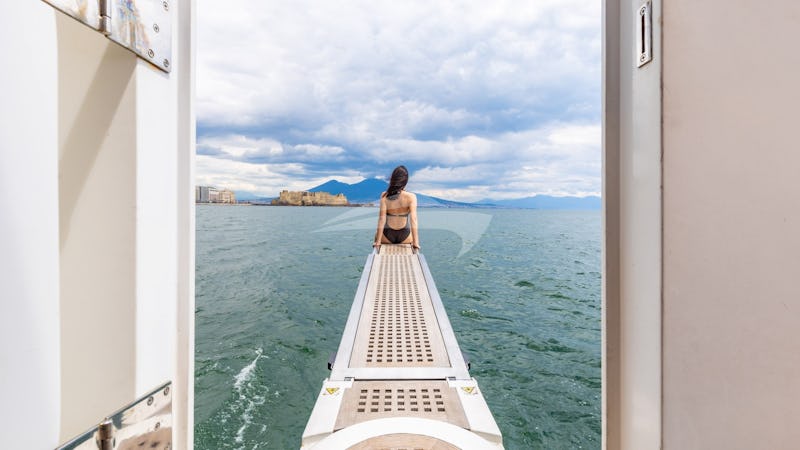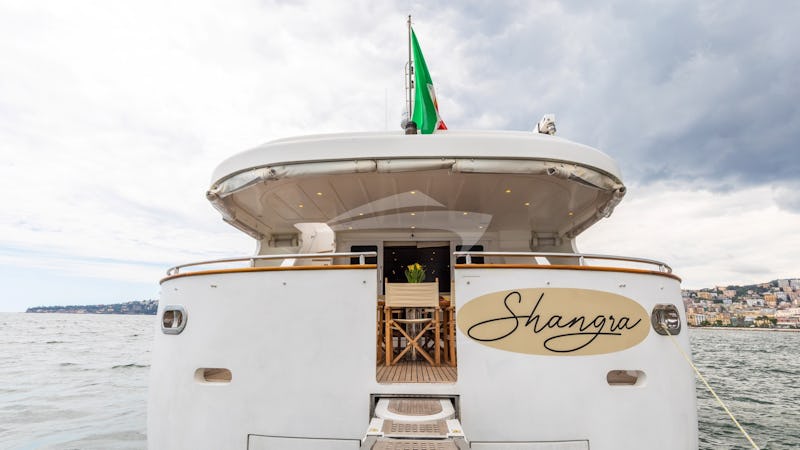 Charter This Yacht
87 ft / 26.6 m
│
4 CREW
│
FROM $31,409
│
6 GUESTS
87ft (26.6m)

20ft 0in (6.1m)

5ft 7in (1.7m)

2007

Custom

Not known

6

Captain Fabio Alessandrini

2020

10kts (18kph)

Stabilisers

Italy

2x 480 CUMMINS

No

No
An additional fourth cabin with bunked beds is available only upon request or for special occasions.


Captain: Fabio Alessandrini (53)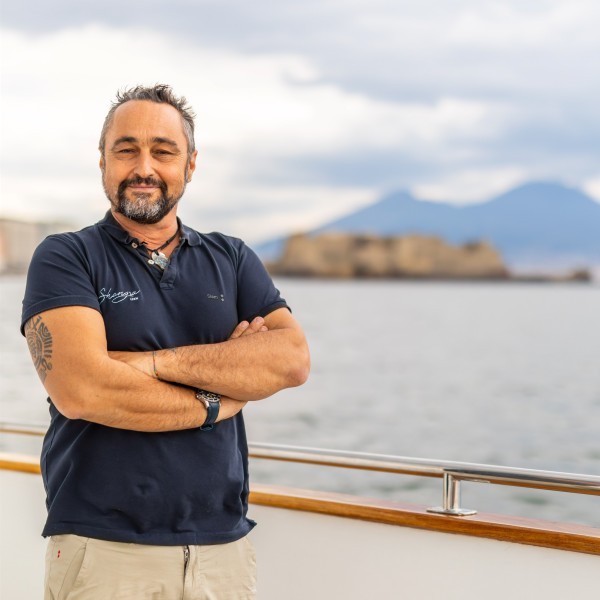 Fabio's adventure begins at the age of twenty, when he embarked for the first time as a skipper on board a private yacht, an experience that makes him discover how his great passion, the sea, could really become a career. After a period spent as a Base Manager of a charter company, Fabio soon got back at sea as a Captain aboard several private and charter yachts, exploring much of the Mediterranean and beyond.
Divemaster for pleasure, his knowledge of the sea is comparable only to that of gastronomy, another of his great talents, that he decided to cultivate by opening an Italian restaurant in Brazil where he spends most of his time when he is not at the helm of a yacht. Determined, precise and professional, Fabio masters great mechanical and hydraulic skills and keeping the yacht in perfect condition is among his priorities as Captain. Strongly appreciated by the crews, he always manages to provide a warm still discreet service, adapting to the needs of individual guests on board.
Italian mother-tongue, he speaks fluently English and Portuguese and a basic Spanish.
Chef: Ylenia Righi (42)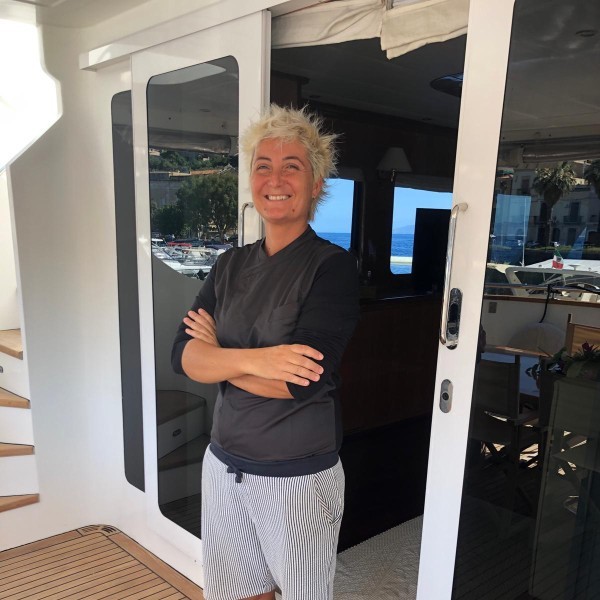 Ylenia is a very talented creative chef with a multi proven long experience, she develops each dish as a story to tell. After the linguistic degree in Firenze, taking advantage of her linguistic skills, she moves in Spain for a year working as restaurant chef. Once back in Firenze in 2002, she collaborates with the wine bar "Zona 15" where she creates dishes reflecting the themes of the artistic exhibitions of the place. She continues working as sous-chef for wine bar in Firenze until 2004 when she makes a professional travel to Srilanka to know and explore the local cuisine. Her brilliant career of sous-chef continues in the main prestigious restaurants of Firenze and Rome where she specializes also in Pastry and making of fresh pasta. Twice second place winner of the San Pellegrino Cooking Cup Trophy, she is sous-chef of the "Immersive Show Dinner" with the Michelin Star Chef Massimo Viglietti. Since 2018 she has been working at the vegan restaurant "Madre Terra" in Rome where she is responsible for pastry, sushi and gluten-free bread making. Italian mother tongue, she speaks a good level of English and Spanish.
Deckhand: Emiliano Cipriani (44)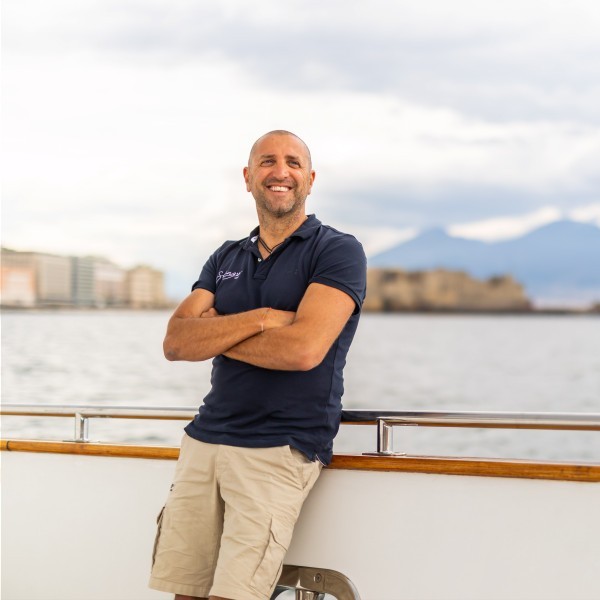 Emiliano is a very expert and dynamic deckhand who loves traveling and life in the open air.
He joined the maritime industry in 2006, when he got a job at Dufour Sailing yard: he was in charge of yacht delivery. Then, in 2009, he was hired as a captain of a small sailing yacht and took care of every aspect of the yacht management, including maintenance.
From 2014 to 2017 Emiliano was embarked as a first mate on a larger vessel and in 2019 he joined Shangra's crew.
Fond of sport and very active, Emiliano is a great team member and extremely guest-oriented. Italian mother tongue, he speaks English and a basic French.
Stewardess: Anca Barutia (47)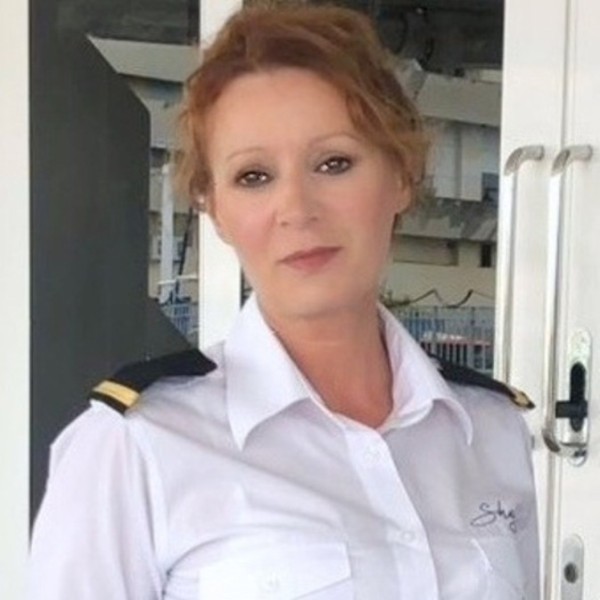 Passionate of travel and sea life, Anca has grown her main interests with competence and fierce dedication. After her studies in Romania where she achieved the high school classical degree, she moves to Italy where she starts working as housekeeper and maid. But the overwhelming call of sea leads Anca to employ aboard the sailing boat "Rubin Lady" as Stewardess and Chef from 2009 to 2014. Since then she has successfully followed her career as valued stewardess aboard luxury yachts, standing out for her professional attitude and her delicious italian and international dishes pleasing every guest's palate. Always smiling, used to work in team and ready to face stress situations, Anca is a valuable crew member and holds the certificate of competence for first aid on board ships. Romanian mother tongue, she fluently speaks Italian and English and a good level of Spanish.
Charter 8-22 August 2021 Pontine Island

Siamo rientrati ieri dalla vacanza sullo Shangra con tutta la mia famiglia e siamo stati benissimo!
L'equipaggio ci ha fatto sentire a casa e i posti, in particolare le Pontine che non conoscevamo,  ci sono piaciuti moltissimo.
Grazie per la bella vacanza, l'unico problema sono i chili da smaltire vista anche la qualità della cucina …!
Un caro saluto e a presto!
Alessandro   

Charter 6-18 July 2019​
Dear All,
We had a wonderful time aboard Shangra!
The food was really great and the Captain and crew worked very well and did everything to make our stay just perfect!
Kind Regards,
Diana
 Charter 16-26 August 2019
We had an amazing 10 day stay aboard Shangra. The very friendly crew: Bianca, Emiliano, the amazing chef Neto and Fabio with such a knowledge of the area we covered, were great.
We discovered beautiful bays and had fests all along.
Un grand merci
G. Family
Charter 6-9 September 2019

Nonostante il mal tempo, siamo state davvero molto contente per l'affetto e la cortesia del professionale e attento equipaggio a bordo. Tutti davvero più che bravi!
Grazie e a presto!
Roberta, Rosaria, Vale
Indoor audio system, TV saloon, Wi-Fi, 15ft/4.8m RIB 30hp, Banana boat - towable, Canoe, Paddleboard, Tube - towable, BBQ
Not Insured, Snorkelling gear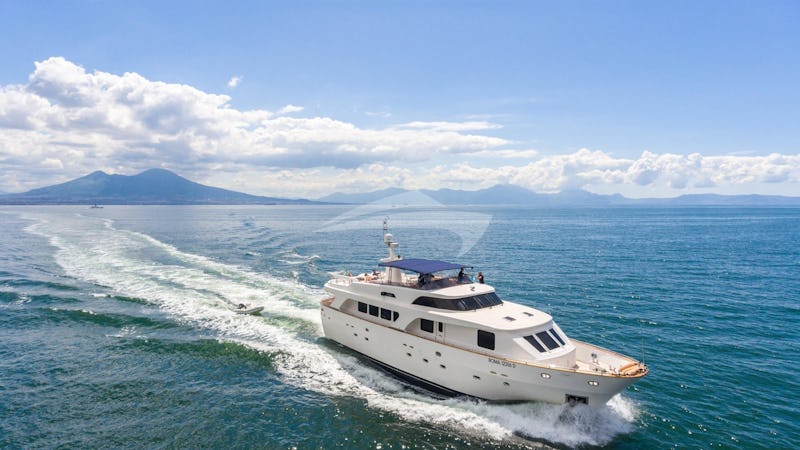 We have identified 3 similar yachts. Would you like to inquire on them as well?
Available in 1 area
Guests 8
87ft 11in / 26.8m
From $31,250
Available in 1 area
Guests 10
98ft 5in / 30m
From $31,250
Available in 1 area
Guests 9
78ft 1in / 23.8m
From $32,291