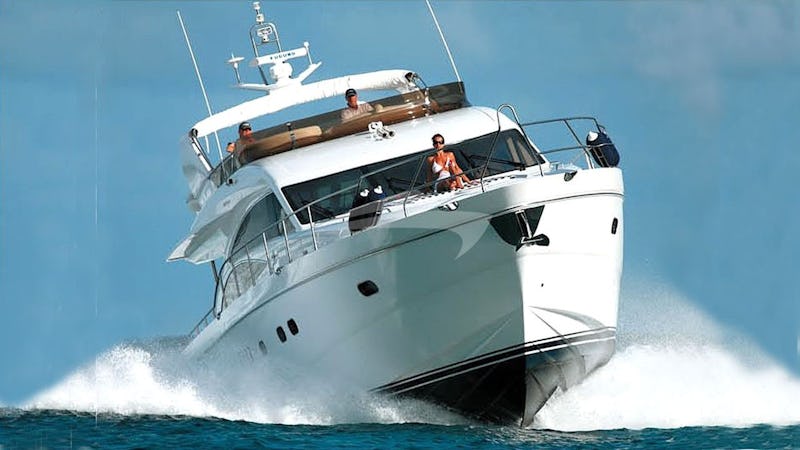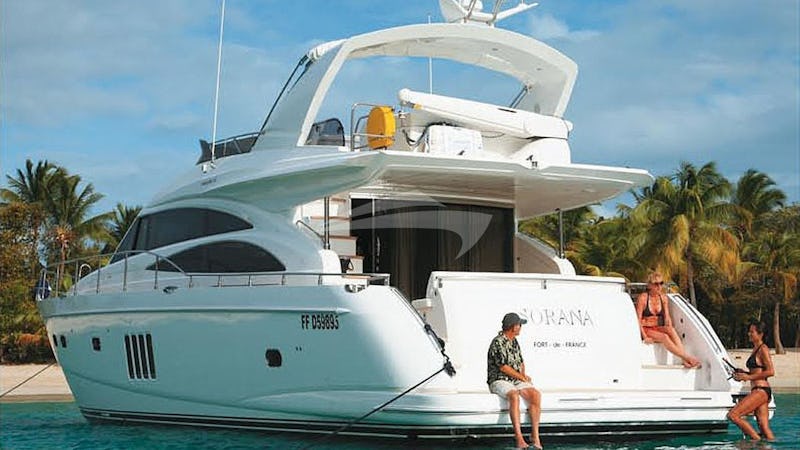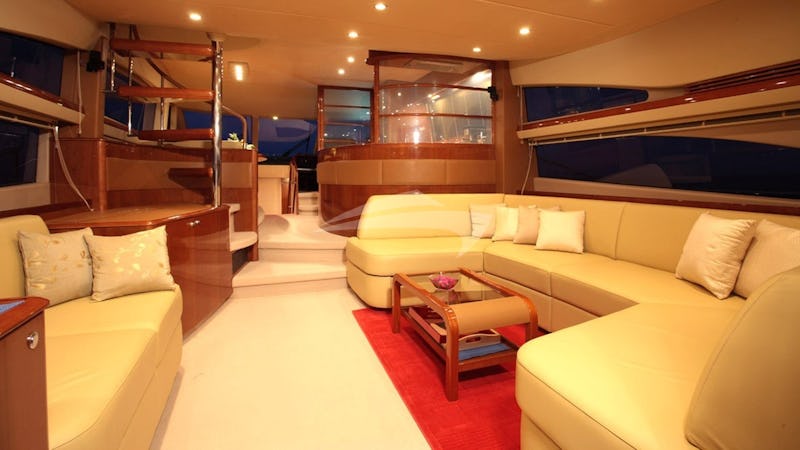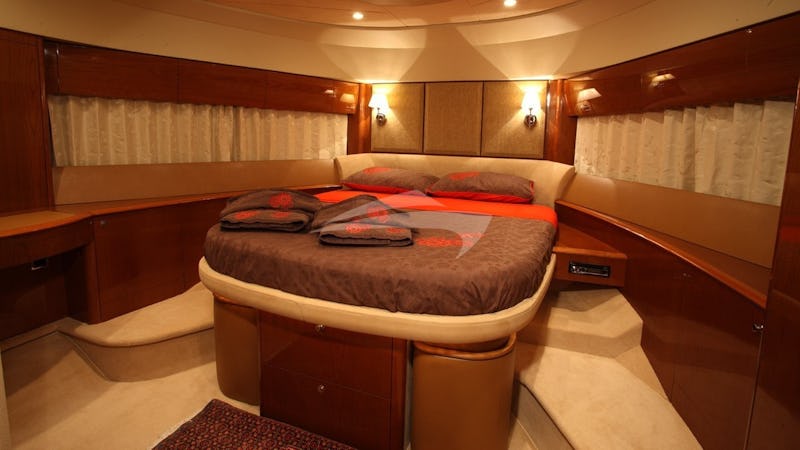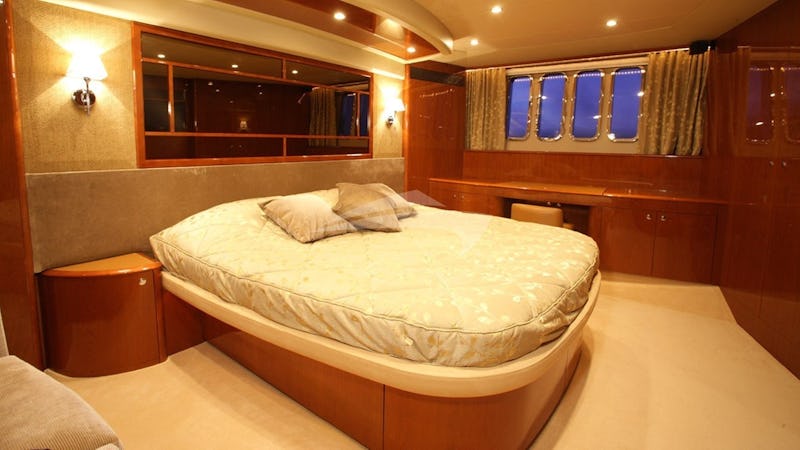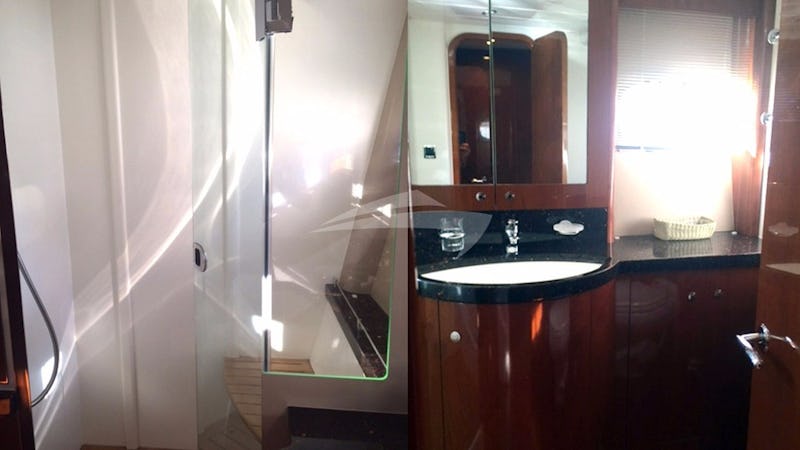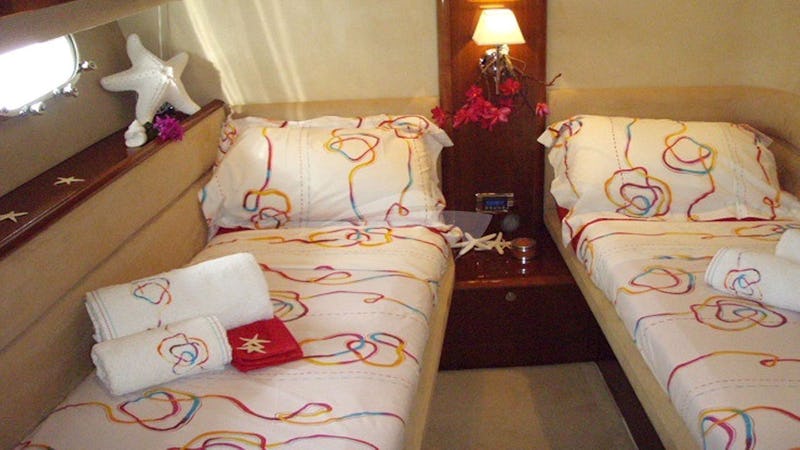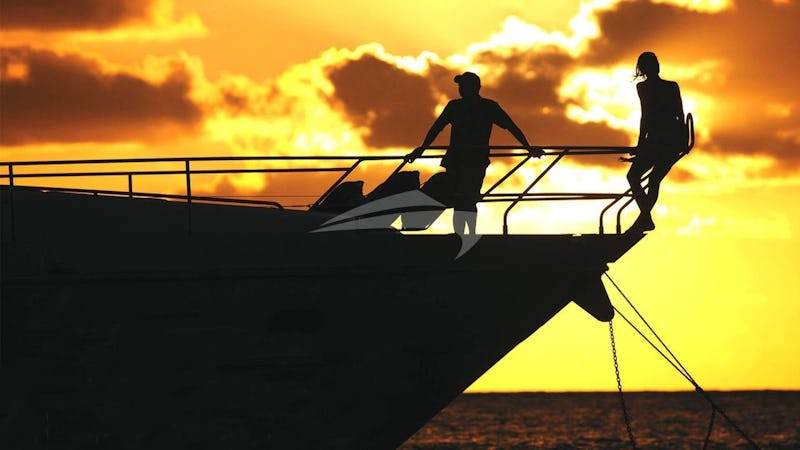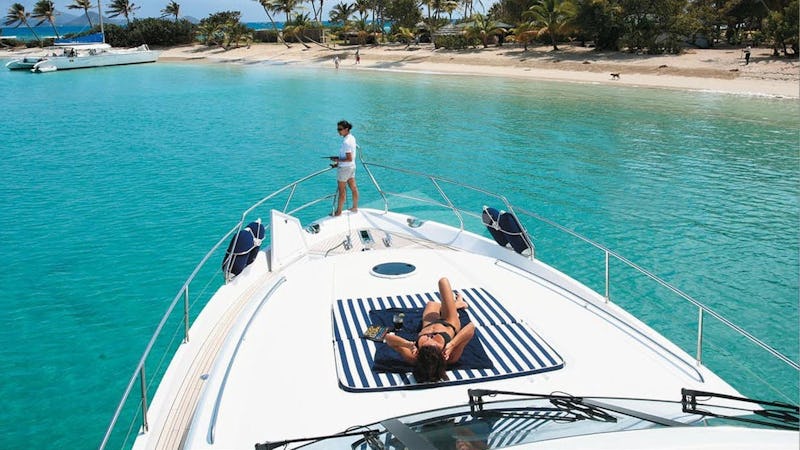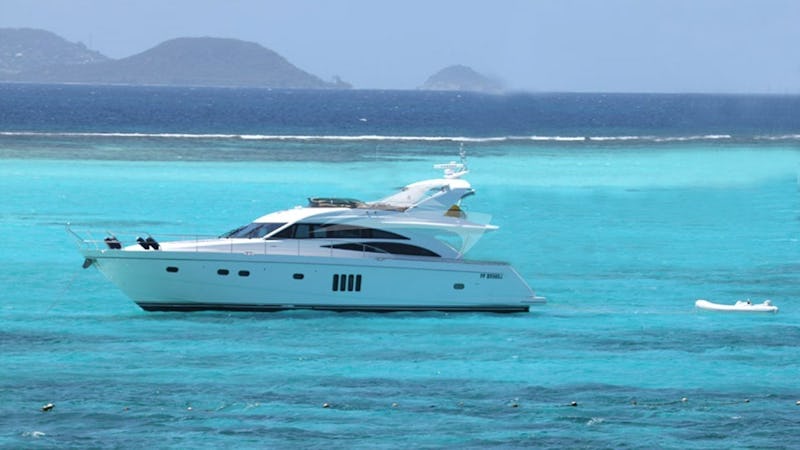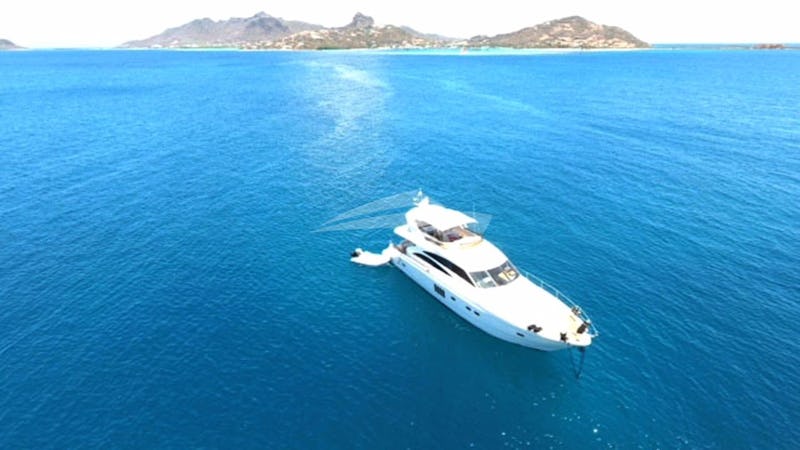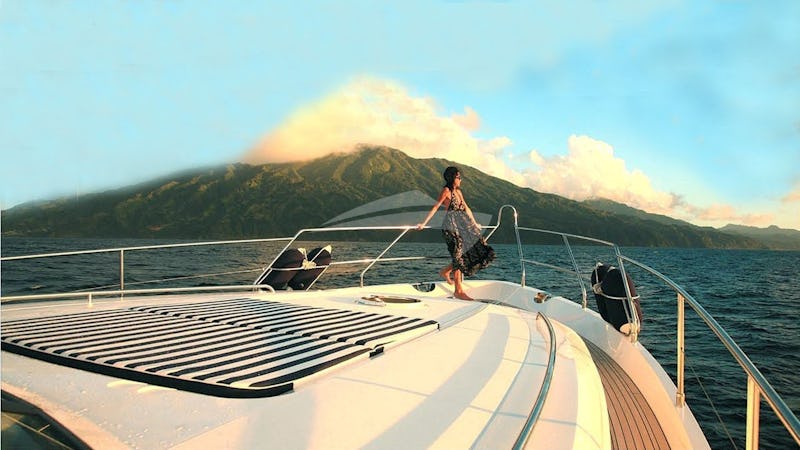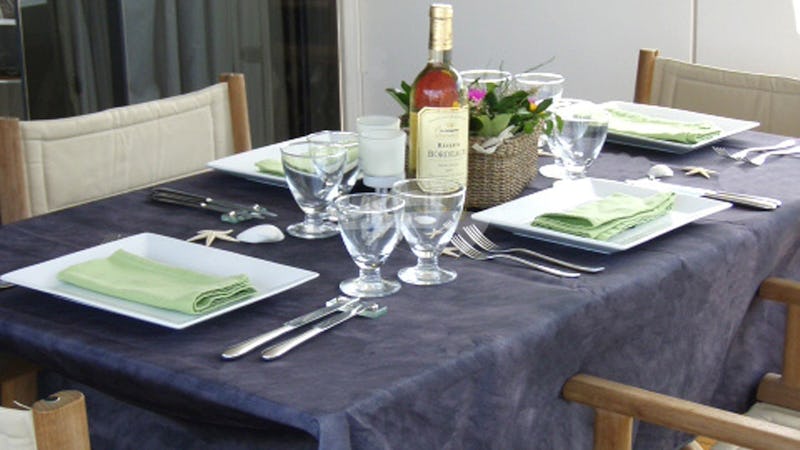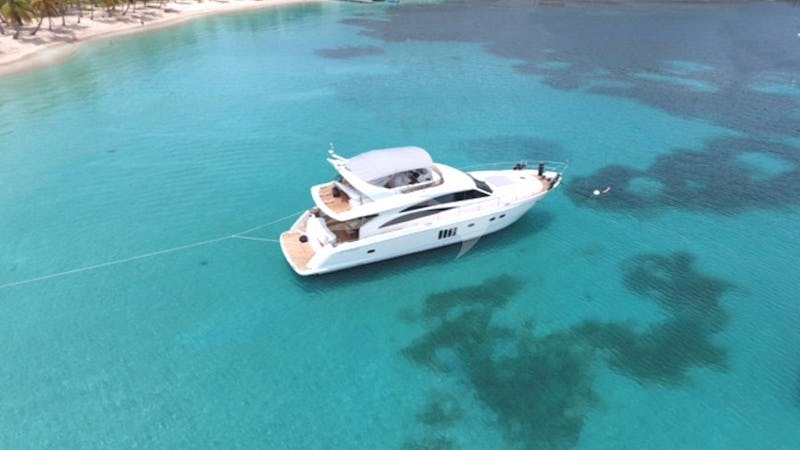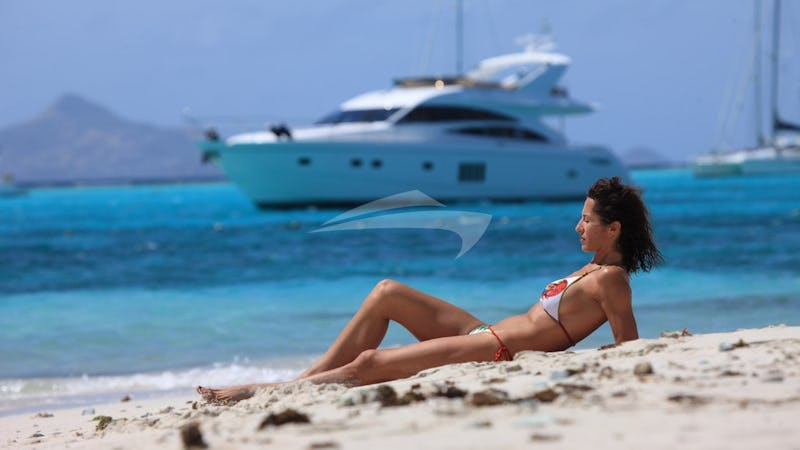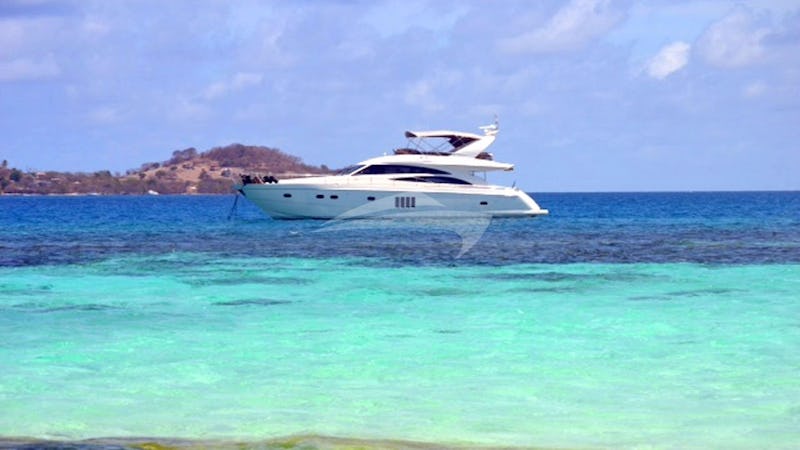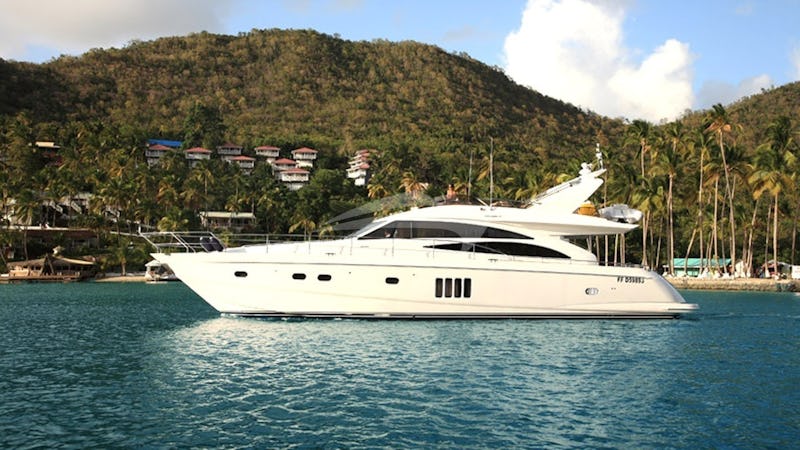 Charter This Yacht
68 ft / 20.8 m
│
2 CREW
│
FROM $20,000
│
6 GUESTS
68ft (20.8m)

17ft 1in (5.2m)

4ft 3in (1.3m)

2008

Princess

Not known

6

Captain Jean Marc GUEVARA

Not known

9.7kts (18kph)

None

France

2x 1200hp MTU engines

Yes

No
Captain: Jean Marc GUEVARA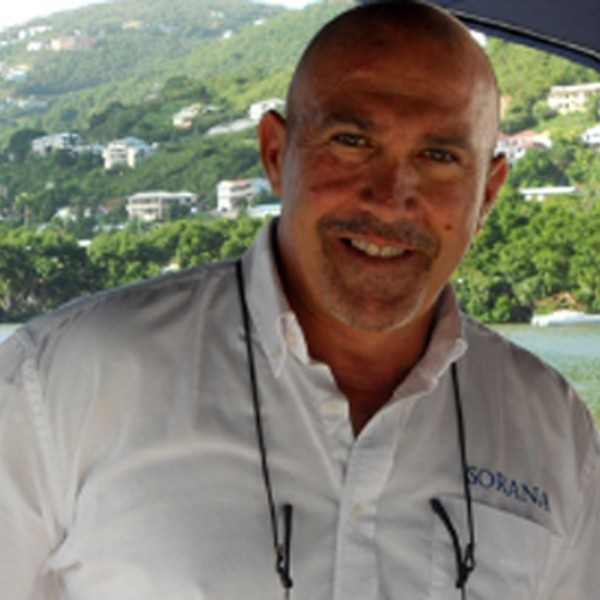 Jean-Marc GUEVARA has been working for 8 years aboard the NEMO's fleet.
He was captain for the VPM Company on these big catamarans (Nautitech 82) and was in charge most of the time of NEMO MARTINICA & NEMO GRENADINES.
He has acquired then a huge experience in crewed yacht charters in the Caribbean, from the BVI's to Grenada, but also in French Polynesia.
Then he set sail on a Privilege 585 "GO FREE" and chartered the Mediterranean Sea from Croatia, Greece, Turkey to Italy, Sicily, Sardinia, Corsica & the Balearic Islands.
He crossed the Atlantic 12 times, the Pacific 1 time & made some nice journeys from Martinique to the Brazil & Europe.
Jean-Marc has settled his family in Martinique since more than 13 years. He did come "home", close to the people he likes working aboard S/Y TIPUTA during 2 years in Caribbean.
Working onboard M/Y SORANA more than 7 years, he enjoys more and more cruising and sharing his passion with his guests who really appreciate his professionalism and his high sense of service on board.
More than a captain, a great trustful man!
CHEF HOSTESS: Marie-Claude JOUGLA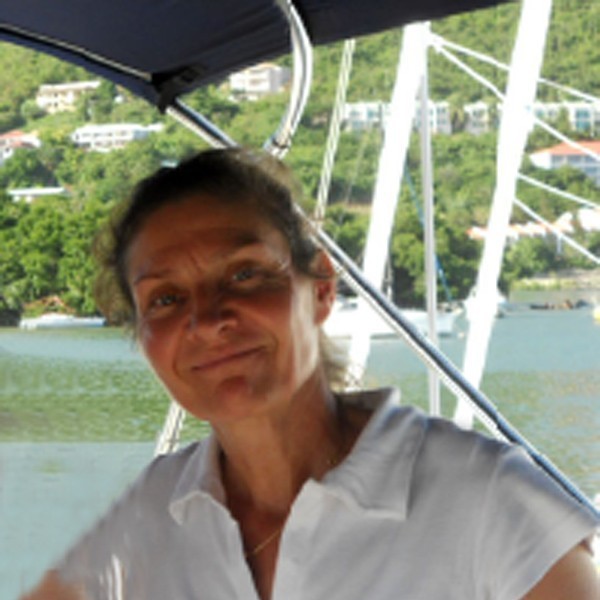 Marie has been sailing for the last 20 years as crew; mostly as hostess/chef on Charter vessels; "Montefigure" 55', "Matoutou" 57', "Calaf", 62', "Dariu"s, 62', "Huzard III" 65' (in Patagonia), "Nemo" 82', "Ojala" 60' (in Spitzberg & Norway)," Chrysalis T" 77' …etc.
She has been crossing the Atlantic 11 times and sailing over a total of more than 100 000 miles!
When she is not working, she likes observing & studying the cetaceans on her own 12 meters boat.
She has covered a large scope from Spitzberg to Patagonia and from Mediterranean to Caribbean Sea; a true adventurous globe trotter!
Besides her passion for the oceans, Marie is also a performing Chef and a cheerful crew member. Her natural gentle mood and her professional experience are real assets for SORANA and for her guests.
She has been running the "Ranch" a restaurant in the South of France for more than 7 years before flying away for CHILE.
She has lived there for 4 years, managing a fashioned Restaurant bar & modern Chilean art gallery boutique named "Gibran" in Los Angeles with a team of 10 people to handle.
A sweet & good-natured temper with a great spirit!
Charter on February 9-16, 2019 in the Grenadines / 2 Americans
Hi ,
I heard from Mr. F. regarding his yacht experience. 
He didn't have a whole lot to say but, that is normal for him.  
He told me that the yacht experience was wonderful.  He praised the crew; said they were a class act.  
He also mentioned that they went to the grenadines, an area the crew knew very well.  They stopped in great ports and had great food.  
He said the crew kept their distance when needed and were very respectful. 
He offered to provide a reference if I have another client thinking about a similar experience.
Obviously he was very happy. Thank you!
Charter on December 23 - January 6, 2019 in the Grenadines / American family of 4
Thank you Jean Marc and Marie for an incredible trip. We couldn't asked for a better time. The boat was beyond our expectations as was the perfectly prepared food. You both were fabulous hosts.
Thank you for everything. We all can't wait to come back soon.
A, A, B & J
Charter on November 15-29, 2018 in the Grenadines / American repeaters of 6
Another year, another fantastic two weeks of pure bliss, great food and great company.
Captain Jean Marc's local knowledge takes you to all the best places possible and Marie's cooking takes you to heaven!
Looking forward to year 7!
Thank you both so very much!


Charter on October 27 to November 3, 2018 from Guadelope to Martinique / American group of 4

Great trip Guadelope to Martinique with great Friends. Great food. Great fun celebrating our birthday's bis.
Thank you to the crew for giving us an amazing trip!
C, C, S & P
Charter on August 1 to 14, 2018 in the Grenadines / 2 American guests

An amazing two weeks! Great food, beautiful yacht!
Marie & Jean Marc were wonderful. I wish I had more time.
D
I loved the yacht. Thnak you so much for the adventure!
J
Charter on March 16-18, 2018 in the Grenadines / 2 American guests

Marc & Marie, 
Emily and I wanted to thank you for the most amazing charter last week.  You two truly are the most wonderful people and  best Captain, first mate combination!   We left with the most amazing memories, ones that we will share with family and friends for ever.  
I don't know where to start?  The service, food, knowledge of the islands are just the start.   Thank you once again for showing us a little piece of your paridise and giving us the best start to the rest of our lives we could have ever hoped for.  We hope to see you back​ in the Caribbean soon. 
Best, B. H.
Charter November 20-27, 2016 / St Martin / Family of 6

"Back home, we just wanted to thank you for your helping us organise a great family vacation :-)))
The cruise on board Sorana has been excellent. The weather was good (even if a little windy) and the crew did their very best to provide a great experience."
It has been a real pleasure for me to cruise with Jean Marc and Marie.

They are truly professional and enthusiastic about what they do!
Many thanks again!
Charter July 17-24,2016 / Ste Lucia 
Hello R, 
I've had the best charter on Sorana. Main reason was that I was by myself. And the crew were the happiest crew I've seen on any other yachts.
The cuisine prepared on the yacht was prepared for my requested style and taste.
The area was fantastic. I like it more than St. Barts area.  The nature was beautiful, and the whole area was very serene. 
Thank you very much for arranging this charter for me.
Y.


Charter March 18-25, 2015 / BVI'S / Party of 4 
Terrific, great crew, great time, loved the yacht, great charter !


Charter December 28 - January 8, 2015 / SXM / Family of 6/
Dear Marie, Dear Jean Marc,
Thank you both for your warmth and your hospitality over the last ten days.
We thank you, Jean Marc, for the good choices of this wonderful anchorages. You are a captain has given us a safe feeling in order to give us a relaxing time on your boat.
Marie, you are such an amazing Chef. It is unbelievable what you can make happen in that small kitchen. We were feeling like staying in a star restaurant and a six stars hotel each day.
If possible, we would like to come back once again to visit more places in the Caribbean with you.
Many thanks for the wonderful time ! V family


Charter October 10-21, 2014 in Martinique / Family of 6
"Hi Josh
Every thing went very well, the crew were great nothing was to much trouble for them kept us well  fed with great food and the Captains local knowledge was fantastic
He took us to some Islands and bays
I have never heard of all in all I would recommend this boat and crew to any one"  


Charter in July 19 - August 6, 2014 / Guadeloupe - Martinique / Family of 6
We had a marvelous time.
The boat was as we expected and the crew was very friendly.
Our kids loved the captain and Marie. Marie is a wonderful cook as well.
The route was nice and we decided day by day what to do and that worked out very well.
Islands were very different and lot of them where very beautiful.
We visited around 20 islands, some really small and some pretty big.
The only thing was that restaurants and bars where almost empty because of the low season.
So that was negative thing, on the other hand the marina's where not crowded so that the positive thing.
Thank you. Y
October 10-24, 2013 /  BVI'S - Familly of 6                                                                                                                                         
The Sorana not the sort of boat I would have gone for a bit smaller than what I have used in the past and a lot less amenities however it worked out just fine for me and the wife I would strongly recommend it to anyone who wants total relaxation and to while away the days :)) was very sorry to leave
The Crew- best we have ever had :)) the captain's knowledge of the areas we visited were outstanding and he found beaches and restaurant's to die for Ann looked after the boat and feed us constantly :)) and they both made a mean cocktail :))
all in all the made the trip what is was outstanding in every way
please pass my comments on to them and i'm sure we will be back with them again"
 
Charter March 31st - April 6th, 2012 / SXM / 5 guests
I spoke with Mr. K. who is on Sorana this week.
I wanted to note that he is extatic about Marie's cooking wanted to know why I did not tell him explicitly how absolutely great she is!
And he is very happy with Jean Marc as well, who he finds congenial and knowledgeable, so thanks very much.
The only bad thing is that he cancelled a dinner reservation so they could instead eat on the boat, haha. He seems a delightful man and I am very appreciative of your efforts and those of the crew.
DVD player saloon, Indoor audio system, Local TV, AB 50hp, Kneeboard, Tube - towable, Wakeboard, BBQ, Coffee machine, Deck shower, Light fishing gear, Ice maker, Sun cushions, Swim platform, Water maker
Not Insured, Diving by arrangement, Snorkelling gear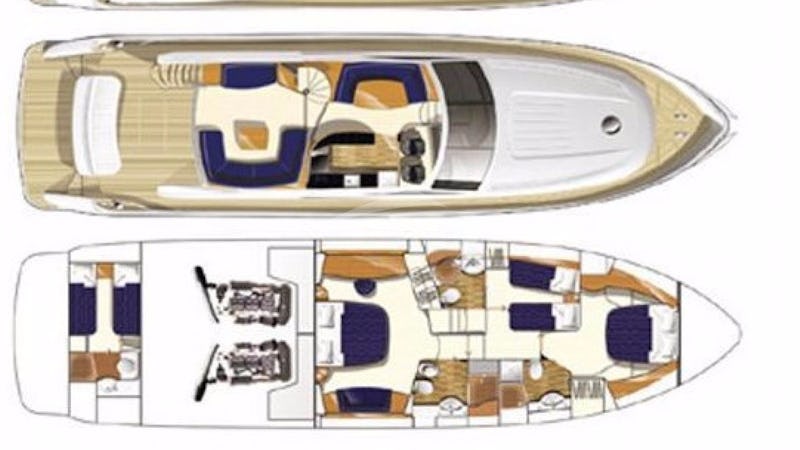 We have identified 3 similar yachts. Would you like to inquire on them as well?
Available in 2 areas
Guests 4
60ft 0in / 18.3m
From $21,000
Available in 1 area
Guests 6
87ft 11in / 26.8m
From $21,650
Available in 1 area
Guests 4
51ft 10in / 15.8m
From $24,500