TWIN
62 ft / 18.9 m
3 CREW
FROM $17,193
8 GUESTS
62ft (18.9m)

33ft 2in (10.1m)

4ft 11in (1.5m)

2015

CMN Yachts

VPLP

8

Captain Nathan KURTON

Not known

10kts (18kph)

None

United Kingdom

2x Volvo 150hp

Yes

No
8 guests can be accommodated in 4 cabins as below :1 Master cabin and 3 double cabins all with queen beds (81"x 63"). Flat Screen TV in Master cabin.


Each cabin has a split mattress so that it can be made as 1 double bed or 2 singles side by side depending on guest's preference. All cabins have ensuite bathroom and head.


The Master cabin is equipped with ample closets, drawers and even a sofa. Her spacious ensuite bathroom (with separate head) has an independent access to the cockpit.


In each cabin: A/C with private control, plugs and 2 adapters, 4 pillows, a quilt and extra blanket

Complimentary bottled water.

In each bathroom : Bath towels, hand towels, face cloths, bath robes, hair dryer, complimentary shampoo, conditioner, body wash and body lotion, cosmetic tissues.

Captain: Nathan KURTON (33)

CAPTAIN DURING WINTER SEASON IN THE CARIBBEAN:

Nathan and Laura are waiting to welcome you aboard Twin. They will take care of your every need, tailoring your vacation to your desires. They will listen to you carefully and with their professional mix of happy go lucky and high-end service you will not be disappointed. Their love for their job will be evident as soon as you meet them and you will be sure to want to continue to sail with them for years to come.

Nathan and Laura are highly experienced, award winning crew and have completed over 130 luxury charters since 2011. Since meeting they dedicated their lives to the charter industry and placed much energy in becoming the best crew for their guests, even winning Crew of the Year in 2013 by Trade Winds Cruise Club. Their experiences in their previous careers and within the charter industry, revolving very much around customer service and care, has given them the ability to adapt to any given circumstances, requests and needs of their guests, individually and as a group.

Captain: Nathan KURTON (32)

US visa B1/B2

Yachmaster Offshore commercial (RYA), STCW95

Nathan is a captain with many additional skills. Not only does he have an approachable, warm personality but he is also an extremely skilled sailor. He will happily teach you the joy of sailing whilst keeping everybody feeling safe and happy the whole trip.

Nathan has an eye for detail and will keep the yacht spotless for your stay. In his previous career he was a very skilled electrician, which enables him to maintain such a beautiful yet technical yacht like Twin.

Nathan grew up on the water, skiing and wakeboarding from an early age. Laura introduced him to the sport of dinghy sailing when they met in 2008 and he was hooked! An obvious natural to sailing and with their love for the water, Nathan and Laura decided together to embark on their sailing career.

Hostess-Chef: Laura KURTON (37)

HOSTESS/CHEF DURING WINTER SEASON IN THE CARIBBEAN:

Laura is a very talented chef and enjoys all aspects of cooking including catering for your dietary needs. Not only is she amazing in the galley but Laura always makes time to be with her guests to ensure that they are happy and receiving everything they need. She has expanded her cooking repertoire by gaining experience through various courses at the prestigious Ashburton School of Cookery in the UK and obtaining her Level 2 Food Hygiene qualification. She's very versatile and can make a great cocktail as well as help Nathan with sailing Twin.

Laura is very clean, professional and is always smiling and happy. She loves to sing and dance and you may catch her doing both of these whilst in her favorite place, the galley!

Also a qualified captain and having sailed since she was a child, Laura will ensure you have the greatest vacation you could ever dream of!

Nathan and Laura have been married since July 2010 and are the perfect team. They met in their home town in the South West of the UK where they both grew up and now in their 30's, their fun loving personalities and vast knowledge of the water guarantees to provide you with a unique and unforgettable experience. They take much pride in their work and know only too well how important their professionalism and flexibility can impact your charter to make it the best you have ever experienced. Most of all they understand perfectly how important vacation time is to their guests and focus on their enjoyment above anything else throughout their stay.

Deckhand: Jake ARCHIBALD (21)

DECKHAND DURING WINTER SEASON IN THE CARIBBEAN:

Growing up in northeastern United States on the barrier islands off the coast of New Jersey, Jakes love and appreciation for the ocean had developed from a very early age.

Jake grew up surrounded by a family of divers, sailors, and fisherman; and in 2010 they traded their life in New Jersey for the warm waters off the pacific coast of Costa Rica. The next few years of his life were spent traveling throughout Central America and in 2015 Jake was introduced to the yachting industry. In 2016 after completing his high school diploma, he found his first job in the industry as Deck/Stew onboard TradeWinds flagship class where he chartered for a year traveling between St.Martin and St.Vincent delivering luxury sailing holidays.

Jakes longterm goals are to obtain his Dive Master and RYA Yacht Master to prepare him for a lifelong career in the yachting industry.

Captain during summer season in Croatia: Boris Vrhovac (39)

Boris Vrhovac, born 1979 in Zagreb, Croatia, has been sailing since he was a boy. First with his parents, and then as he grew older he continued to sail with his friends. After his first job as a skipper when he was 19, he knew that this was exactly what he wanted to do in life. He has therefore been working as a skipper ever since.

Boris completed his MCA/RYA Yacht Master Offshore based in the Solent, UK and holds D2 Basic Safety (STCW) Certificate. He is a fluent English speaker and can get by in Italian, French and German. His experience before includes being a captain aboard our Lagoon 560 Arctic Queen and Lagoon 620 OPAL

Boris has a calm nature which makes him pleasant to be around and which enables him to keep a cool head to handle any situation that could occur

Chef during summer season in Croatia: Dragan Dragojlovic (35)

Chef and food stylist, Dragan made the Croatian luxury yachting world richer for an outstanding professional, that completes every assignment in response to his guests most demanding needs. His vision of food, what food is supposed to be and the appearance of each plate is a story in itself. His approach to cooking, creativity and knowledge is what makes the difference. When we talk about food, we can openly state chef Dragan is simply creative with a touch of genius. Chef also holds the Basic captain license & D2 Basic Safety (STCW) Certificate.

He experience includes working aboard Lagoon 620 OPAL with captain Boris since last two seasons in Croatia.

Stewardess: Marija Juretic (27)

Marija Juretic has great experience in yachting since young age, always friendly, reliable and professional. Her experience includes working aboard Lagoon 620 OPAL with captain Boris for season 2018 in Croatia.
Charter June 25th-July 2nd 2018, St Thomas-St Thomas:

-Comments regarding the crew: "Loved Nathan ! He was great ! Laura and Jake were great too! Laura's meals were out of this world good and Jake was there always with a smile and tending to our every need ! I normally like pretty simple meals and was a bit concerned about the meals being too uptight for my liking, but the opposite was actually the case ! The presentation was amazing and the way she prepared the food was simply unbelievable ! There was not one thing that we did not like. If we had any concerns with what she was preparing, she found a way to modify to fit our needs. However, this rarely was needed. We ate mostly onboard for every meal, and I would recommend doing it especially for dinner. You will not find a better meal. It was fun to do a few lunches off the boat to see local culture. I will say that the meals were hearty and filling and we ate every bite including the dessert, but none of us gained any weight on the trip !"

-Comments regarding the yacht: "Exceptionally clean ! Crew worked very hard to keep it neat and tidy without being overbearing."

-Comments regarding the sports and leisureactivities/equipment on board : "It was all great !"

-Comments about the itinerary: "It was our first time to sail the BVI and we loved every minute of it."

Charter March 26th - April 1st 2018, Antigua-Antigua: Guest's comment:


"Our charter went wonderfully. You were of course right about Nathan, Laura and Jake; they made everything comfortable and enjoyable, and the trip planning suited us well. Our daughters had plenty of time under way, but also lots of time to waterski, tube, kneeboard and snorkel. Antigua was beautiful and had a great selection of places to drop anchor. The food could not have been better conceived in terms of our needs, and while we thought it was elegant and fancy, Laura said this was pretty simple based on what she often is called upon to do.We can't thank you enough for recommending Twin and for saving this part of our vacation."

Charter March 17-25, 2018. St Martin - Antigua : Guests' comments :"

"Our time on TWIN was just spectacular. XXX and I are still in Antigua and heading back tomorrow. Will give more detailed feedback later but we just loved the boat and most importantly the crew. Thank you for all your efforts to make our time aboard so memorable!"

Charter February 16-23, 2018 Tortola- Tortola: Broker and Guest's comments:

Broker's comment : "Hello! Excited to share this wonderful review from the xx Charter! Thanks so much for taking such great care of them. I look forward to working with you all again (hopefully soon) on future bookings!"

Guest's comment : "We had a great week on Twin. The crew worked to make sure we enjoyed every minute, and taught us several things along the way. The food was incredible. The flavor and presentation were over the top, and somehow Laura knew our favorites without even listing them on the preference sheet. She was a magician! Service was top notch the entire week. The crew were very accommodating, from the Captain's Corner chart review in the morning through every meal service and anchorage - including Jake's happy hour concoctions - we always had what we wanted before we even knew that we wanted it! Nathan and Jake guided a snorkel or two, and took the time to point out things we would have otherwise missed. The food was top notch, and the crew felt like old friends by the end of the week.Nathan's timing was always spot on. He worked with BWD from Nanny to meet up for diving a couple times - and even had the lobster coming off the grill at lunch as the divers stepped on board. He took care of reserving scooters on Anegada, the ferry connection to Oil Nut Bay, and was always pulling into the dinghy dock on schedule whenever we were ready to return to the boat. The crew were very informative on sailing, and let us jump in to help whenever possible teaching us along the way. Jake always had a smile and the perfect cocktail for us, and Laura was too much fun with some "pre-planned" surprises for our newbie guests.Twin has a vast amount of entertaining space along with large, comfortable staterooms. There was always room to stretch out and enjoy the sun (or shade if desired) along with an incredible outdoor space to dine comfortably with everyone. The flybridge was a favorite while sailing - giving us 360 degree views of the beautiful water surrounding us".

Charter February 3-10, 2018 St Thomas-St Thomas : Guest's comments:


"In any event our group just loved the trip: Nathan and Laura and Jake were each terrific and could not have had a better attitude or provided better service, They were just the right combination of available and accessible but not intrusive.The food was delicious and beautifully presented. Laura is the best chef and Jake is a master at table presentation.In a low key way Nathan kept track of all of us when we were out snorkeling / kayaking and both Nathan and Jake joined us on a couple of the expeditions to show us the way. That was really good.The boat itself is beautiful and comfortable. My husband and I stayed in the master suite which was terrific. We loved getting a copy of the book about the boat and the t-shirts!I want to emphasize that the overwhelming feeling about the trip from our group was very, very positive."


Charter January 19-27, 2018 St Thomas-St Thomas :Broker and Guest's comments:


"Dear Nathan, Laura and Jake,

Thank you so very, very much for giving my clients the most wonderful charter-week and taking so great care of them.I will send the info underneath to other clients which showed interest in booking you and hope I can convince them to come back to the islands.I also appreciate the great co-operation with you before the charter started, you guys are so very professional, thank you for being so wonderful!!

Please find underneath the feedback of XX :-) !!!"

« We had a fabulous week on Twin. The boat is beautiful and the crew is FABULOUS!!! We loved Laura, Nathan and Jake and would highly recommend this boat and crew. I cannot say enough good things about our experience. I would also add that for anyone hesitating to visit the BVIs, they should not hesitate. There is certainly evidence of the devastation, but from the water nothing much has changed. We visited all of our favorite old spots and some new ones and were not disappointed. Virgin Gorda is basically gone, but that just meant that we got to Anegada sooner! Yay for us.Thank you for helping us to book a memorable trip. We will be back! »





Charter January 19-27, 2018 St Thomas-St Thomas : Second beautiful feedback of TWIN's guests:


 "We had a greatcharter aboard the Twin.   Captain Nathan, Laura, Jake, all werewonderful - outgoing and easy to be around.   We were not lackinganything on this charter, and they did a great job catering to the specificdesires and needs of our gang.   Food was great - not too heavy instyle but plenty of it to keep people satiated.  We went everywhere wewanted to and Nathan was very flexible about where & when.  The boatis great - maybe some design choices could have been better thought out, butthey were not material to our enjoyment.   We were very grateful tohave serviceable WiFi (and the cell coverage in the BVI has become amazinglygood).   As for toys, they had a complete set of snorkel gear whichwas nice, and the tender was able to pull even some of our bigger crew forwaterskiing.   Might be nice if there were a way to accommodate rigidpaddleboards or kayak instead of the inflatable ones, but they would probablybe too hard to stow.

As for the boat description, I honestly don't recall andprobably didn't pay much attention, but it's worth making sure people know theone master bedroom is significantly more spacious than the others.   Again, didn't bother us since we didn't go on the charter to sit in astateroom, but it is a noteworthy difference.

They can feel free to use us as a reference - we wrote intheir log book so they can probably snap a picture of our entry and use it is areference!

Thank you for all the hard work in putting thistogether.  It probably won't be our last charter!"




Charter Grenada-Grenada, 1-8 January 2018 :


Guests' comment: "Everything was perfect, including the weather!"Broker's comment: "Thanks very much your part in creating life time memories for the X Family".


Charter Bequia-Canouan, 23-30 December 2017 :


Family n°1 :"Both our families loved our week aboard TWIN - the captain was very attentive, safe and taught our kids about sailing….. the cook was really a chef - delicious food at every meal catering carefully to everyone's likes/dislikes and appeasing kids and adults… and the new mate was a great addition to the team - good with the kids, delightful to be around and an excellent cocktail maker! The boat itself is spacious and modern… we enjoyed all of the water toys…. and had a wonderful sail in the Grenadines. We highly recommend TWIN and it's crew!"

Family n°2: "The captain was great. We did a lot of sailing and Nathan was very comfortable and knowledgeable of the boat. He was also very open and comfortable with the guests (including the children) helping to sail, pull the ropes, manage the anchor, etc which was very much appreciated and enjoyed. Chef Laura was also great. Her food was delicious and she went out of her way to make everyone (including those with specific food preferences) very happy. After a few days of enjoying Laura's cooking, we chose to eat more on the boat vs. in restaurants. We particularly enjoyed fresh lobster and fresh fish from the local fisherman, as well as lots of fresh fruit and vegetables and delicious homemade desserts. Laura was also very open to allowing my daughter to help in the galley. Jake was also very helpful and a nice 3rd crew member. He made sure everyone was happy and he was open to help out with anything. The yacht was extremely comfortable. State rooms had plenty of space and amenities for everyone to feel relaxed. Common areas were well maintained and clean. The boat was in very good condition with no problems. We spent a lot of time on the flybridge especially when we were sailing. Boat was well equipped with plenty of activities. We enjoyed the snorkel equipment, kayaks, sea-doos, paddle-boards and waterskiiing".


Charter Porto-Cervo-Porto Cervo, August 12-19, 2017:

Broker's comment :
"I just talked to Mr. xx and got his charter feedback. Charter was one of a kind! Faboulous!
He really appreciated top level service aboard, top level crew as well as top level yacht quality standards.
I thank you so much for this great charter and wish you all the best."



Charter Bonifacio-Olbia, July 22-30, 2017:

Broker's comment :
"Yes captain is accurate. Mr xx is very happy with all his friends. I still couldn't meet him because of his schedule but they came back telling everybody they had an amazing time".



Charter St Thomas-St Thomas - March 06-13, 2017

I just wanted to thank you for helping with our trip!
We had a fantastic time! The crew was awesome. We really enjoyed them.
A trip of a lifetime!
Thanks!



Charter Tortola-Tortola - February 12-19, 2017

We had the most wonderful holiday and the crew/experience on board surpassed all our expectations, and those of the children.
They are really adorable and we are delighted; a thousand thanks!



Charter guests' comments (from golden note book) with Laura & Nathan working as the two crew members on board previous yachts :

Comment n°1:
Thank you Captain Nathan for your wonderful sailing and always in superb bay where we were « alone » in the world.
And a big thank you to Laura, the chef with all the different meals, so good and well presented.
Children's comment :
Dear Nathan, I will never forget how much I appreciate you. I love that you always include me in things ; I will miss you.
Dear Laura, I love how you are so confident and you are always happy and how also you let me help you in the galley. I will never forget how good your food is. I will miss you.


Comment n°2:
"Laura & Nathan, thank you again for enabling one of our most memorable vacations. We will talk about it for the remainder of my life. Please, stay as you are, you make a wonderful partnership, and that is really what it is all about".

Comment n°3:
"What an adventure ! thank you Nathan and Laura for providing amazing hospitality, guidance, recommendations and most of all, incredible memories. Thank you for sharing your tips and tricks on the boat".

Comment n°4:
"We will always remember you as the sweetest couple on the planet. We love the way you treated us : great food, fun…
You two made our trip one to remember ! You both were so much fun and put up with our craziness ! Laura, your food was amazing (5 stars !). Thank to you both !"

Comment n°5:
"Laura, you never admitted to being trained by a 3 stars michelin chef, but… I am sure you were !!! It was a such great food experience !
Nathan, you are the most serious and passionate captain I ever met in my life ! Always available, helpful and in touch with every detail, just great !"


Comment n°6:
"Laura & Nathan, thank you so much for a wonderful week ! you both made us feel beyond welcome. The food was fantastic & both of you are so knowlegeable about the water and the area.
It certainly would not have been as memorable without you both. All our best wishes for you."

Comment n°7:
"Thank you for everything ! we want you to know how appreciative we are. This has honestly been a trip of a lifetime – until we meet again – cheers !"

Comment n°8:
"Thank you for a trip of a lifetime ! This experience far exceeded all expectations; you and Nathan with the third crew member made this trip so wonderful.
The meals were amazing as well as all the planning and attention to everything we needed.
You all are great folks and it was truly a pleasure to meet you and spend the week sailing with you."

Comment n°9:
"Laura & Nathan : What a fabulous way to spend a holiday ! you two are so fabulous at what you do !!!
I was very apprehensive spending a week on a boat but I always felt so safe and so looked after. It was simply amazing. We were all completly spoiled by Laura's cooking as well !
The most amazing part to me is how each of us was able to experience the things we wanted on the trip : relaxation, snorkeling, tubing etc.
You are both excellent at what you do and I feel we were really lucky for having you as our crew ! Thank you for the great memories !"



Charter September 1-10, 2016 Olbia-Figari

Comment on the comfort onboard Twin: excellent, an amazing amount of room for a 62' cat Comment on the condition of TWIN: EXCELLENT
Comment on the cleanliness of Twin: excellent
Comment on the cleanliness of Twin: excellent
Comment on the congeniality of the Captain and crew: wonderful. We liked them a great deal.
Comment on the service of the Captain and crew: excellent, very responsive.
Comment on the fun aspect of the Captain and crew: they had the perfect mix of focus on service, serious about safety and fun to be with.
Comment on the expertise of the Captain and crew: excellent
Comment on the quality of your meals: excellent. We didn't think anyone couId match Tara from the Foxy Lady, but Martina did.
Comment on the presentation of your meals:outstanding



Charter March 23-30, St Thomas-St Thomas

1. The trip was seamless from beginning to end from the time the crew met them at the airport until their departure. Everything went so smoothly.
2. Daniel knew the best times to be at certain spots and of course which anchorages and islands to go to. He was particularly good in planning the trip to the Baths for early morning before they got crowded.
3. All three of the crew were great with the kids. The kids loved them and didnt want to go home. They have been asking if they can go back next year.
4. The food was tasty and fresh. At first the portions were a little small but as soon as Martina realized how much the kids ate, she adjusted the portions accordingly.
5. Everyone loved the video that the crew did and were amazed at how professional it was.
6. Crew were very professional yet very friendly and fun.
6. Everyone felt it was the best vacation theyd ever had.
7. They would definitely book TWIN again as long as Daniel and Martina and Joep were aboard. They are hoping to possibly charter her again next year.

Broker comment: Thank you for doing such a great job and making the guests vacation a huge success.



broker\'s comment from Antigua boat show, December 2015

The food was excellent and it was interesting to see how the crew worked together to help the Chef throughout the meal. Portions might have been too generous but I know how crew want to impress on these occasions. I find it crucial to offer fresh and local food and the chef made a point to explain the origin of the seafood all the way through the lunch which was great.






Indoor audio system, TV master cabin, TV saloon, Wi-Fi, 15ft / 4.60m 60hp RIB, Beach games, Board games, Floating Mats, Kayak, Kneeboard, Mono ski, Paddleboards multiple, Swimming noodles, Tube - towable, Wakeboard, Water skis - adult, Water skis - child, BBQ, Book library, Coffee machine, Deck shower, Fishing gear - light, Ice maker, Sun cushions, Swim platform, Water maker
Not Insured, Snorkelling gear
TWIN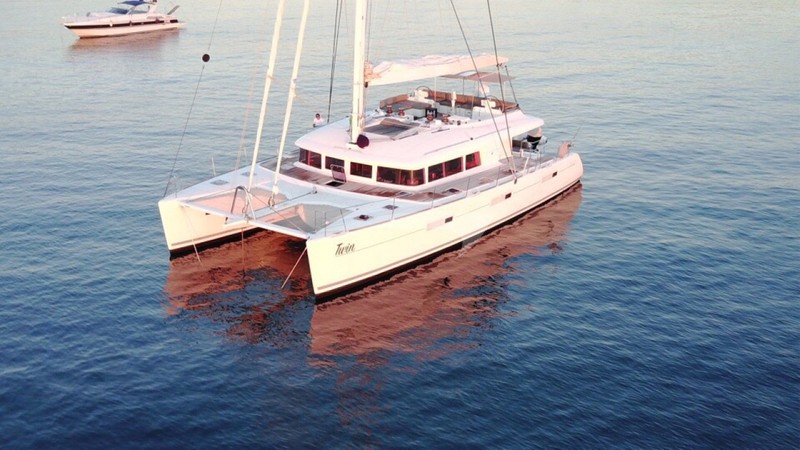 Good News
We have identified 3 similar yachts. Would you like to inquire on them as well?